On April 28, audiences will see the inspiring true story of Olympic Gold medalist, World Heavyweight Champion, television personality and businessman George Foreman with the premiere of "Big George Foreman" from Sony/AFFIRM films. The movie, which traces the legendary boxer's life from his childhood to a near-death experience that brought him to faith in Jesus Christ, stars Khris Davis as Foreman as well as Jasmine Mathews, Sullivan Jones, Lawrence Gilliard Jr., John Magaro, with Sonja Sohn and Forest Whitaker.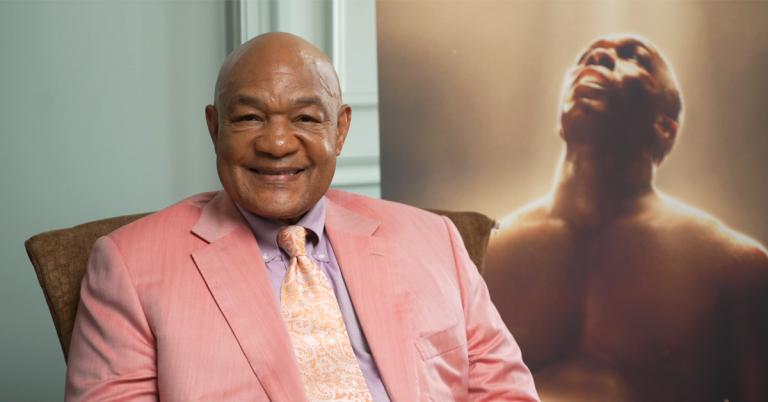 Foreman's unbelievable and inspiring story – his rise to fame in the ring, his spiritual rebirth, and his improbable and inspiring return that saw him reclaim his title – is directed by George Tillman Jr., who says that the boxer's miraculous comeback was only possible through the greater miracle of his transformation. "This the story of how someone can completely change their life from being one way to being another," says Tillman. "Not only did he change his personality and how he saw life, he changed the way he thought as a boxer, he changed from being selfish to being selfless… it became in every aspect of his life. And I thought, wow, you really can change! You really can see a difference in this man."
In this exclusive interview, Foreman speaks about his emotional response at seeing his life played on screen, his transformation from athlete to pastor, his identity as "the Cooking Man," and even bonding with Terry Bradshaw, Henry Winkler and William Shatner in "Better Late Than Never."
It's such a pleasure to talk to you. There is so much in this movie that people may not know. I think it depends on their age of where they know you from. But I love how it shows how it transformed your life from someone pretty hardened who had been hurt to this joyful, kind person. You seem like you want to make people feel good.
Yeah, disappointment, discouragement was as all I had as a young boy. My mother would encourage me a little bit, but I turned out to be a bad boy running from cops and police, disappointed, not knowing where my life would take me. Then I got a second chance to go and join the Job Corps, a government program. And they emphasized reading and doing something with your life, becoming an Olympic gold medalist, even becoming Heavyweight Champ of the world. I had it made and then get into that position and kept thinking there's got to be more to it than that. Because you're up today and down tomorrow, like a roller coaster. That'll drive you crazy, trying to find out what a true champion would be. Until I found religion, I found myself in the hand of God. And I've been continued ever since. I'm a happy man now. I have ups and downs. I even go to the hospital a few times. But I come out of there not just with a prescription. But I come out of there with really a feeling that life is great. Because of my faith in God.
Amen. And I think it's I love that more people are going to see your story. Because they're going to see that they may be at point A and wondering how they get into point B. And I love that they're gonna see that through what happened in your life and how things were able to turn around for you.
No doubt about it. All of a sudden, all of the good things happened to me, I credited them to God. Because a lot of times, I didn't know where I was going. Falling and falling and falling. Then, there was someone right there with their hands to hold me up so I wouldn't go too far. And every human being out there has got that chance, to find God and understand that hope is in God and to find your faith in God. You can always do it again. There's no there's no such thing as the end. It's always a new beginning when you find God. That's what I hope that movie reflects, a new beginning.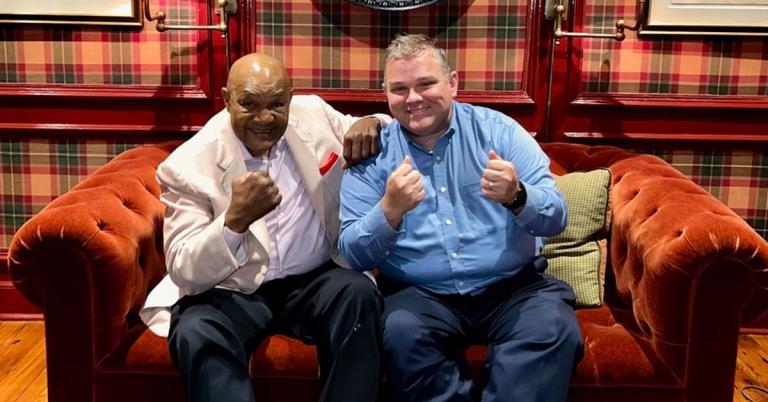 Several of my friends who have seen previews said they love just the one little line the one little moment in the movie about "Oh, yeah, that that grill that I sold my name to, it's doing pretty good." Because there's a whole generation that no you really from that.
Yeah, I've run up on people, even little kids, who said when the teachers we're trying to convince them I was Champ of the World, "Speak to them, George, you've been in a championship," and a kid from looking at them saying "That's the cooking man." They knew more about "The Cooking Man" and the George Foreman Grill than they did about my boxing. But I wasn't intimidated by that. I love it.
Whatever gives you a platform to be able to speak to people and people pay attention to you, I think it's just a beautiful thing. Because your personality needs to infect more people. Your joy needs to be spread even more. I was thinking of the show where you traveled with the other guys around the world ("Better Late Than Never") from a few years ago.
I had so much fun. William Shatner, Terry Bradshaw, The Fonz (Henry Winkler) themselves. We had fun. We bonded, not knowing each other that well, but we've bonded traveling all over the country. And it was exciting for me to travel like that. First time, I traveled, being a champ of the world. I couldn't eat what I wanted. I was always disciplined. But this time I ate good foods all around the world. And I was happy.
What did you think of this finished movie when you saw it? I think the lead actor who plays you did a great job. And Forest Whitaker. What were your emotions and your thoughts as you watched it?
I was happy to because we were thinking about doing a movie all those years. I hoped that it would be a real action, not just some celebrity play on your life. Khris Davis, the actor, transformed himself a few times. He walked up on the movie, and I forgot it wasn't me, because of the things he was saying and the way he was behaving himself. I cried a couple of tears here and there in the movie. But Khris Davis should be applauded for doing a good job. He did young George Foreman. And to do Comeback Kid. And of course, Forest Whitaker, he did a good job as Doc Broadus, the guy who truly inspired me. It was his dream to be a boxer more than my dream.
What was it like pastoring that congregation for as long as you did? I mean, that's a that's a whole different realm. For somebody who's had all of the career that you had. That's got to be something very unique.
I learned a big lesson, that if God helped me, God could help anyone. I'd have to do these sermons week after week, expressing to people what a great the greatness of God, and that I made a vow that I will never take any of my problems to the pulpit. No one would have to hear anything about my problem. It'd be about God solving all of our problems.
Oh, that's good.
That's a chore. Leave your problems at home. Or just wiping my eyes from tears of things that have gone wrong for me. And I wouldn't tell everyone about them, but I never took my problems to church with me.
I did want to ask you a little bit about your friendship with Muhammad Ali, which I think was a unique part of the movie and it's just really cool to have the boxing legends and your relationship through the years.
Well, I had already learned a lot and knew a lot about Muhammad Ali from his Cassius Clay days. He was fighting Floyd Patterson and that's what got me interested in boxing. The kid looked at me and said, "George, you always picking on people, why don't you become a boxer?" Because of Cassius Clay in those times. Then Muhammad Ali, one of the most exciting people I've ever met in my life. And then we become great friends I didn't like that did he beat me in Africa. He won the fight. I wish I had beat him to the punch. But it all evolved and we became the greatest friends throughout his life. Then I became good friends with his children. With the FaceTime video, we could actually talk and look at each other. Wonderful times, wonderful friendship.
"Big George Foreman," directed by George Tillman Jr. and starring Khris Davis, Jasmine Mathews, Sullivan Jones, Lawrence Gilliard Jr., John Magaro, with Sonja Sohn and Forest Whitaker, releases Friday, April 28, from Sony Pictures, AFFIRM Films, and Mandalay Pictures. To see the full unedited conversation with George Foreman and DeWayne Hamby with additional content, watch the video below.