In the new movie musical "Praise This," now streaming on Peacock, Chloe Bailey stars as Sam, a troubled teen who moves in with her joyful cousin Jess (Anjelika Washington), a member of a competitive gospel youth choir praise team. Originally standoffish and aloof, Sam begins to warm up to the idea of joining the praise team, even though she struggles with her faith.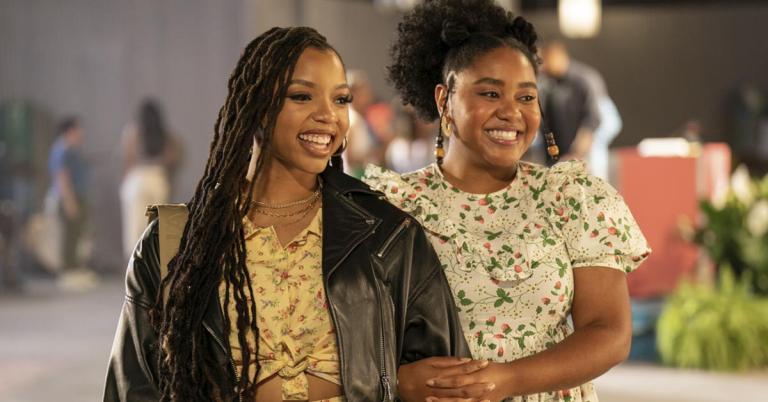 The film, featuring an impressive contemporary hip hop gospel soundtrack, is set in the church world but isn't an overtly religious film, and that's something Washington appreciates. She hopes that mass appeal will translate to a film that all audiences will embrace, regardless of their beliefs.
"I thought the script was really, really fun and really funny, but without being overly pushy or too religious," she said. "Because there's people in my life who are believers and people in my life who are non-believers. And I felt like this was a film that everyone could watch and enjoy. And it wasn't something that was like only for the Christian community. I felt really felt like it did a good balance with it all."
Viewers can't help but love the bubbly Jess, who wins over her cousin and others with her sweet optimism and compassion. Washington said the character is about 60% of her own personality, but 100 times her explosive energy and outlook. Sam doesn't immediately warm to Jess's overtures, but Jess doesn't let it deter her from showing love and acceptance.
"I'm a big believer that we don't change people by like barking at them yelling at them cursing at them or things like that," she said. "The way you're going to change people by loving them for exactly who they are and accepting them for exactly who they are. When they feel your love, that's literally feeling God's presence. That welcomes people. They feel comfortable to be themselves. And I really believe that that is the heart of how people change."
This is Washington's second musical, which she says is a "blessing" considering she's not a trained singer. When Jess opens her mouth in the film for a solo, it's evident that she isn't the vocal powerhouse of the group. As a longtime fan of "Glee" and other movie musicals, Washington nevertheless pushed forward in the audition and was pleasantly surprised to join the cast.
"I was so excited that I made a really bold choice in my audition to just go for the singing and pretend like I am the best singer, even though originally they were asking for actors who had really great singing experience," she said. "I was like, 'Well, I don't but I can nail the acting.' And I feel like it worked out for me."
"Praise This," starring Chloe Bailey, Druski, Anjelika Washington, Quavo, Tristan Mack Wilds, Birgundi Baker, Crystal Hayslett, Loren Lott, Jekalyn Carr, and Koryn Hawthorne, and directed by Tina Gordon, is now streaming on Peacock.