Sony's AFFIRM Films has released the first look at its upcoming Nativity-themed musical "Journey to Bethlehem," which will release to theaters in November 2023. Promising a look at the birth of Jesus Christ "like you've never seen," the film stars Fiona Palomo ("Outer Banks") and Milo Manheim (Disney's "ZOMBIES ") as Mary and Joseph along with Academy Award nominee Antonio Banderas ("Puss In Boots"), Joel Smallbone (for KING & COUNTRY), Moriah, Lecrae, and more.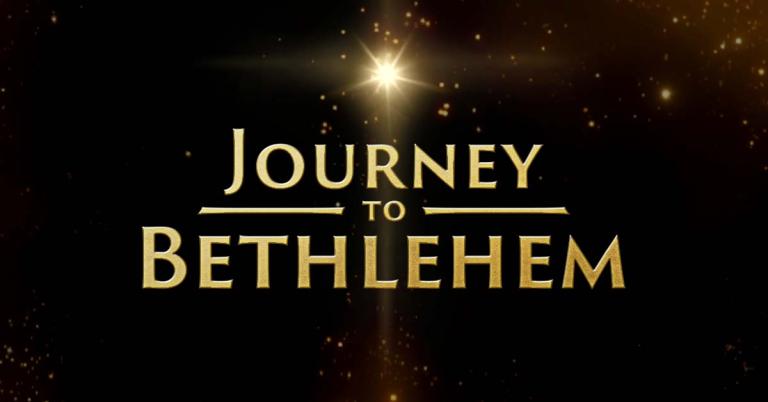 The preview, which released today, shows the contemporary musical take on the story, with "O Come Emanuel" framing shots of shepherds, dancing wise men and villagers, Joseph and Mary holding the baby Jesus, and Banderas in all of his Herod costuming giving a menacing look. Lecrae also appears as a pretty modern and compelling Gabriel, delivering the news to Mary. Several key players from the summer camp musical (and one of my personal favorites) "A Week Away" are on board, including Alan Powell, and Vicky Patel, so I am very intrigued and excited to see the final film.
The official synopsis follows:
A young woman carrying an unimaginable responsibility. A young man torn between love and honor. A jealous king who will stop at nothing to keep his crown. This live-action Christmas musical celebration for the entire family, weaves classic Christmas melodies into new pop songs in a music-infused retelling of the timeless story of Mary and Joseph and the birth of Jesus. A unique new entry into the collection of holiday classic movies, this epic Christmas musical is unlike any before it.
"Journey to Bethlehem," directed by Adam Anders, will release Nov. 10 in theaters. Watch the teaser trailer below: