"You can't just watch a movie; you have to spiritualize it." Well, not always. But sometimes a film lends itself to a spiritual thought or two and such is the case with the new big-budget superhero extravaganza, "The Flash," starring Ezra Miller. In addition to a DC comics character cavalcade, it features a profound thread with the purpose of pain and suffering.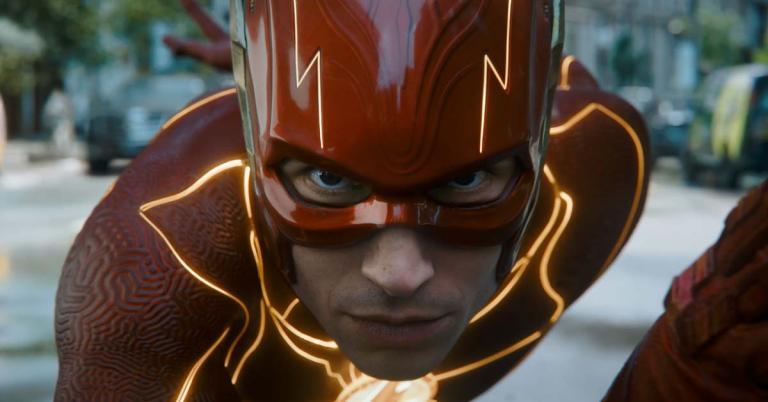 As one of the most highly anticipated superhero projects, 'The Flash,' releasing Friday, carries with it the burden of massive fan anticipation and speculation.  Rumored since the late 80s, it would be the first film to feature the Scarlet Speedster in the lead role. He's enhanced by not one but two Batmen (Ben Affleck and Michael Keaton), Alfred (Jeremy Irons), Supergirl (Sasha Calle) and "Man of Steel"'s General Zod (Michael Shannon). It's as close to a "Justice League" movie as you get without the title.
As an unapologetic longtime DC—and more specifically Batman—fanboy, for me, what's not to love about a nostalgia-fest with the icons Keaton and Affleck not only donning their suits but delivering some of the most fun and explosive action sequences ever? The opening montage with Keaton and Miller saving lives in Gotham City is thrilling and spectacular. Even though there's not as much time to get to know her, Calle as the Kryptonian Supergirl makes an impressive debut (count me in for her solo outing!).  There's also a very healthy amount of humor that thankfully doesn't devolve into too much silliness.
Even with the super cameos, the film is still very much centered on Barry Allen, who is haunted by the senseless murder of his mother when he was a young boy. The crime was pinned on his father (Ron Livingston), depriving him of both of his parents and setting him on a unique path he never wished for. Driven to exonerate his father while simultaneously discovering the ability to turn back time, he wrestles with the idea of overturning his defining tragedy and righting the wrongs. He's warned not to interfere by a wise old billionaire crimefighter, but of course, he does it anyway, creating an alternate timeline with its own set of tragedies.
"There's something really basic and human about the story," Miller said. "Barry lives with the pain of trying to solve problems in his past. And this is his journey, someone who refuses to give up hope that he can resolve them and can find a balance between his ceaseless hope—which we love about him—and the acceptance that makes a future possible."
Is there a purpose to pain? "The Flash" seems to suggest there is, that there are certain unmovable tragedies that not only define us but also mold us into who we are. When we attempt to shelter ourselves, we are not becoming who we are meant to be. In this film, the guiding factor is fate or the universe, but we trust with God that "all things work together for good" (Romans 8:28) and to "count it all joy when you fall into various trials, knowing that the testing of your faith produces patience. But let patience have its perfect work, that you may be perfect and complete, lacking nothing" (James 1:21-24). It's only human to avoid the hard times, but the Bible instructs us to lean into them and take comfort knowing there's a big picture that's being developed.
It may feel like life is a series of random moments that somehow add up to an entire existence. But many of us can look and trust that those seemingly random experiences are moments lined up to mold us into who we are. Tragedies propel us toward purpose, as in the case with these orphaned crimefighters.
If all that gets too heavy for a superhero film, just enjoy the spectacle, capably handled by Director Andrés Muschietti. It all flows together so well, even the mashups from "Justice League" and beyond, that he's been tapped to direct the first Batman film in the revamped DC Universe, "The Brave and the Bold." I'm not even much of a repeat viewer of films these days, because there's so much to see, but I'm already planning another viewing. Keaton in the suit again, Batfleck fighting in the daylight and fun nods to the entire universe gave me pretty much everything I had hoped for.
"The Flash," directed by Andrés Muschietti and starring Ezra Miller, Michael Keaton, Michael Shannon, and Sasha Calle, releases Friday from DC Studios and Warner Brothers.