Briarcliff Entertainment's latest release, "The Hill," is poised to make a splash in the world of sports cinema. Directed by Jeff Celentano and starring Colin Ford and Dennis Quaid, the movie dives into the inspiring true story of Rickey Hill, a pastor's son who conquers his medical challenges to become a baseball sensation. Hitting theaters this weekend, it has already garnered attention for its heartwarming message of faith and standout performances.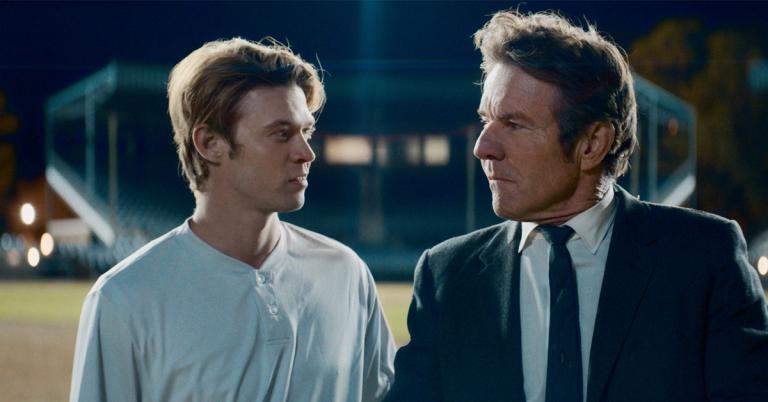 Rickey Hill's journey from adversity to achievement is at the core of "The Hill." Born with a medical condition that could have stifled his dreams, Hill's determination and unwavering spirit became the driving force behind his rise to success. The movie captures the essence of his remarkable tale and brings it to life on the big screen.
Jeff Celentano, the director of "The Hill," detailed the unlikely story of how fate played a hand in bringing the film to fruition. Celentano's brother, Mark, overheard a conversation about the challenges of finding a director for the movie. Intrigued by the tale and confident in his brother's talents, Mark recommended Jeff as the ideal director for the project. This chance encounter set the wheels in motion for the collaboration that would shape the film.
"I read [the script] and I never read anything like that. It blew me away. I read it, I cried my eyes out over what he went through. And the inspiration that it gave me, and I said, I'm making this movie no matter what," Celentano explained. The meeting with Rickey Hill himself further cemented the director's commitment to the project.
The authenticity of the film's portrayal of Hill's life is a testament to the careful attention paid to accuracy by both Celentano and Hill. The emotional connection between the real-life Hill and his cinematic representation is palpable.
"This guy knows more about me than I know about myself," Hill said.
Even the journey to release was a miracle, Celantano explained. "We went through a lot of hurdles and speed bumps to get this movie made," he said. "People were trying to steal the movie, people trying to lie to Rickey, just a lot of stuff. And we never gave up. And we have people attached to this movie with money that we thought were for sure the right people. And God just leaned over and said, 'No, this is not the right time for this movie.' As frustrating as it was. It didn't affect me as much as I thought it would. I said, 'This is not meant to be. It's going to come out when it's supposed to come out. And that all happened. I mean, like a miracle. Even today, everything is happening to us. I mean, Briarcliff put the trailer in front of a little movie nobody cared about called 'Sound of Freedom'."
With the SAG strike crippling the full promotion the film could have gotten, Celantano continues to trust in God's timing and providence.
"God is watching over this movie, but we don't have any actors to do press because of the SAG strike," he said. "We're doing the press ourselves, Rickey and I, and it's working. People are tuning in. They want to hear our story, because it's a true story about what really happened to get this movie made. And I just never gave up on it."
The filmmakers' belief in the story can also be reflected in the relationship between Hill and his father (Quaid), a beacon of unwavering support and faith.
"When I'm looking at my father, it's really tough to get through uncertain points in the movie that he portrayed because the way that he made my father look so great was exactly how my father was great," Hill said. The film captures the essence of this father-son bond and its role in shaping Hill's journey.
Beyond its heartwarming portrayal of perseverance, the film aims to inspire a sense of hope and faith, particularly among younger audiences. Celentano shared a moving story about a young boy who, after watching the movie, was motivated to pick up a baseball bat for the first time. This sentiment resonates with the movie's broader goal of impacting lives beyond the confines of the theater.
In a world often characterized by uncertainty and challenges, "The Hill" provides a beacon of optimism. The film's ability to capture the essence of Rickey Hill's incredible story, coupled with powerful performances from Colin Ford and Dennis Quaid, promises to leave audiences uplifted and motivated to overcome their own obstacles. As Celentano aptly puts it, "In a world today that is so upside down, to have this movie, touch people's hearts and have them feel good… that's all I made it for."
"The Hill," directed by Jeff Celantano and starring Colin Ford and Dennis Quaid, releases Friday from Briarcliff Entertainment.