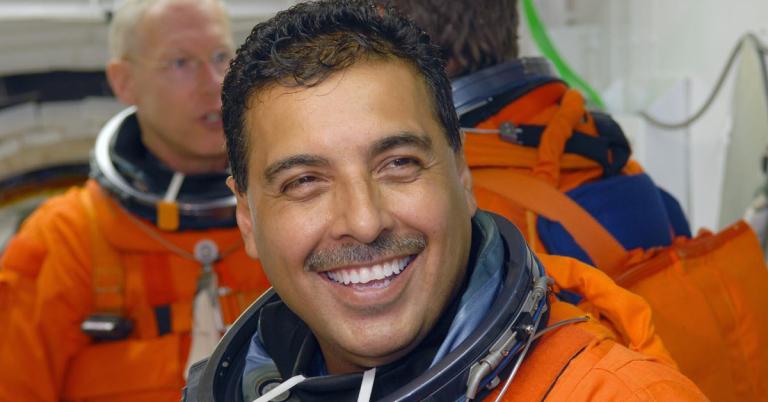 It's a journey that spanned a million miles, both literally and figuratively. NASA astronaut José Hernández, whose remarkable life story serves as the inspiration for the new motion picture "A Million Miles Away," recently shared his thoughts on seeing his life unfold on the silver screen. The film, premiering on Amazon Prime Friday, stars Michael Peña, Rosa Salazar, Bobby Soto, Sarayu Blue, Veronica Falcón, Julio César Cedillo, Garret Dillahunt and Eric Johnson."
"It's kind of like a surreal experience," Hernández explained. "You never expect to have your life told in a motion picture. And yet, here we are."
The NASA engineer, who authored the "From Farmworker to Astronaut," emphasized the challenge of ensuring an accurate representation of his life when transitioning from book to film. "When I write the book, I have control. And so, I write what's accurate. When you say, 'It's okay to make a movie about my life?' Well, you kind of lose some sort of creative control in that because it becomes an animal in itself."
However, he was quick to commend the director for preserving the essential elements of his story. Hernández stated, "But I think Alejandra Márquez Abella, the director, did a great job at preserving the key elements of the story, true to their form."
Hernández hopes the final product and hopes it will become an inspirational classic for millions. "I was very happy with the final product. And I said, this is going to hopefully become an instant inspirational classic, appreciated by hundreds of millions of people."
What was it like to be in that ship for the first time lifting off? Hernández, who waited 37 years for his dream to come true, vividly described the moments leading up to it.
"There you are, at the countdown, and you know, it reaches zero," Hernández began. "You hear the three engines rumble, feel a gentle vibration, and then a second later, noise goes up in order of magnitude. And the shaking becomes like a 10.0 on the Richter scale, earthquake kind of thing."
Hernández added, "You go from zero to 17,500 miles an hour in eight and a half minutes. I mean, it's the best ride Disneyland can ever hope for."
He shared his sense of wonder as he floated in space, saying, "You buckle your seatbelt. And you float up and you're defying the laws of physics, you're floating, and now you feel like a superhero."
The astronaut-writer emphasized the spiritual aspect of his journey, disclosing that he took his scapular, rosary, and Saint Christopher medal with him into space. "I'm a devout Catholic," he explained, "and there's room for both science and religion to coexist within an individual because science tells you how things happen. Religion tells you why things happen."
Although the film is entertaining and contains great performances by the cast, Hernandez believes it will also encourage others not to give up on their dreams.
"I hope that this movie serves as a method of inspiration, as a tool to inspire," Hernández said. "They can use it as a point of reference where they say, 'Okay, this is how I can convert my own dream into reality.' And also, to make sure that they perceive the fact that I was a very persistent guy."
"A Million Miles Away," directed by Alejandra Márquez Abella and starring Michael Peña, Rosa Salazar, Bobby Soto, Sarayu Blue, and Veronica Falcón, releases on Amazon Prime September 15.