There has been a battle in evangelicalism that's been going on for over seventy years!
There are those who believe that the Gospel is strictly about how the cross of Christ provides the gift of salvation for individuals. And there are those who believe that the Gospel is much more holistic, dealing with both personal salvation and cosmic redemption from systemic evil.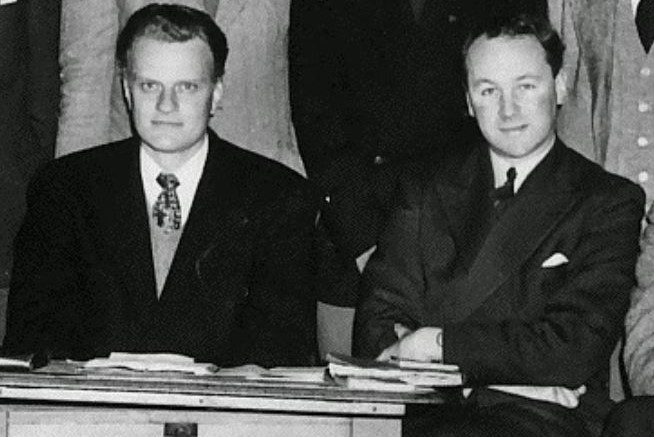 Back in 1974, The First International Congress on World Evangelization was convened in Lausanne, Switzerland, led by Billy Graham and John Stott. The resulting Lausanne Covenant was a landmark.
"We are deeply stirred by what God is doing in our day, moved to penitence by our failures and challenged by the unfinished task of evangelization. We believe the gospel is God's good news for the whole world, and we are determined by his grace to obey Christ's commission to proclaim it to all mankind and to make disciples of every nation. We desire, therefore, to affirm our faith and our resolve, and to make public our covenant."
Along with affirmations on the purpose of God, the authority and power of the Bible, the uniqueness of Jesus Christ as the savior of the world, the nature of evangelism, the church's role in evangelism, how critical evangelism is, and how Christians should cooperate with each other to evangelize, there is a section on "Christian Cultural Responsibility." In it, they make some amazingly repentant statements.
"We affirm that God is both the Creator and the Judge of all men.

We therefore should share his concern for justice and reconciliation throughout human society and for the liberation of men and women from every kind of oppression.

Because men and women are made in the image of God, every person, regardless of race, religion, colour, culture, class, sex or age, has an intrinsic dignity because of which he or she should be respected and served, not exploited.

Here too we express penitence both for our neglect and for having sometimes regarded evangelism and social concern as mutually exclusive.

Although reconciliation with other people is not reconciliation with God, nor is social action evangelism, nor is political liberation salvation, nevertheless we affirm that evangelism and socio-political involvement are both part of our Christian duty. For both are necessary expressions of our doctrines of God and Man, our love for our neighbour and our obedience to Jesus Christ.

The message of salvation implies also a message of judgment upon every form of alienation, oppression and discrimination, and we should not be afraid to denounce evil and injustice wherever they exist."
The phrase that has guided the Lausanne Movement ever since has been,
"World evangelization requires the whole Church to take the whole gospel to the whole world."
So, this new generation of evangelicals in the mid-20th Century saw that the fundamentalist narrowing of the gospel was actually harming the evangelization of the world. The Lausanne Movement was a culmination of a paradigm shift that started in the late 1940s and into the 70s when a new generation of evangelicals pushed against a fundamentalist narrow view of the gospel. Even with the historically significant efforts of Carl Henry and the neo-evangelicals, and those in America and around the world who advocate a more "Holistic Mission," there are still those in the evangelical camp that want to define mission strictly to the work of saving souls.
What we are still seeing is this old battle between the old-guard fundamentalists and the new evangelicals. Even in 2021, old-guard evangelicals push back against including overcoming injustice. They still insist on clinging to a truncated gospel that limits it to personal salvation, seeing any insistence for a "Whole Gospel" as being not only off-message but contrary to the Gospel itself.
Personally, I've become convinced of this:
The gospel mission is a holistic mission of reconciling all things to God by proclaiming the gospel of the kingdom of God in a way that sees Christ's lordship over every aspect of existence. We are to invite people to submit to Jesus as Lord and believe that Jesus died for their sins and that God raised Jesus from the dead so that they can participate in God's mission to bring abundant life and restoration to the entire cosmos.
So, for what are Christians saved? Some say the only reason people are saved is so that they can save more people. Salvation is for the sake of salvation.
(Side note: I've even seen people truncate the "Great Commission" that calls us to "make disciples of all nations" as being "make converts." No, we are called not just to evangelize but do something much more profound and impactful: to make disciples. Of course, the first step for anyone who will be a disciple is conversion, i.e., repentance and trusting in Jesus as Lord, but followers of Jesus are more than just those who prayed a sinner's prayer or went forward during an altar call).
You see, I contend that salvation is for discipleship. That is, following Jesus as he goes about his kingdom work. While evangelism is crucial, it is not the only thing that's important. God is saving people to participate in a grander, more holistic mission: the mission of reconciling all things back to God.
In other words, when someone becomes a Christian, they are called into the grand mission of participating in the Kingdom of God, bringing shalom flourishing to everyone and everything in God's creation. We commit to seeing God's will done on earth as it is in heaven. Evangelism, then, becomes inviting people into that. Which, when you really think about it, is much more amazing than inviting them into a mission that is just about evangelism. I say this as someone who, at heart, is an evangelist. I want to share the good news of the kingdom of God with people so that they too can know God through Jesus the King and join with Him in this grand mission.
If the mission is only about helping people secure a heavenly after-life, then of course racial injustice is not all that important in the grand scheme of things. This is exactly what John MacArthur said in a recent interview.
But if the mission is to redeem, restore, and reconcile this world back to the way God intended, then racial injustice has got to be a part of that grand plan.
Critical Race Theory (CRT) is the latest round in the battle.
As Christianity Today reports,
Critical Race Theory's rise to the forefront of conservative public discourse, both inside and outside the church, has been recent and rapid. Originating as a relatively niche '70s-era legal theory that suggests inequities of power are deeply embedded within society and coalesce along racial lines, it has become a frequent talking point among conservative and Republican pundits.

Last November, the Southern Baptist Convention's six seminary presidents released a statement calling the theory "incompatible" with the denomination's message, prompting at least four Black pastors to break with the denomination.

Oklahoma, Idaho, and Tennessee, all states with Republican majority legislatures, recently banned public schools from teaching the theory, with nearly a dozen states having introduced similar legislation.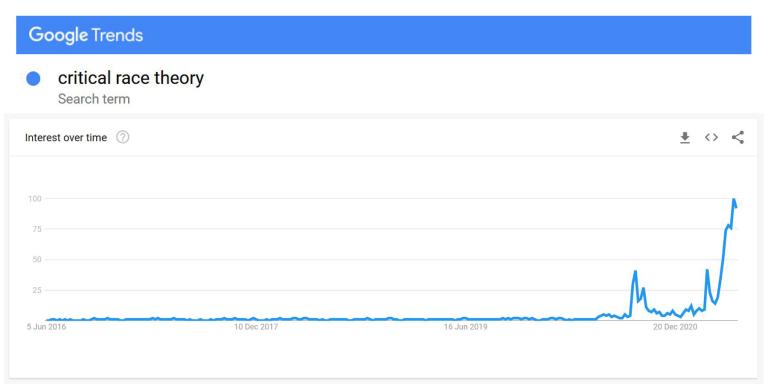 The most recent news is that the debate over CRT is causing divisive problems in the parachurch college ministry Cru (formerly known as Campus Crusade for Christ). Cru has long been a microcosm of the evangelical subculture.
Here we go again.
A younger and more diverse generation wants to pursue a more holistic gospel that not only brings people to salvation but also makes for a better world through overcoming systemic injustice. The older generation sees the latter part as being superfluous to the real mission of saving souls. It sounds like the mid-20th century all over again.
Concern About Oppression is Very Christian
In my next post, I will go into what Critical Race Theory is in detail. But for now, we'll just say that CRT is an offshoot of Critical Theory, which studies the world through the lens of the oppressed and the oppressors, assessing that majority groups have the power to oppress minority groups, be it based on race, sex, sexual preference, gender identity, etc.
Critical Theory frames oppression as the only thing that's wrong. Of course, that is not the whole story of how sinful people hurt other people, but it is certainly part, if not a large part, of the story.
An admittedly simple articulation of the Christian conservative and political conservative critique of Critical Race Theory is this:
CRT divides people into two groups by race, the white oppressors and the non-white oppressed. CRT is wrong about the notion that the United States was founded by white men who weaved white supremacy into the tapestry of American law from the beginning and that this racist system remains to this day, corrupting much of American life. CRT is evil because it teaches that the main "sin" that humans have is simply white oppression and that CRT's "salvation" is found only when white oppressors become "woke," repenting from their sin as oppressors and then making recompense by dismantling the oppressive structures that favor whites over non-whites.
So, according to the conservatives (both theological and political), it is wrong because it so focuses so much on oppression.
But wait.
Look back up to that statement from the Lausanne Covenant of 1974. John Stott, Billy Graham, and the rest of the key leaders at the Lausanne Conference said that Christians "should share (God's) concern for justice and reconciliation throughout human society and for the liberation of men and women from every kind of oppression."
Again. that was in 1974! Critical Race Theory wasn't a thing until the 1980s!
So we have to make this very, very clear:
Christian concern about oppression is not necessarily founded on critical theory.
It has been based on the Bible for a long, long time. To many Christians, overcoming systemic injustice has always been a major part of the Gospel.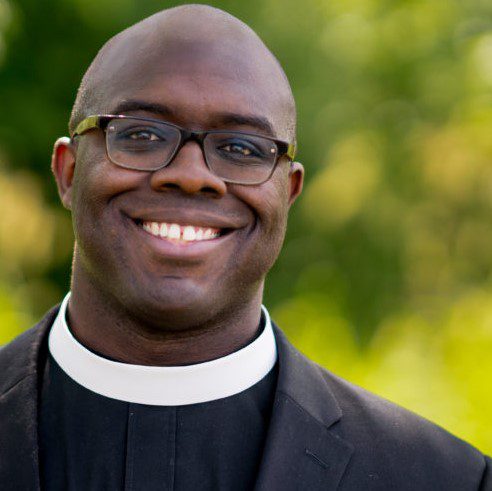 Anglican New Testament scholar (and African-American) Esau McCaulley has witnessed a troubling trend. He recently wrote, "Many Black Christian(s) speaking about justice and against systemic racism have been accused of being subtle or an unapologetic critical race theorist(s)" though they are not. McCaulley believes that we can use terms or ideas associated with CRT without adopting its whole worldview, even though "most critics would answer in the negative and maintain that any use of CRT entails taking an entire worldview that is at its core opposed to Christian orthodoxy."
McCaulley's point is this:
"Many ideas that get labeled as CRT actually come from the theologically orthodox Black Christian tradition."
In other words, orthodox Christians have been talking about racial oppression for a long, long time. And many of them have been Black. Now, we have to say it: Many whites have historically dismissed orthodox Black Christians. The presumption is that if a Black man or woman speaks or writes about racism from a biblical framework, they most likely are misled to think that the Bible is mainly about "liberation" and not about "salvation." No matter how much the Bible speaks about the subject of liberation from oppression, Whites have been dismissive of such things. I wonder if this is the root of why so many White Christians dismiss the current surge of a desire to see "social justice" as part of the Christian mission.
But this reaction against "social justice" misses the foundation of Jesus Christ's own mission! Re-read the very words of Jesus Christ when he initiated his ministry. The Lord said,
"The Spirit of the Lord is on me, because he has anointed me to proclaim good news to the poor. He has sent me to proclaim freedom for the prisoners and recovery of sight for the blind, to set the oppressed free, to proclaim the year of the Lord's favor" (Luke 4:18-19).
The Gospel is not just about Jesus saving people from their sin (though that is a huge part of it).
I know that is a shock to hear for some, but the gospel is bigger than that. It is about personal salvation and about liberation. It is, indeed, about "setting the oppressed free."
Have we forgotten what the gospel (Greek evangelion, "good news") is? Listen to what Jesus Christ said is the gospel:
"I must proclaim the good news of the kingdom of God… because that is why I was sent." (Luke 4:43)
We need to have a renewed understanding of what the Kingdom of God is. It is not "heaven for saved people." It is Christ's work, as the Messiah/Christ/King to bring the goodness of God's shalom flourishing into the world today, which will come to its fruition when Christ returns. When God is in charge, life is as it should be. Therefore, oppression must be battled because it is diametrically opposed to the Kingdom.
CRT Part 2: What is Critical Race Theory?

---
Feature image by Julian Myles on Unsplash