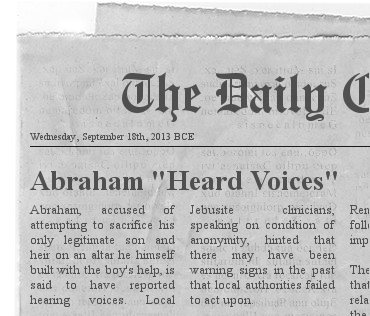 It is important to tread carefully when something tragic is in the news, such as Aaron Alexis' recent shooting rampage at a Navy yard. But my students are continuing to discuss the Abraham story and the Euthyphro today, and we simply cannot bypass the question of how one would react to someone in our time who hears voices, someone who claims a divine command is their motivation to harm another person. I'm not saying that that was the nature of Alexis' experiences. But his recent action, and reports about his mental health, are now the context in which my class discussions – and the students' first writing assignment – are forced to take place. And so I made the above image, to bring that issue into focus, and hopefully generate discussion of it.
But we need to go further still. I want to make clear that an attempt to read the Abraham story as a factual account of an individual with mental illness makes little sense, not just historically but religiously and morally. The story is, in my view, an attempt to co-opt a revered figure in a fight against the widespread practice of child sacrifice.
Taken literally as history, it is a story that opens the door to the possibiity that God could demand that you kill someone else.
Taken as polemic against child sacrifice, it is a story that at least tries to close that door and lock it shut.
Whether the author of Genesis did as effective a job as Ezekiel or Jeremiah in combatting the practice did is another question.
See also my earlier posts related to this story in Genesis.