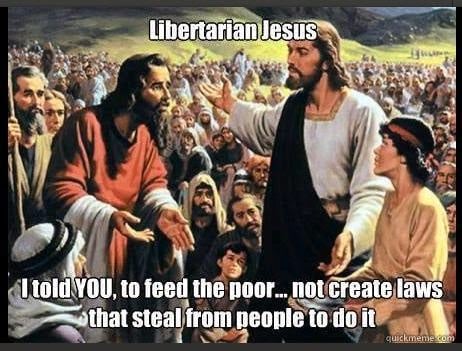 James Knight, on his blog The Philosophical Muser, posted the above image, with comments to the effect that individual generosity is better than collective generosity. His post reflects the false antithesis that, if a society works together for change, somehow that means individuals are not generous. But can it not rather show (1) that generous people know that working together as a society is more effective than individual efforts, and (2) experience shows that one cannot effectively deal with issues of social justice by assuming the powerful will help the powerless, and (3) that keeping the poor poor and dependent on the rich perpetuates injustice rather than addressing its underlying causes?
The notion that taxes in a democracy are "stealing" from those who voted for the representatives that legislated them is ludicrous misrepresentation.
Here's what I wrote in a comment in response:
[What you wrote] ignores the existence of laws in the Jewish Scriptures requiring that people leave the edges of their fields for the poor, return property to its owners once every 50 years, and so on. The truth is that the Hebrew Bible/Old Testament offers only a theocratic vision for an agrarian society that can't be implemented in a modern democracy, and the teaching of Jesus reflects the fact that he was not in a position to make laws for the society of the time. The best we can do is discuss the best ways to tackle social issues, allowing ourselves if we are Christians to be guided by the teachings of Jesus. It is clear from history that leaving the plight of the poor up to the generosity or lack thereof is not an effective solution. It is also clear that social ills require social solutions in order to deal with the root causes and not simply the symptoms. And so the notion that we should roll things back to the way they were in the past, suggests to me that you do not know how much worse things were for the poor in the past.
It is as dubious to depict Jesus as a libertarian as to depict him as a capitalist or a communist or a socialist. But that doesn't mean that, in a modern context, socialism might not be the best way for his followers to seek to apply his teachings to their socio-economic context.
Here's an image I shared here once before, which nicely satirizes the message of "Libertarian Jesus" in the first image: