I've been meaning to share the cartoon below since Gretchen Koch shared it almost two years ago: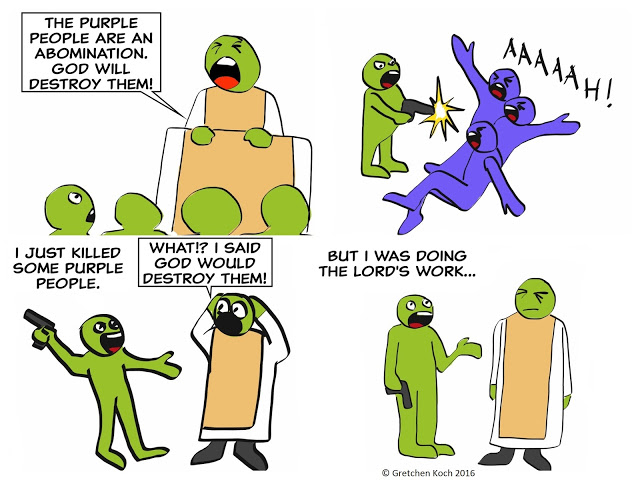 The cartoon relates to quite a number of theological, political, social, and moral matters.
I suspect that the only reason that the Emperor Nero, back in the first century, was able to blame Christians for the fire in Rome in his time, was because Christians had been heard speaking about divine judgment, and more specifically fire, being in store for Rome. Christians most likely genuinely did think that this was something for God to do, that God certainly would do, rather than something that they ought to do. But that is the exception rather than the rule, and so we can understand how people might have thought that a group that predicted judgment might also seek to inflict it.
On the other hand, in our time, we may think of Muslims who have acted in response to what they perceive as blasphemies by executing those responsible. Treating words about the prophet Muhammad as "blasphemy," of course, is somewhat ironic, given the more mainstream Islamic emphasis on Muhammad as a human being who was in no sense divine, adamantly affirmed to not be like the orthodox Christian view of Jesus. But that is another matter. In the present context, what is most interesting is the idea that human beings might be responsible to defend God's honor, as though God is not able to or willing to act to resolve such matters, presumably in a manner that will be more consistently accurate and just than what humans will enforce.
As I wrote a few years ago (commenting on a meme that perhaps deserves to circulate again):
If a deity is offended, that deity can fight his or her own battles. In claiming to "stick up for" a god, you are implicitly indicating the deity's weakness. That's why violence in the name of a deity, far from honoring that deity, is an admission of the deity's impotence.
See
my post on "Blasphemy Against the Sith"
for even more on this topic – and of course, the movie
The Fisher King
.
But perhaps most important is the connection between the two examples above. Someone might genuinely mean only that God will judge, but to the extent that doing that which God wills is upheld as an ideal in so many religious traditions, why would one not kill blasphemers, or abortion doctors, or gays, – or turn the key and usher in a nuclear apocalypse that one believes is predicted in the Book of Revelation? Do people have a responsibility for their words such that we ought not to speak in ways that could motivate violence that we ourselves might never engage in? Should people be held accountable when others act on language that they insist was mere empty (and yet hateful) rhetoric?
What are your thoughts on the cartoon?