Mark your calendars! On May 23rd my church will be hosting an online discussion of my book What Jesus Learned from Women. The online event will feature panelists from my church and the regional branch of the American Baptist Churches USA, of which my own church, Crooked Creek Baptist Church, is a part. My church is hosting the event not only because the book is written by a member, but also because my Sunday school class played an important role in helping provide feedback on my ideas at various stages in the writing process.
This is an event featuring American Baptists but (in case that isn't already clear) it is not in any sense just for American Baptists. Please join us to hear about how the book looks from the perspective of this historic denomination which ordains women (having done so since the 19th century!) and recognizes them as leaders in the church in every respect, and share your own thoughts and questions as well in the question and answer time that is part of the event.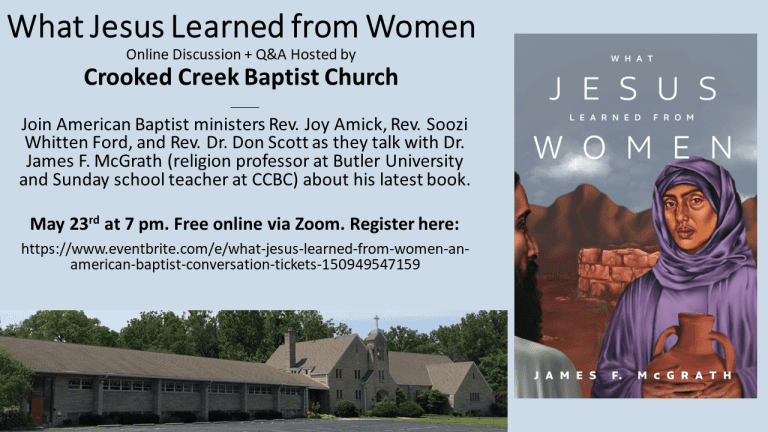 You can register for the event via Eventbrite here. Please register, put the event in your calendar, and plan to attend. Please also help spread the word! Feel free to borrow the above image and to share it on social media together with the link to the event page.
Also related to the theme of my book in one way or another are the following upcoming events, interviews, news articles, blog posts, and other items I link to below:
There is an upcoming webinar with Beth Barr.
There is also an upcoming event about gender in the Hebrew Bible
The Making of Biblical Womanhood on NPR Morning Edition
Beth Barr talks to Scot McKnight on his podcast:
http://theessential.church/episode-110-an-interview-with-lucy-peppiatt-rediscovering-scriptures-vision-for-women-pt-1/
A Marginal Majority: Women, Gender, and a Re-imagining of Southern Baptists
Critic: Beth Moore's Mild Critique of Complementarianism Didn't Go Far Enough
At Wheaton, Female Bible Profs Carry on a Long and Controversial Tradition
AJR on the Life of Mary Magdalene
Evangelicals wrestling with the humanity of Jesus:
While my book focuses on a woman whose comeback to Jesus impressed and influenced him, Jesus is rightly remembered for his.
Was Jesus a Friend of Sinners? Matthew 11:16-19