Last week I had the honor of continuing a three year tradition of sitting down and chatting with my friend, the artist and prolific author Frank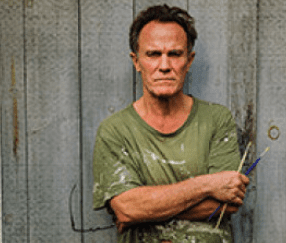 Schaeffer at the Wild Goose Festival in Hot Springs, North Carolina. Every year that I have sat down with Frank, I have been blown away by his compassion, spiritual fervor, and honesty. Every year, I walk away from our conversation filled with hope and a renewed energy to continue pressing in to my mission and vision for a new kind of Christianity. Every year, I leave our meeting thanking God for Frank Schaeffer.
Now, many people, primarily conservative Evangelicals, have a very negative view of Frank. He doesn't often seem like such a nice guy when he appears on MSNBC offering his fiery commentary on the latest tea-party Republican controversy. Many see him as an extreme, anti-Christian voice that is rebelling against the faith of his iconic evangelical father, Francis Schaeffer. But anyone who has the privilege of getting to know Frank, either through his many books or through personal interaction, knows a different side of him. The Frank Schaeffer I know is a man whose heart is overwhelmingly large, whose faith and worldview are refreshing and eclectic, and whose passion is a constant source of inspiration for those of us who identify as spiritual nomads, wandering the vast deserts of religion and spirituality. He is a man whose voice is important and whose insight is innovative and essential. In short, Frank Schaeffer is a man who we all could benefit from listening to.
During my conversation with Frank, we talked a bit about his new self-published book, Why I Am an Atheist Who Believes in God. This short book beautifully summarizes Frank's life mantra, "Give Love, Create Beauty, & Find Peace." In our conversation he summarized what he meant by "Atheist who believes in God" using this mantra as the foundation. Frank's spirituality is one of complexity, paradox, and tension. He is ruthlessly honest, not afraid to acknowledge to truth that science has revealed about humanity and our attempts to create meaning through inventing religion. Frank explained to me that beauty and not necessarily "God" (though the two terms can be interchangeable) is the purpose of our lives and the source of our ultimate hope. When we spend our lives creating beauty through art, justice, and relationship, we naturally become people who love well. The pursuit to create beauty draws us deeply into loving one another and loving our planet because we learn to see each other and every created thing as a work of "divine" art. One doesn't need theism to explain how beauty gives us meaning and why we find it so inspiring- it's simply the way the human brain has evolved to work. When we live our lives in pursuit of beauty and giving love, peace will naturally emerge and sustain us through our day to day lives.
But where does belief in God come in? Frank explained to me that sometimes, as he stands in his backyard at night, he looks up at the stars and feels a Divine pulse vibrating through him, telling him that he is loved. Sure, this can be explained away scientifically, but it can also be understood to be a genuine encounter with the Source of all Life. At times, Frank said, he doesn't feel the need to explain away his intuitive sense that he is experiencing God, and it is out of those experiences that a sense of faith emerges. Yet Frank does not allow faith to blindly lead him into following doctrines, dogmas, and traditions. Instead, he reiterated the importance of remaining ruthlessly honest about what we know to be scientifically true. But his "atheism" doesn't lead Frank to a dry and lifeless existence like it has too many other atheistic writers and thinkers. Instead, it leads Frank to a place of awe and wonder, a place of ethics and morals, a place that opens him to be filled with the Spirit of God- whether God exists or not.
At the end of our conversation, as I looked deeply into Frank's eyes, I said to him, "You are so full of hope and life. Your message is deeply true. I so appreciate who you are and the journey you're on. Thank you so much." Frank looked at me with watery eyes and extended his hands to mine. As I placed my hands in his, he kissed them gently, a beautiful gesture that reminded me of Jesus. As Frank and I stood up from the table and left, I turned my eyes to the sun that was beaming down from the trees and smiled- a silent gesture of thanksgiving to God (or life, universe, creation, reality….whatever) for my friend Frank Schaeffer.
I spent the rest of the week reading through his book and continually found myself laughing out loud at his wittiness, dumbfounded by his honesty, and encouraged by the message that he presents- a message that I know first hand, that he embodies in his day to day life. As an Evangelical Christian, you wouldn't expect me to find such inspiration from Frank Schaeffer's work, but I really do. His writings and friendship serve as a fuel for my faith in many unexpected ways. While I know that many of my readers may be skeptical of Frank and his book, I want to encourage you to take a risk and buy Why I Am an Atheist Who Believes in God today. I am confident that you will be edified by Frank's story and message, just as I have been. After all, God often speaks to us in the most unlikely places, doesn't he?
Frank Schaeffer's atheism is absolutely beautiful and is a message that I can fully get behind as an Evangelical. I think you will get behind it too.
For more information about Frank Schaeffer and his books, visit his website by clicking here.
To read past interviews I've done with Frank, click here
Grace and Peace-
Brandan