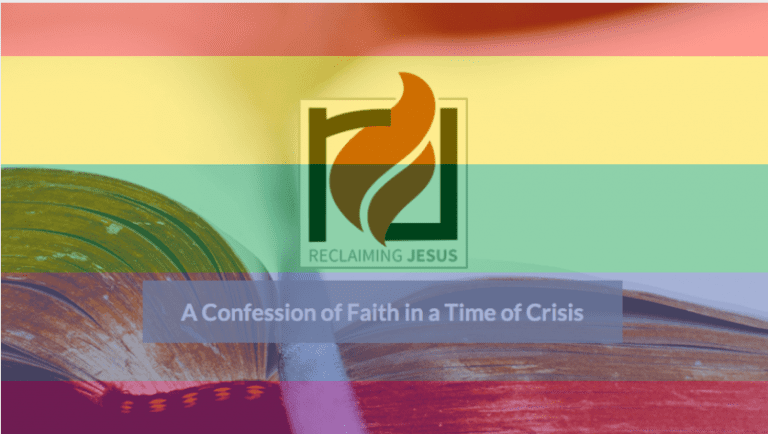 We are living in an era where claiming to be a Christian is becoming less and less appealing. Those who most publicly tout their adherence to this faith that claims to center on the life and teachings of Jesus of Nazareth are often those whose lives have little to no resemblance to this first century Rabbi who shunned power, privilege, and wealth in favor of reclining at the table of the outcast and marginalized. This is why I was so thrilled to hear of the Reclaiming Jesus declaration being released from some of the most prominent Christian leaders in the United States, calling on those who bear the name of Christ to recommit themselves to the values of Jesus that have been rejected by our nation's leaders- both religious and political.
The declaration claims that "the soul of the nation and integrity of the faith" are at stake, and therefore, "We believe it is time to renew our theology of public discipleship and witness." I wholeheartedly agree with these premises, and have seen in my own congregation as deep hunger for a recommitment to the radical, sacrificial way of Jesus in this era. But such a recommitment to public discipleship in this era must include a call to the radical inclusion and embrace of all of those who are threatened, not only by this Presidential Administration, but Christian denominations across this country.
It must include a call towards an intersectional approach to justice, understanding the complex ways in which the liberation of one marginalized group is dependent on the liberation of all marginalized groups. It must include an understanding of the ways in which gender, sexuality, ethnicity, socioeconomic status is all fundamentally linked together, and therefore call on the Church of Jesus Christ to uncompromisingly work for the dignity, rights, and equality of all people, specifically naming and committing to defend the most threatened groups of people in our society.
Sadly, the Reclaiming Jesus declaration falls dreadfully short of a robust call to intersectional discipleship with its deafening silence on the threats that are being faced by sexual and gender minorities in this era of our history as a nation. In all of its six articles, which specifically name the threats that are being faced to women, to people of color, to immigrants, and to our democracy at large, there is not a single mention of the threats posed to the LGBT+ community, though this community has faced pointed attacks by this Presidential Administration and its Christian allies.
The Trump Administration, with the support of many religious advisors, celebrated its reinstitution of a ban on transgender individuals serving in the military, has supported businesses right to discriminate, and has announced its intention to fight many of the Obama-era victories gained for the dignity and equality of sexual and gender minorities. The threat to the LGBT+ community is real and immanent, and in our moment of need, the signatories of the Reclaiming Jesus declaration have chosen to remain silent about the dignity and equality of LGBT+ people.
I must admit, when I realized this glaring omission from the statement, I was shocked. Many of the leaders that drafted and signed this declaration are personal friends of mine, and many have been supportive in the past of LGBT+ rights. All of them are well versed in and have expressed a commitment to intersectional justice in the past, which makes it clear that there was a willful decision to omit any language defending the dignity and equality of sexual and gender minorities from this declaration, probably for the sake of obtaining the support of more "conservative" signatories.
But the time for ambiguity on the equality and inclusion of LGBT+ people in society and the Church is over. Silence and indifference on LGBT+ rights must now be seen as overt support of our oppression or at very least a fundamental lack of integrity of the part of any leader who is willing to make a declaration of support for intersectional justice while remaining indifferent on the dignity of sexual and gender minorities. In an era where any progress that has been made on behalf of the queer community is significantly threatened, to see these leaders silence is not only deeply painful as an LGBT+ Christian, but causes me to question whether any of their claims are truthful.
How can one claim that "Truth-telling is central to the prophetic biblical tradition" and yet refuse to speak on behalf of the LGBT+ community?
How can one declare "[The image of God in humans] confers a divinely decreed dignity, worth, and God-given equality to all of us as children of the one God who is the Creator of all things" yet refuse to include queer humans in that "all" statement?
How can one call for moral clarity from our elected officials, yet remain morally ambiguous on the topic of LGBT+ equality?
In this way, the Reclaiming Jesus declaration falls dreadfully short of being a revolutionary statement, and in fact represents yet again the failure of institutional Christianity to take seriously the call of Jesus to "take up the cross" and sacrifice their own privilege and power for the good of all those who are marginalized without exception. "Unity" at the expense of the rights of any group of humans is a grave and egregious sin, more insidious in many ways than an overt statement of discrimination.
The leaders who drafted the Reclaiming Jesus statement know better than this, and until theyare willing to truly embrace prophetic intersectionality, they will continue to be a part of the problem within the Church and the nation, not the solution.