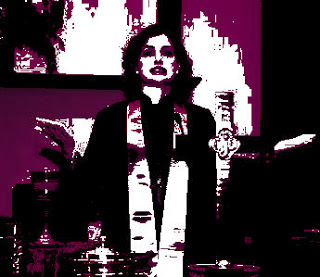 I am a mother, a preacher, a professor, a scholar, a coach, and a number of other things. While I have hobbies that renew me and good friends who nourish my soul, sometimes it feels like something is still missing.
And then I figured out what it was. I need to hear women preach. Regularly. Like protein in my diet, I need to hear from my sisters. I want to know what God is saying to them, and I want to hear their wisdom.
This world is blessed with so many women who are called to preach. Anointed by God, these proclaimers are powerful witnesses to God's work among us. Their sermons are a drink of fresh water in the middle of my Texas summer, and I need to hear from them. We all need to hear from them.

So, I created Stole Sisters, a podcast that features women preachers. You can subscribe through iTunes (or any other major podcast streaming service) or listen online here. Each episode features sermons by a sister of the cloth, representing a variety of denominations, theological perspectives, and ministries, with no agenda other than to faithfully preach the word of God. If you would like to nominate yourself or a talented preacher you know to be featured on this podcast, I welcome you to contact me.

Stole Sisters fully supports and affirms equity in the pulpit and seeks to promote the thousands of women preachers whose voices are so often silenced or ignored. God is bigger than any one gender, and the church best follows the teachings of Christ when it welcomes all who wish to respond to God's call.

Listen in to hear what God has to say through a Stole Sister. And then go out in the world and do what God has called you to do. And together, working as one family of God, may we be the Church that Christ has called us to be.
Dr. Courtney Pace Lyons teaches Religion at Baylor University, where she is also Assistant Director for Student Success. She researches social justice movements in American religion, particularly the Civil Rights and Women's Rights Movement. She also blogs at Rev. Dr. Courtney Pace Lyons.