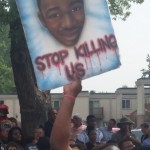 Recently, I wondered aloud and asked, "Do We Even Care" about the death of Darrius Stewart. That question came as a response to Chris Johnson's powerful piece that appeared on Gawker titled "Killed on Holy Ground: Dispatch from a Sea of Blue."  At the time I wrote that it was "some of the best writing I have read in awhile."  Further I said
Johnson powerfully offers not only the story of the Darrius Stewart killing, but tells the story of Tremaine Wilbourn, who is currently awaiting trial for the killing of Officer Sean Bolton. What Johnson cogently does is to tell the stories of Stewart/Schilling and Wilbourn/Bolton to critically examine how WE MEMPHIANS responded to each. It is a piece of good writing that places you at the scene of each death and each press conference and as a good historian, Johnson contextualizes it all within the racial and political climate that is Memphis specifically and Tennessee broadly.
While some of us understood some of the discrepancies in Darrius Stewart story, it did not take away the power contained in Johnson's essay, especially in the framed that he chose to use. However, Johnson here offers a rewrite; one that includes the testimony of the Stewart family. In so doing, he makes a good essay that much better. Read Johnson's reflection below. 
Love to all folk who read and shared my essay this weekend. I cannot contain my love and appreciation for big brother all-mighty Kiese Laymon, who aside from being the most honest and generous and loving black southern wordsmith and devastating ether chemist of our times, has created space for me and many other writers of color. Tragically, so many of these narratives shouldn't exist. So many of these narratives of police violence shouldn't have to be written.
Eighty days have passed since Connor Schilling killed Darrius Stewart and DA Amy Weirich has done nothing. Mary Stewart needs your love and support. This city needs your love and support. This city needs regime change. Poverty and crime and police violence sustain the power of the ruling oligarchs of this city. As long as poverty and crime flourish, Jim Strickland, Kemp Conrad, Berlin Boyd, Mike Williams and these other rogues can call for more cops, more force, less oversight, and more kids in jail.
I have apologies to make. The Stewart family informs me that I got things wrong, particularly about the alleged outstanding warrants and the alleged fight in the police Charger. I am sorry for any mistakes that I made in the essay. I apologize to Mary Stewart for unintentionally perpetuating the character assassination of Darrius Stewart. I apologize for grounding the story in unreliable police and press reports even as I tried to focus my analysis on the unreliability of these press and police narratives. Because the press and the police in this city are habitual liars and vultures. I apologize for calling for greater listening and not first listening to Mary Stewart.
In the spirit of explanation and atonement: I made deliberate choices in crafting this essay, and I wasn't invested in analyzing claims about Darrius's alleged warrants from some six years ago, when he was twelve years old. This stuff about the warrants is irrelevant and ridiculous. Children's names don't belong in arrest warrants. Children don't belong in police Chargers or jails or prisons. And, from what I understand, no one has been able to locate these alleged warrants. Fiction or not, present or past tense, arrest warrants do not justify execution.
As for the Darrius's resistance…I tried to frame that as the story of Connor Schilling, an unreliable, untrustworthy narrator employed by an unreliable, untrustworthy police department.
That being said, I did argue that Darrius's resistance—by fighting or running or both—was justified. Darrius had every reason to assume that his life was in jeopardy in the back of that Charger. He had every reason to defend his life. He had no choice but to defend his life. Connor Schilling chose to chase him and kill him.
The MPD does not deserve compliance and submission because they have used public obedience to bludgeon and rape and steal and spy and kill. The MPD does not deserve public trust because they have repeatedly betrayed it, squandered it, shattered it.
The original title of the essay was "The Murderous, Cowardly Pack," in honor of Claude McKay, whose poem "If We Must Die," is tragically as relevant today as it was in 1919 and as it was for freedom fighters in the 1960s and 1970s.