We have recently posted three short videos taken from the Living Your Truest Identity sessions on YouTube. Check them out by clicking each of the three pictures below! Also check out the excerpt below the video's..
Part 1 below
Part 2 below
Part 3 below
BEING QUIET IS KEY
an excerpt from Approaching the Heart of Prophecy,
on sale this month for $10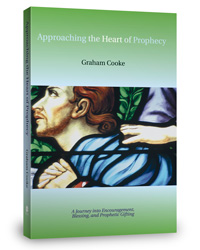 In 1 Kings 19:11–12, we read an interesting story of God interacting with his prophet, Elijah:
Then He said, "Go out and stand on the mountain before the LORD." And behold, the LORD passed by, and a great and strong wind tore into the mountains and broke the rocks in pieces before the LORD, but the LORD was not in the wind; and after the wind an earthquake, but the LORD was not in the earthquake; and after the earthquake, a fire, but the LORD was not in the fire; and after the fire a still, small voice.
The voice of the Lord is like a whisper at times; it can be so soft that we strain to hear it. That's why being still and quiet is so important to prophecy. In the peace of God, revelation flows. There have been times when I have been so at rest that I've heard the whisper of God, turned to a person near me and said "Can you hear that?" It's like He spoke out loud. If we have stillness on the inside, even the whisper of God sounds loud to us.
Too many Christians have no idea about the quietness of God. I remember working with some men in America for the first time. We were at a conference together, and i was just getting to know them. They were nice guys, and we sat in a hotel restaurant, talking and laughing. It was an ordinary, light-hearted conversation. After a while, they looked at me and said they had a word for me.
They laid their hands on me and yelled at me in perfect, King James English. They almost rubbed my head bald. They pushed me all over the place, shouting so loud they were spitting in my face. They were sending me to some country, somewhere, in their prophecy. It was awful.
"What are you doing?" I asked, stopping them in mid-sentence.
"What do you mean?" they said.
"What are you doing?" I repeated.
"We're prophesying over you," they said.
"I know that," I replied, "But i don't understand the funny language. Why were we having a conversation on one level and then we start praying and you speak in old King James English? Why are you trying to give me a migraine? And I had a shower this morning… why are you spitting all over me? I'm not deaf, but you're shouting at me. Please, I'm not trying to be rude or anything. I'm always ready to learn but I just don't understand this. Why do you have on way of speaking in life and another in ministry?"
They couldn't think of a reason why. I kept going. "Okay, why put my head in a vice? Is there a reason? Because that was pretty painful. I have indentations on m skull." Again, they had no reason behind their actions. "I really appreciate your ministry but maybe you could change your approach. This one has left me really struggling and I can't understand a word you're saying."
After the prophecy, we had a conversation about it. I think we always need to de-mystify the prophetic. One of the problems with revelatory people is that they try to elevate it to an almost mystical connection with God. But God is sometimes so ordinary in His approach that we miss His voice.
Samuel almost missed God's voiced in 1 Samuel 3. He heard the voice of God and thought it was Eli. Three times he heard the voice of God, and three times he thought it was Eli. Finally, Eli understood what was going on. "Go lie down," he told the boy in 1 Samuel 3:9, "and it shall be, if He calls you, that you must say, 'Speak LORD, for Your servant hears.'"
God's voice is ordinary and non-religious. There is nothing spooky about it. When we are speaking prophetically, we should invest our words with the heart of God. Our language should be normal and understandable, and as common with our usual style of conversations possible.