What the COVID Pandemic Means for Churches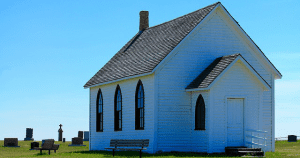 *Note to would-be commenters: Keep it relatively brief (no more than 100 words) and on topic. Also civil and respectful, not argumentative or hostile. Do not include any links or photos.*
I doubt we will know what the COVID pandemic means for American church life for a while. It's possible, OF COURSE, that former church members and attenders will filter back to church over the next few years.
Right now, however, all my contacts in American Protestant Christianity are telling me the same story. The pandemic devastated most churches. Most are finding ways to survive and are hoping that their faithful congregants will return. Many have closed their doors, seemingly forever. A few are thriving.
Near where I live sits a very large church building, a former, now forever closed, mega-church. I visited it a few years ago, before the pandemic, and it was full to overflowing. It was difficult to find a parking place in the massive parking lot. Similarly, it was difficult to find seats in the sanctuary thirty minutes before the service began. People were enthusiastic about being there. The pastor-preacher was dynamic and the music was top-notch in terms of quality.
About a year ago (late summer or autumn, 2021) the church announced it was closing forever. Now the enormous building sits empty, unused, locked down.
District superintendents, executive ministers, bishops, area pastors are all telling me the same story—churches large and small are struggling with attendance and finances.
What did the COVID pandemic do to American Christian church life?
The only reasonable conclusion I can draw is that it winnowed out the uncommmitted church members and attenders; the faithful and committed have now returned (unless they are physically unable to return).
I long suspected that many church-goers in America were not really committed to their churches or to church attendance. Many, I believed I detected, attended somewhat sporadically or even often just out of a sense of duty. "I ought to go to church; I have always gone to church." But without an inward commitment to church, to collective worship, to hearing the gospel preached, to studying the Bible.
I am not suggesting that the pandemic was sent by God for this purpose; I am suggesting that one good side effect of the pandemic, awful as it was, is showing who are the real Christians and who are the false Christians, the mere "professors," to use Spurgeon's term for them, the "almost Christians," to use Wesley's term.
A true Christian will return to collective worship if possible. By "true Christian" I do not mean "really saved;" who is saved is absolutely and solely God's decision. Only God knows for sure. But true Christians, disciples of our Lord and Savior Jesus Christ, will find some way to worship with others.
It may be that church attendance in America and other countries will never rise to the level of before the pandemic. That's not necessarily a bad thing. I have always thought of "true Christians" as a small band of people, the "called out ones," the "ekklesia," the remnant of society, people willing to sacrifice to band together with other real, true Christians to worship God, have Christian fellowship, and serve each other and the world around them in the name of Jesus Christ—together.
Now, having said that, and to turn aside rebukes and contradictions, I KNOW there are people who stopped going to church long, long ago, before the pandemic, for a variety of reasons. I sometimes sympathize with them. For a few years I found it necessary to drive almost forty miles on Sundays to worship with a congregation that I thought of and felt as authentically "the church." Many of my friends and loved ones stopped going to church before the pandemic because they searched and could not find a church that was authentic. Personally, I think they didn't search hard enough, long enough, but that's really not for me to judge.
I am talking here about people who were seemingly faithful church attenders before the pandemic and are now not returning to church. They are millions only in America. I'm sure millions more in other countries. As a result, many churches will have to shut their doors for good and/or meet without benefit of paid clergy in smaller spaces, adapt and adjust to diminished attendance and resources. Because they came to depend on the uncommitted but seemingly faithful attenders.
This phenomenon both worries me and gives me hope. It worries me because I believe strong, active churches CAN be of real benefit to the work of God's kingdom in the world. It gives me hope because I have long believed that perhaps (!) the majority of church-goers never were really committed Christians who cared about the work of God's kingdom in the world.
My advice to pastors and other church leaders is this: Don't go back, even if possible, to depending on the uncommitted attenders. Build within your church a group, however small, that becomes the "backbone" or "bone structure" (I'm avoiding the word "skeleton" for obvious reasons) of the church upon which it can depend—come what may. Limit full membership to them, the ones who will always support the church come what may and who will return to physical attendance even after a two or three year long necessary absence such as we have just gone through. Cut from the membership rolls those who are not returning, who could return, and in the future think of your real congregation as including ONLY those you are confident would return should another long "shelter in place" kind of event happen. The others are "regular or frequent visitors."