About Reading More of "Why?" Setting a Date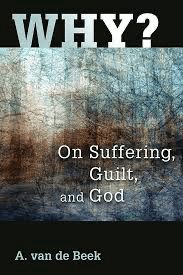 An old saying goes "Don't judge a book by its cover," well, don't judge "Why?" By the first few chapters. Although Beek drops clues to his conclusions in these early chapters, mostly he is "clearing the ground," so to speak, eventually to build his own theodicy. This is more typical of European works of theology than of American. First he has to show that he knows all the traditional views (although I suspect that's not possible in a few pages). Many of the views he mentions and wrestles with are popular Christian responses to the question of "Why?" Some are scholarly (e.g., Hegel's and Moltmann's).
I will be largely indisposed throughout the middle of May. And I'm sure many of you who are reading with me could use some time to read and absorb Beek's thoughts, musings, critiques, etc. So I am tentatively setting May 17 for my next commentary post — about Chapter II, intro paragraph and sections 1 through 8 (pp. 25-75). I know that's a big chunk which is one reason I am giving so much time. Please don't jump ahead to discuss that material until after I post my thoughts about it. Then, if you are reading, respond as you wish.
Beek begins this chapter saying that here he will "deal with different scenarios if we start with the omnipotence of God." (25) As you read through this chapter, keep in mind that he is simply discussing pros and cons of traditional and common views of evil and innocent suffering in relation to an almighty God who is not limited by the world. European theologians usually do not interact with Process Theology much. Beek does mention and interact occasionally with Hegel and Moltmann.
As I have suggested before, work hard at discerning where Beek is "speaking" from the "voice" of someone else, someone with a different view than his own, and where he is suggesting, mainly with criticisms of weaknesses of those views, his own view. But don't expect him here, in Chapter II, to lay out his proposal. But if you read carefully you may get some idea of it.
Don't give up if the going gets tough. This is serious theology, not fluff or popular writing. Right or wrong, this Dutch theologian thinks deeply and on the basis of profound knowledge of the issues, the sources, popular and traditional answers, etc.
Begin reading this chapter fully aware that here he will be wrestling with the omnipotence of God as a solution/answer to "Why?" By "omnipotence" he seems to mean that God can do absolutely anything without constraints. And, the views he wrestles with here all or most seem to assume that everything happens according to a divine plan. That is certainly the view I grew up with even if, sometimes, pastors and other church leaders expressed ideas that seemed inconsistent with that.
During the interim, while you are reading the announced portions of chapter II, please do not comment on them here. Save your comments and questions for May 17 after I share my own thoughts. Give others time to read.
During the interim, before May 17, I will probably occasionally, as I am able, post about other topics. So don't assume I've quit "Why?"
*Note to potential commenters: As always, whenever you comment, about anything I post here, keep your comment relatively brief (no more than 100 words), on topic, addressed to me, civil and respectful (not hostile or argumentative), and devoid of pictures and links.*