Father Richard John Neuhaus
(1936-2009)
In 2007 I and my wife were having dinner with Richard Neuhaus. He had spoken the night before at a dinner at Immanuel Lutheran Church, at 88th and Lexington. The dinner marked my retirement after seventeen years as editor of Forum Letter, an independent Lutheran publication that he had edited for sixteen years before nominating me as his successor.
That is how I met him. I found Forum Letter as a 1976 first-year Lutheran seminarian and we struck up a correspondence. He resigned as editor with the July 1990 issue. I had produced my first issue that August. Then in September he announced he was leaving the Lutheran Church for the Roman Catholic Church. Thanks, Richard. I did not begrudge his transition. I remember remarking, the wonder wasn't that he had done it but that it had taken him so long. He was a very Catholic Lutheran.
Both of those evenings were uneasy for me. Think of this. A Lutheran publisher, the American Lutheran Publicity Bureau (ALPB), calls in a Roman Catholic priest (even if he had been the previous editor) to note the retirement of his still-Lutheran successor. Richard's remarks, best I remember, focused not on the work of the ALPB but on the broader state of the universal Church, situated best, he said, in the Church of Rome.
My responding remarks addressed, out of necessity, I thought, why I had resisted going to Rome and why I was remaining a Lutheran. Sounded good at the time.
In his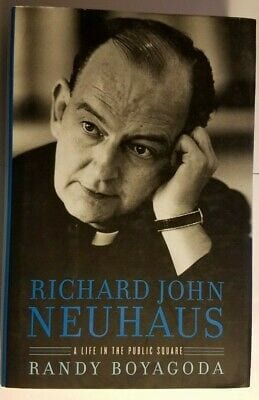 apartment the next evening, I pressed him a little. What did he think of my speech? He didn't want to discuss the matter, but finally he ticked off the four points I had attempted to make and smoothly, though not without a certain kindness, refuted each.
We bid our farewells. It was the last time I saw him alive on this earth. I told him I was ever grateful for his friendship through the years; my life was infinitely better for all the nights he had let me crash on his sofa when I was in New York. He was a man of deep intellect and deeper faith, with a stirring, earthy piety I envied. He instilled admiration among those who knew him, and not infrequently he inspired their intense personal loyalty. For me he was a mentor, a pastor, sometimes a critic (whether I needed one or not), but always a friend.
Ultimately he won our argument from that long ago evening; I left the Lutheran pastorate and became Roman Catholic. Of the four editors of Forum Letter in its 51 year history to this date, two became Roman Catholic, counting Richard. There were a lot of reasons I ultimately became Roman Catholic, not least being I learned Neuhaus can wheedle as well dead as he ever did alive.
I have never read a biography of someone I knew well. It was with apprehension, then, that I read the galleys of Randy Boyagoda 's 2015 biography of Neuhaus. He had interviewed me (and many, many others with keener perspectives on Richard). I was hoping it would be a good one but I was having trouble figuring out how anyone could capture Neuhaus whole. The book appeared
Boyagoda found the Neuhaus I knew, complete with all the man's winsome qualities and not a few of his contradictions. Not surprisingly, he also revealed facets of the man I could never guess.
A Ryerson University professor of American Studies in Toronto and a novelist of growing reputation, Boyagoda has given us a meat-and-potatoes biography. I regard that as a good thing to say. He traces Neuhaus's life from Pembroke, Ontario, to a Nebraska boarding high school; to Cisco, Texas, then seminary, then to Brooklyn as pastor of St. John the Evangelist Lutheran Church. It was from St. John's that his real influence began among many pastors — Lutherans and others — with his inner-city parish ministry. The worship was broadly catholic in content and deliberately connected to the surrounding poverty of the community. We learn — and many of his friends had pieced this together — of the tensions between himself and his father. I did not know his two brothers were Green Berets serving in Vietnam while he was speaking sharply against the war, standing incidentally next to Joan Baez while doing it. I did know, looking back on it, that he had mixed feelings about the military, knowing the good influence military discipline might have on inner-city kids with disordered lives, all the while watching them drafted into a war he did not support.
More importantly, Boyagoda traces Neuhaus' intellectual rise and leadership and gives readers a synopsis of his thinking, first from the "radical progressive" movement where Neuhaus found a voice, and next in "neoconservative" circles where he became a full-throated public intellectual. But in either case, Neuhaus fought to keep the symbols of Judeo-Christian civic life in the public square, a nation founded in those civil virtues that arise from religious faith. The Naked Public Square, 1984, may be his lasting legacy. It remains still the starting point for any serious discussion of merit on the subject of state and church in America and America's religious foundation.
After Richard's death in 2009 I was invited to spend my sabbatical at First Things, the magazine he had founded. I arrived there this month, February, 10 years ago; just a short stint as an associate editor. I did it, honestly, as part of my own grief therapy after his death.
Today, the square is increasingly barren of welcomed religious-based speech. I doubt Richard would concede even an inch of the square to militant secularism. He would reassert that the public square is openly public and constitutionally available to everyone, and he'd write an article explaining why.
Russell E. Saltzman, a former Lutheran pastor, lives in Kansas City, Missouri. His writing has appeared at Catholic World Report, First Things, The Hour of Our Death, Aleteia, among others. His latest book may be found here. He can be reached by email, on Twitter as @RESaltzman, and on Facebook as Russ Saltzman. An earlier review of the Neuhaus biography appeared at Aleteia.

If you have enjoyed this piece or other bits of writing I may have authored, please consider a small contribution. Click here (PayPal secure) and make a $1, $3, or $5 donation. Thank you.