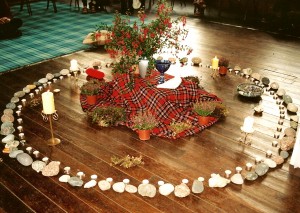 Circles of women have gathered throughout the ages.  They co-create community  to share the varied life experiences of to care for children, to pray, to tend the sick, to hold vigil for the dying, and also to collaborate and co-create visions and movements that have altered history.
In primitive times, women gathered in caves around the fire to paint their prayers and stories on cave walls.  In Jesus' time, women gathered in tents to sing praises to God in tents beneath the desert moon.  The Middle Ages called women to monastic enclosure, a cloistered life  behind stone walls and iron grates where they studied and prayed. The Beguines of that time, chose to gather in community… in large and small houses throughout the Netherlands, France, and Germany to care for the sick and the poor. In the early 20th Century, a small group of women gathered in a dusty attic to birth a movement to ensure women the right to vote.
Fast forward to our high-tech, frenetic paced world of today.  Where do circles of women congregate?  Some continue to gather in real-time in church basements, in homes, coffee shops, and offices after the workday is done.  But more and more, there are virtual circles of women who create blogs, online study and discussion groups and forums, and social media pages as new forms of circles of community.
As a facilitator of online teaching I have been observing the power of the Internet to create community.  Skype is another form of connection that allows women the opportunity to collaborate, vision, and discuss together.  We are connected globally.  There are no geographic bounds or limitations preventing us from gathering in our diversity of culture, religion, and interests.
My observations of women's needs to gather in the midst of the chaotic and transformative time we're living in, and the incredible abundance of women's wisdom that is flowing forth in chat rooms, on social media pages, and in discussion forums, has brought several questions to mind.
What is the Spirit inspiring and inviting women to birth as we share our stories and wisdom with one another online?
Is there something we're missing, in regard to the potential of online communities?
How can those of us who are longing for the sacred in everyday life and those yearning to grow spiritually best be served by participating in an online circle of women?
Next month my historical novel, Ink and Honey, will be released. It's the story of a sacred journey through the medieval French countryside with the sisters of Belle Cœur, a community of radically independent healers, visionaries, mystics and artisans who live by their wits and their prayers.
I carried this book in my heart and consciousness for twenty years before at last bringing it to fruition.  During that time the Internet exploded into our lives changing the way we work, think, process information, learn…. and experience community.
The women characters in my novel came together to create a covenanted life, a circle of companionship and profound spiritual substance and meaning.  Each woman brought her sacred and creative gifts to share.  Each voice was heard and acknowledged for the wisdom it carried, while all around them wars raged, plagues prevailed, and suspicions threatened.  In their circle, the women held fast.  The circle was the sacred container for their lives.  It held them in moments of celebration, challenge, and change.
Living with my characters for twenty years and through my work as a facilitator of women's spiritual/creative circles during that time, I came to learn and realize how women's communities are vital for the nourishment, sustainment, and sharing of women's stories and wisdom.  With the release of the story of the sisters of Belle Coeur, in my book, Ink and Honey, I will be creating a series of online classes and a community of women to revisit ancient, sacred, feminine wisdom to inform our present day lives.
This will be an online pilgrimage of remembrance and awakening through women's online community. The intention to is to birth a Spiritual and Creative Renaissance to encourage new forms of art, poetry, music, prayer, all to foster extreme beauty for these times that feel increasingly dark.
I hope you'll join me for this online adventure for women, beginning in January, 2013.  If you're interested please register on my website next to the cover of Ink and Honey to receive updates. 
There is a sisterhood of women that transcends space and time… women are being called to the doorway of remembrance to reclaim and to share the stories and wisdom of women to foster hope in the world.  We are called gather on the rim…