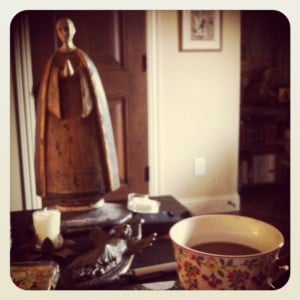 Since the release of my novel, Ink and Honey, readers have been asking about my writing process.  Questions have run the gamut from…. "How long did it take to write your book?" to  "What about rituals?  Do you have any rituals when you write?"
The latter question inspired me to give serious thought to the spiritual and sacred components of writing.  Artists, writers (journal-keepers, poets, authors), dancers, and musicians often have rituals associated with their chosen crafts.  As a woman who writes, I'm particularly fascinated by the stories of various rituals used by well known authors.
It's been said that writer and poet, Maya Angelou, likes writing in hotel rooms where she requests all the wall decorations be stored away to eliminate distraction.  Truman Capote felt he could only write while lying down.  Gertrude Stein revealed how she found inspiration while sitting in her parked car, affectionately named "Godiva." These are a few examples of the rituals and idiosyncrasies of the creative personality.  But what about the sacred practice of writing?
When I was writing Ink and Honey I became spiritually connected to my heroine, Goscelin, a young woman who through a series of synchronistic events learns to scribe illuminated manuscripts through the tutelage of an aged monk.  Goscelin struggles throughout the story to find both time and sacred space for her writing.
My morning writing ritual included a prayer for guidance, lighting candles as a blessing, followed by offering my day's work as a gesture of peace and healing for a particular person or cause.  Many pages of my book were first written by hand rather than on the computer.  For me, all the ease and convenience that technology provides cannot compare with the sensual feeling of placing my pen on a blank sheet of paper.  It's a mystical experience to feel the story move from mind, to heart, down the arm, through the fingers to the pen.  The pen becomes a kind of appendage for the spirit to express what is there beneath the surface.
The aesthetics of place impact the sacred atmosphere where a writer feels "at home" in her writing practice.  I prefer solitude and silence. Others may find spiritual inspiration writing out of doors, while another may need the feeling of community, choosing to write at her local cafe or coffee shop.
While I pondered the concept of spiritual and sacred rituals for writers, I revisited Ink and Honey seeking Goscelin's wisdom.  The result was to create a free e-mail course… Sacred Practices for Women Who Write.  Through a series of four sacred writing practices inspired by the book, the explorations of various themes emerged including:
the awareness of the importance of the writer's surroundings
reading other writer's works as inspiration
the importance of one's name and pen name
the contemplation of a symbolic signature
All of these various facets of sacred practice introduce pathways to connect the writer to her craft. The practice of writing then becomes both a spiritual inner and outer journey. Blessings abound for the creative experience when sacred awareness is the focus.  Numinous guidance awaits writers that pause to open the portals to co-creation with the Divine before beginning their creative work.