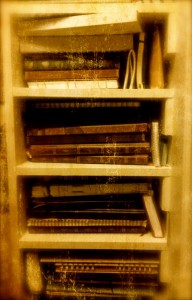 Inspiration is a miraculous phenomena. This morning I was looking through my photos, the way one sorts through twigs and branches in search of useful kindling to build a fire. I was seeking fuel,  to stoke my creative fire, to write a new post for this blog. In my search I came upon many images pertaining to art-making, writing, and an array of pictures reflecting the creative process.
The thought was sparked as I added my photographic kindling to the fire…. Art-making, writing, and the creative process itself are sacraments for the spirit. The sacred imagination, that place where the Spirit merges inspiration with our particular gifts and talents, is a greenhouse, a sanctuary, an atelier for the creative heart. Within the cathedral of the sacred imagination there are many chapels.  Each chapel offers a unique sacrament as nourishment and sustenance for the work of our souls.
I am feeling called, with this post, to begin a new series of offerings to acknowledge the mystery of Creativity as Sacrament. I don't have an outline for this series nor an agenda. I'm simply following the Spirit's lead. The concept is to explore various forms of art-making, writing, and the creative process through the lens of sacredness, as sacrament. Today, I present the first issue of this somewhat unorthodox series. I'm calling it Harvesting the Journal.
The above image inspired this post. These books represent a small portion of my personal journals that I have filled during the past twenty plus years. When I was writing my novel, Ink and Honey, and recently as I began work on my next book, The Way of Belle Coeur: A Contemporary Vade Mecum, I carefully reviewed my journals looking for morsels of inspiration to fuel my writing.
What I have come to realize as I've harvested my journals is this…  The art and reflective practice of reviewing and culling the journal is a sacred undertaking.  I found myself (after harvesting the first journal or two) called to light a candle, offer a prayer to be guided to what would be most essential and helpful for my writing. With the turn of each page I felt myself slowing down, as I opened to the blessing of discovery of a found word, or long forgotten idea, scribbled in the margin. Over time I recovered resources I had noted years previously that were exactly what I needed to continue my work.  Inspiration lived in those pages…not because I was so wise and prophetic to have provided it, but rather because through the sacrament of sacred awareness, and through the grace of the Spirit, I was guided to unearth and uproot found treasures, fragments and shards of wonderment to piece together within the telling of the story, or the building of the framework for my latest project.
The sacrament of harvesting the journal is a way to become the curator and archivist of your life's journey. It's a bit like being an archaeologist on a dig looking for the pieces of long lost fragments that when reconstructed yields a map leading to forgotten treasure.
I invite you to contemplate receiving the sacrament that lays waiting when you harvest your journals. Sacred wisdom, creative inspiration, and guidance for your life is there within the pages of old, dusty notebooks stacked on a shelf or buried in boxes in the attic.
Gather your journals. Light a candle, sit quietly in prayer with a chosen volume in your lap then lay your hands upon it and bless it for the stories it so faithfully received.  Open it with reverence, while you savor and commune with what awaits you, as you look to the past to inform your present. Receive the sacrament of a well-harvested journal and feed your creative spirit.