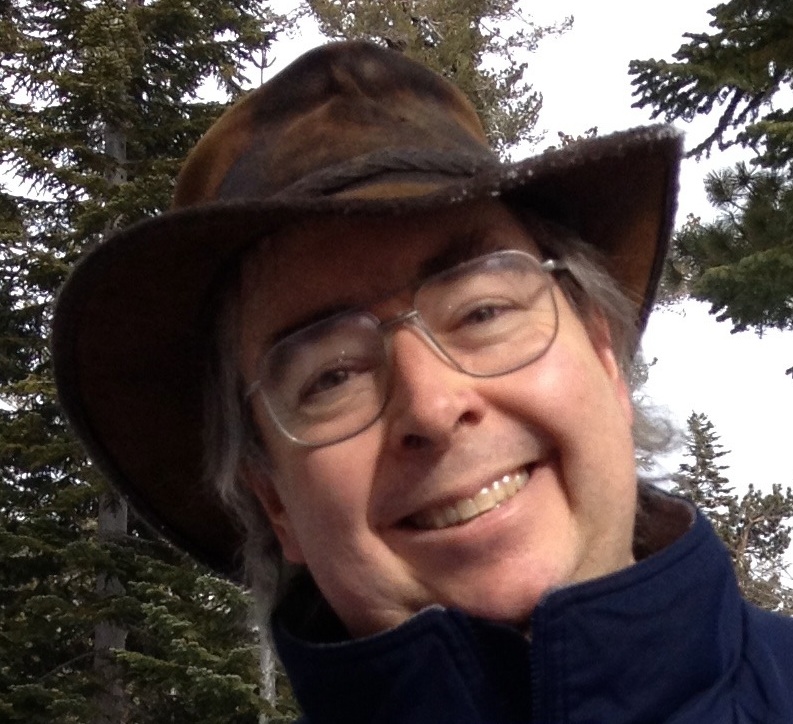 Will Duquette is a lifelong Southern Californian and a veteran user of web logs and — as odd as it may seem to say this — the internet. Writing online since 1996, he brings a refreshingly ordinary disposition to a wide palate of literary, religious, and intellectual interests at the following blogs: The View from the Foothills, book reviews on Happy Catholic Bookshelf at Patheos, and monthly posts at CatholicMom.
Mr. Duquette's interview flowed smoothly and easily, perhaps too easy, in a pair of Facebook sessions. A deliberate man, his quiet confidence and willingness to share from his experience bespeaks a certain maturity that seems well earned. His mind works analytically, but there is a twinkle in his eyes and seriousness in all his replies.
A lay Dominican, Mr. Duquette could render his life and thought into preachy platitudes, connecting all the pieces of the puzzle into a tight cohesive narrative. Instead, he humbly carves out careful distinctions as he sees them and adds finesse or uncertainty where he finds it. In short, he doesn't bullshit, with a smile and inquisitive curiosity to spare.
— Sam Rocha
INTERVIEWER
What motivates your writing?
WILL DUQUETTE
Stuff that interests me. Whatever I'm thinking about, that's what I write about—it helps me figure out what I really think. And then, I'm a Lay Dominican, so you've got the whole "preaching" thing going on.
Now, as to why I write about things rather than just go talk to somebody, I really don't know. It's just what I do.
INTERVIEWER
What about the actual writing, the construction, the style, the work of building sentences? How do you approach that?
WILL DUQUETTE
Well, OK, there's the stream of paragraphs and the individual sentences. At the individual sentence level, I write "by ear." It has to flow easily when read aloud. I don't mean to imply that I read aloud everything that I write to see whether it flows—though when I write fiction I do exactly that—I just do it in my head.
At the stream of paragraphs level, it's all about telling a story, linking the ideas together in consecutive sequence so that they make sense, and hang together. But again, I tend to do this "by ear." If I know the "story," I can tell it so that it makes sense.
It's knowing the "story" that drives the writing. I'll write a blog post when I've got the "story" for it firmly in mind. I might add, that the notion of "story" goes a lot further than you might think. I do a lot of technical writing as part of my day job, and when you're explaining a complex piece of software—or the mathematical model that it embodies—you need a narrative hook.
INTERVIEWER
I recently read an interview with James Fenton in the Paris Review where Fenton went on at some length about the need to write for the ear. He was speaking about poetry, but it struck me as being true for more than that. This seems to cut into the homiletic heart of matter, no?
WILL DUQUETTE
I would agree. I've spent probably thousands of hours reading novels aloud, first to my wife Jane, and then to Jane and the kids as they got old enough to enjoy them. And my favorite novelists are precisely the ones whose prose is enjoyable to read aloud. Bad writing, meh. It's clunky.
I should make it clear: it's not that I like these authors because they read aloud well. These are the authors I already liked well enough to try reading them aloud. It's rare for me to find a novel that I really like a lot that's boring to read aloud.
INTERVIEWER
Tell me more about your fiction writing. I wasn't aware of you doing that, but I think it's a much-neglected art form in the circles we write in.
WILL DUQUETTE
I write fiction sporadically. I've written three novels (all in the fantasy genre) only the first of which has seen the light of day; it's called Through Darkest Zymurgia, and I made it available on my personal website some years ago. Plus I've written a few short stories over the last fifteen years; they are available on my website as well.
I don't claim to be an outstanding writer of fiction; it's something I do occasionally because I enjoy it. My most recent novel, Vikings at Dino's, I wrote for my kids, and I have to say that they enjoyed hearing it. When I was done reading it to them, and told them that I'd written it, they didn't believe me. If I ever get my act together and finish my revisions on it, I intend to publish it as an e-book on Amazon.
INTERVIEWER
I admire that sort of work, especially writing for your kids. Going back to the themes of story and your vocation as a Lay Dominican (for those who may not know, the Dominicans have the charism of preaching), does writing stories affect your way of thinking about homiletics? And how does a Catholic layman "preach"?
WILL DUQUETTE
You've just posed the $64 question. I'm still a very new Lay Dominican (I'm not life professed yet), and the question of how I am to preach is one I ask myself regularly. I'm sure there are as many answers as there are Lay Dominicans.
First of all, I don't preach the way a priest or deacon preaches from the ambo at Mass. That's a special time and place, and the homily is a special literary form. Instead, I try to preach by explaining the things of God as I come to understand them. I explain things to my kids; I explain things on my blog. I try to open things up so that other people can see them, too. I try to tell the truth as I see it.
I don't think writing fiction affects the way I think about preaching too much. It would be truer to say that reading fiction taught me how a story can make everything hang together, and that I've brought that to all of the writing (and other communication) that I do, including writing fiction.
If I may digress: I remember being made to write Five Paragraph Essays when I was in school, with carefully constructed introductory and concluding paragraphs that recapitulated the body of the essay, and with every body paragraph having an introductory and concluding sentence, and I'd like to humbly state that that's all hogwash. It doesn't flow, it doesn't communicate, nobody would ever write that way if they weren't made to. In school, I thought I hated expository writing. Thousands of pages of technical writing later, I know why I thought that. They wanted me to match a pattern rather than to communicate.
INTERVIEWER
Tell me more about the technical writing, especially how it does and does not connect to the themes we've been exploring.
WILL DUQUETTE
I'm a software engineer by profession, and with software comes documentation. More than that, I tend to gravitate towards writing library software, for use by other programmers; and library software is only as good as the documentation for it. If no one knows how to use it, it's worthless.
These days, I'm writing a lot of modeling and simulation software. It's all based on mathematical models, and of course you have to document those, too. That's hard: there's lots of math, and it tends to be very dry, so you have to explain it in a logical narrative sequence, as in: "We wanted a model that behaved like this, so we came up with that mathematical formulation. It was good but had these bad edge cases, so we added a little more complexity, and came up with the other. Lather, rinse, repeat. Finally, having fixed all of the quirks, we came up with this final statement of the model, which we will use like this."
Of course, this all amounts to telling the truth as I see it.
I take a similar approach to actually writing the software. A piece of program code needs to communicate clearly to the computer, but equally it needs to communicate clearly to the programmer who comes next, whether that's me six months later, or someone else. It has to be written clearly, and concisely, and it should have a logical structure. And just like blog posts, I tend to write a piece of software once I have its story firmly in my mind.
INTERVIEWER
Do you see a significant structural difference between literacy and numeracy, between "writing" in words and "writing" code or math?
WILL DUQUETTE
First of all, higher math and numeracy are two entirely different things. Numeracy is simply having a feel for the difference between different magnitudes of numbers, and some sense for how big a million or a billion or a trillion really is. You can be numerate without having any knowledge of algebra or calculus or any of the stranger things mathematicians get up to.
Mathematical modeling falls on the border between higher math and numeracy: it's all about creating mathematical equations with some desired behavior. You need a good feel for how the outputs will relate to the inputs. And math proper is the rigorously logical endeavor of proving theorems about mathematical constructs.
Writing code is like math in that you have to be rigorously logical or your program falls down. It's like writing prose in that you have to communicate. And it's like novel writing in that what you're writing is essentially arbitrary. Given any particular programming problem there are a practically infinite number of ways to slice and dice it, and you have to learn to pick a way that works, that's concise, and that fits in with the code you've already written.
The real difference between coding and either math or novel writing is that you can write code to test your code and verify that it does what you wanted. I can be sure a particular piece of code works in a way that I can't with a prose passage or a mathematical theorem. Those, I need somebody to review. Coding is a good line of work for skilled introverts.
Really, coding is all about the will. It's all about figuring out what you want to have happen, under various circumstances, and writing it down so that the computer will do it.
INTERVIEWER
So what about blogging? What I mean is this: your scope of writing and communicating has an enormous and rigorous breadth, so how does that find it's way into this medium called "blogging"? Are there any significant differences, you mentioned a few, but I'm interested in a more focused overview of the web log — if I may go on, it is a quite literal, material synthesis of all those things in its being coded and interfaced and programmed and, also, written in the more traditional mode, and serves as something of a preaching pedestal… What say you?
WILL DUQUETTE
Well, honestly, I got started writing book reviews online in December of 1996 because I had a brand new home internet connection (dial-up, of course) that came with my own web space, and I wanted to play with HTML. For years I published a monthly book review page called "Ex Libris Reviews," where I reviewed the books I'd read that month. A big part of the fun was writing code to streamline the process of building the web pages. In 2002 I started writing a blog; and for the first while (I no longer remember quite how long) it was all done by hand, with some software to help. Eventually I made the move to third-party blogging software, which is what I use now. Since then, I've spent little time on the software side of blogging; the technology moved beyond what I had time to keep up with. But the habit of blogging was already formed by then, so I've kept up with it.
Originally, it was all book reviews all of the time, with the occasional post on software development or matters of faith. In the last few years I've been blogging rather less, but rather more on matters of faith.
But while the software platform enables the writing (or, in fact, inspired it to begin with), I don't think the underlying software affects my writing or what I write about particularly, except insofar as it enables me to publish it to the world. I like WordPress, but I access it through an offline blog post editor, and really any blog software would do.
INTERVIEWER
What makes for a good book review?
WILL DUQUETTE
You know, I have no idea. I don't read them myself; or at least, I don't go out of my way to read them. There are bloggers I read anyway, like Julie Davis or Lars Walker or Jeff Miller, who write the occasional review; and I read those and enjoy them, but that may be because I like the blogger's writing anyway.
What I try to do is explain what kind of book it is, and whether I liked it or not, and anything interesting I noticed about it. If it's fiction, I try to do this without giving anything important away; that sometimes means simply comparing it to other books and saying, "If you liked that, you'll probably like this."
That all sounds fairly plebeian, I guess; but a lot of my writing seems plebeian to me while I'm writing it. When we used to read student essays aloud in high school or college, I was always impressed at how fancy some of the essays sounded. Mine always sounded dirt simple to me by comparison.
Point is, I guess, it's not about me; it's about the book, and whether other readers will like it.
I don't tend to review books that I didn't like. I don't do the snark thing in general; whenever I do, I feel bad about it later.
INTERVIEWER
This avoidance of snark, is it dispositional or disciplinary? In other words, is this a reflection of who you are, or is it a repression of sorts?
WILL DUQUETTE
I can be as critical as the next guy; get me started on the Prince Caspian movie, or Peter Jackson's excesses with the Tolkien canon, and I will talk your ear off. But snark isn't simply criticism; it's criticism plus a certain attitude, and it's an attitude that makes me feel nasty, and drives me to repent. So I guess you'd say it's dispositional. I certainly don't have an inner reservoir of snark that I have to fight to hold in check.
That's so far as my writing goes. In spoken conversation I frequently say things I regret later (or realize later that I ought to regret).
INTERVIEWER
This seems to be the distinction between agonism (criticism) and antagonism (snark). And this is a good one to make, I think, mainly because I suspect that great deal of this is not only about the inner attitude, but the presentation. I sometimes read quiet criticism as passive aggressive, which is more prone to offend me than outright and aggressive critique. Am I being passive aggressive?
WILL DUQUETTE
That's not a distinction I'm familiar with, but it makes sense.
Written criticism is always hard; you can be measured and balanced and calm and avoid nasty language, and still push somebody's button and make them feel awful. And that's disregarding the knee-jerk readers who will get angry simply because you raised the subject.
This is one of the reasons I tend to avoid criticism; I'm not a controversialist, and I don't enjoy making folks feel bad. And I don't enjoy them making me feel bad.
INTERVIEWER
This gets me into territory that really interests me: how one's sense of writing and doing this sort of creative work reflects who we are. Care to mess around with some word association cues?
WILL DUQUETTE
Go for it.
INTERVIEWER
Okay, clear your head. Here we go: "Cheap."
WILL DUQUETTE
Dear.
INTERVIEWER
"Anonymous."
WILL DUQUETTE
Guy Fawkes.
INTERVIEWER
"Recline."
WILL DUQUETTE
Comfort.
INTERVIEWER
"Blade."
WILL DUQUETTE
Computer.
INTERVIEWER
"Habit."
WILL DUQUETTE
Vice.
INTERVIEWER
"Sensational."
WILL DUQUETTE
Hype.
INTERVIEWER
"Candelabra."
WILL DUQUETTE
Liberace, as played by Bugs Bunny.
INTERVIEWER
"Horizon."
WILL DUQUETTE
Verizon.
INTERVIEWER
"God."
WILL DUQUETTE
Oh, now you're getting difficult. That would take a very long series of blog posts. But OK: Everything.
INTERVIEWER
That last one was perhaps unfair, but I must ask: did the cue "God" literally leave your mind lacking language, or did you fall out of the associative exercise when that cue was given?
WILL DUQUETTE
Both. There are so many things to say about God. I didn't want to give a flippant answer, and I knew I couldn't encompass Him in one word. Really, I can't encompass Him in any number of words. And I didn't know what one word was most important.
I know that in word association, you're supposed to say the first thing that comes to your mind, but there wasn't any one word. It was like looking at slides, and then having one of the slides come sit next to you.
INTERVIEWER
So here is one reason I find word association interesting as an interviewing exercise, and the rationale is not strictly psychoanalytic: I think that it has the potential to create something interesting and random. Earlier you mentioned how arbitrary coding and writing are, and I think that these days we are losing sight of the importance of this. How do you balance between what is arbitrary and subjective (e.g., word associations) and the sense of the objective and absolute (e.g., the word 'God' as a disruptive cue).
WILL DUQUETTE
In Tolkien's words, we human beings are sub-creators. Rather than creating something out of nothing, as God does, we create something new out of something else: cars and houses out of metal and wood and glass, and stories out of words, images, past experience, and God-given inspiration. The materials we use have potential for new creation, but the new creations we make are up to us: they are arbitrary, and we make them up out of ourselves.
But we still base our creations on other things, and those things are given to us by God. More than that, God is constantly holding them in being. God is the one fixed point, the foundation of all, and when I look at the mountains outside my window, I see the crystallized love of God. He is the Absolute that gives everything else form and existence and meaning. Coming across Him in your list of words was kind of like getting hit with a warm, loving brick.
INTERVIEWER
Sub-creation. Is this idea too lofty to make sense of what blogging is about, indeed, what we are doing here in this blogger interview?
WILL DUQUETTE
Yeah, probably. Seems to me that there's creation, and there's commentary. A work of fiction, a computer program, an architectural drawing, a piece of furniture: these are all acts of creation. Most blogging involves putting words together, so there's some creation involved, but most of it is in some sense parasitical. There's a difference between making something up out of your head, and responding to something someone else made.
But perhaps it's simply a matter of degree, rather than a qualitative difference.
INTERVIEWER
I like your point mainly because it now seems to be getting finer-edged. Could you sharpen it a bit more, especially in regard to ways that blogging might, in present practices, not be wholly creative?
WILL DUQUETTE
When Glenn Reynolds gets a review book in the mail, he usually writes a one-line post "In The Mail: The Title by The Author." That's a perfectly fine blog post, but there's not much creativity there. The typical Facebook share, "Hey, this is cool!" is similar.
Next would come a post that involves some serious reflection on somebody else's post, with a link. There's more creativity there; the writer had to reflect for a while, and then figure out how to share his reflections. Then would come more general essays; these are still going to be reflections on other things, but would involve more thought and more work.
Finally would come actual fiction, which is what Tolkien really had in mind. I guess that's an answer to the converse of your question: how can a blog post be wholly creative?
INTERVIEWER
I like it nonetheless. Last question: How does one acquire good taste?
WILL DUQUETTE
By eating a lot of crap and developing a gut feel for what's good and what's not.
In Chuck Amuck (an outstanding book), Chuck Jones talks about growing up in one rented furnished house after another; and to his father, "furnished" meant "furnished with books." No one ever tried to direct his reading, so he read everything, appropriate or not, and came to his own conclusions. His gut feel was pretty darned good; the man could tell a story, whether in prose or pictures.