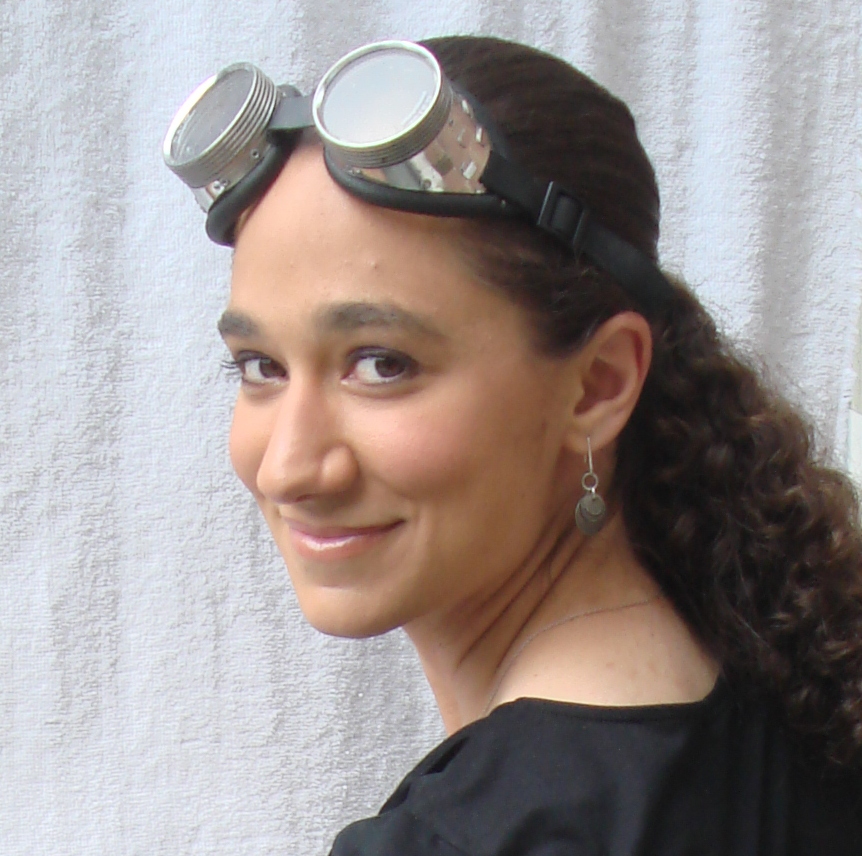 Leah Libresco is one of the few Patheos bloggers who has blogged at two channels. Her blog, Unequally Yoked, began with the Atheist Channel in 2010 and found its way to the Catholic Channel—as she joined the Roman Catholic Church—in 2012. Her interview was swift and direct, with almost no editing required for her part.
Employed as a statistician in Washington DC, Libresco writes on topics that vary from ethics and stoicism to books and debate. She shows a remarkable, soul-searching ability to read spiritual texts with an eye towards internal self-critique. Most of all, Libresco's rather public conversion has not deterred her from showing charity to a variety of positions, including those she does not hold. Hers is not a defensive or triumphalist faith. A clear and nimble mind never betray her taste for fun and chic sense of geekery.
—Sam Rocha
INTERVIEWER
Do you have a "process" or a ritual of some kind for writing in general, or at least your blogging?
LEAH LIBRESCO
Not really. I keep a list of blogging ideas in Simplenote, so it's easy for me to add a quick link plus notes as something occurs to me, and then come back to my notes once I'm actually by my computer writing the day's post. I do like to work in 20 min pomodoros (blocks of uninterrupted time).
INTERVIEWER
Do the pomodoros usually suffice?
LEAH LIBRESCO
It usually takes me 2-3 pomodoros per post. I also keep track of how many pomodoros I do per week using Beeminder, which gives me a nice ka-ching feeling of accomplishment for finishing one
INTERVIEWER
How much do you edit your work, pre or post posting it?
LEAH LIBRESCO
Not very much. I don't write in order, so I might start with the blockquote I plan to riff on, write the grafs that follow it, stall for a bit choosing a picture, go back and write the opening bit, etc. Since I write out of order, I usually have to do the thinking about transitions, etc, just to make the first draft.
INTERVIEWER
I think it was Hunter S. Thompson who said that a good essay could be spilled on to the floor and picked up in any order and still work. Are you doing Gonzo blogging?
LEAH LIBRESCO
I think I'd have to have a way more interesting liquor cabinet to qualify.
INTERVIEWER
And drugs, too. On to another subject. You're one of the few Patheos bloggers who has been at different channels. Is there anything to the intuition that who you write for may effect how you write?
LEAH LIBRESCO
Well, I've tried to sustain a crossover audience, both before my conversion and afterwards. So I try, as much as possible, to pick out weird angles on ethics, aesthetics, etc, so that people on either side of a religious divide can engage without expecting they're going to just hear what they've already heard a million times from their interlocutors.
INTERVIEWER
I see. So I imagine that the process you outlined earlier is relatively similar if not identical in terms of the construction of posts?
LEAH LIBRESCO
Yup.
INTERVIEWER
Since your conversion played a big role in that transition and your audiences, I wonder how you might react to the idea that your blogging is, in an Augustinian sense, "confessional."
LEAH LIBRESCO
Eh, I don't think so much. I draw from my day-to-day reading, but not so much my day-to-day life. I'm not interested (and I can't imagine my readers would be) in writing too much about me. I'd rather write about ideas I'm fortunate enough to bump into.
INTERVIEWER
Are those idea not, in some way, intertwined with your life? For instance, when you declared ethics to be rooted in a person, there seems to be a longing in that claim for something more intimate than what many atheistic notions of ethics can account for. In that sense, on my reading, you are declaring your personal love of ethics not just your intellectual interest in it. Is that fair?
LEAH LIBRESCO
Sure, but the thing that is interesting is the beloved, not the fact that I've noticed that it is worthy of love. A lover points past herself.
INTERVIEWER
I'm not so sure the current only runs in a single direction. Surely being God's beloved also points to the Lover?
LEAH LIBRESCO
Well, that winds up pointing at all human beings.
INTERVIEWER
Fair enough. Next up: psychoanalysis. In other interviews I've implicitly made a point to play at some word associations, but the implication of the game, and of these questions, is that we may confess the most when we are not confessing, which makes your replies here very interesting to me. Care to play at some word associations?
LEAH LIBRESCO
Sure thing
INTERVIEWER
Okay. I type, electrons fire the image, and you type you first thing that comes into your head.
"Bill."
LEAH LIBRESCO
Clinton.
INTERVIEWER
"Hens."
LEAH LIBRESCO
Pecked.
INTERVIEWER
"Forest."
LEAH LIBRESCO
Trees.
INTERVIEWER
"Shelf."
LEAH LIBRESCO
Life.
INTERVIEWER
"Tasting."
LEAH LIBRESCO
Menu.
INTERVIEWER
"Numbers."
LEAH LIBRESCO
Cruncher.
INTERVIEWER
"Bingo."
LEAH LIBRESCO
Board.
INTERVIEWER
"Turkey."
LEAH LIBRESCO
Lurkey Time.
INTERVIEWER
"Keys."
LEAH LIBRESCO
Ring.
INTERVIEWER
"Well."
LEAH LIBRESCO
Wishers.
INTERVIEWER
"Floops."
LEAH LIBRESCO
Fleens.
INTERVIEWER
"Myself."
LEAH LIBRESCO
Yourself.
INTERVIEWER
"Good."
LEAH LIBRESCO
Bad.
INTERVIEWER
"End."
LEAH LIBRESCO
The.
INTERVIEWER
Writing, to me, is an interesting artifact of our thoughts. What do you think about thinking of writing as a thinking fossil?
LEAH LIBRESCO
I think it's a little more active than that. The act of writing forces us to make our thoughts more concrete, more specific, and to examine what about them is compelling, how to convey it outside our ideolect, etc. So in addition to just recording the thought we were having (as some kind of magic, materialist brain photo would) it alters it, links it to more concepts, makes it stickier and more available for new connections.
INTERVIEWER
I agree! How does your writing change or affect they way you think? Could it be said that you wrote yourselfinto Catholicism?
LEAH LIBRESCO
I think it made the tensions in my old hypotheses about the world more apparent and urgent than they would be if I weren't blogging.
"It was like standing at the core of a tornado which, rather than spinning you away to Oz, strips the roof off your home, opens the house walls out flat as the petals of a plaster flower, and leaves you standing confused and disbelieving in the heart of a howling of smoke and damned voices; or lilt moving through a roomful of people, every one of whom tries to catch your eye and tell you the most important thing that ever happened to him. Nita found herself deluged in fragments of sights and sounds and tastes and feelings and thoughts not her own, a madly coexisting maelstrom of imageries from other universes, other earths, other times. Most of them she managed to shut out by squeezing her mind shut like eyes and hanging on to the spell. She sensed that Kit was doing the same and that their stalker was momentarily as bewildered as they were by what was happening. The whirling confusion seemed to be funnelling through the hole in the spell like water going down a drain— things, concepts, creatures too large or too small for the hole fell through it, or past it, or around it. But sooner or later something just the right size would catch. (Hope we get something useful,) Nita thought desperately. (Something bigger than that thing, anyway.) And thump, something fitted into the hole with snug precision, and the crazy whirling died away."
Ok, so that quote is from So You Want to Be a Wizard by Diane Duane. And in that section, Nita and Kit are in a pretty tight pinch, and throw open part of their spell in order to grab something that might help them escape.
Blogging is a bit like that, in that, because I do it everyday, I constantly have a blog-post sized hole open, and everything I read gets thrown at it to see if it will catch.
So, the act of blogging about ethics and metaphysics altered the parameters of what kind of hole I was leading, and gave me an opening to catch and be caught by new things
INTERVIEWER
I see, and I think that is a useful way of thinking about the thinking that blogging both is and produces. So would you say that by blogging in this experimental mode of thought, you are doing ethics and metaphysics through blogging?
LEAH LIBRESCO
I think I'm giving myself more chances to get smacked upside the head by truths about metaphysics and blogging. Which works out pretty well for me.
INTERVIEWER
What are a few of the hardest smacks you've taken?
LEAH LIBRESCO
Well, the conversion for one. Prior to that, the understanding that it wasn't sufficient to be a good little deontologist and follow all the correct rules for relating to other people while still being fairly indifferent to the people themselves.
INTERVIEWER
Sure, but that's the famous one. What about all the not so famous ones?
LEAH LIBRESCO
Well, they are mostly related to various kinds of incharity towards others that I made so habitual as to stop actively choosing and that I'm still struggling to root out.
INTERVIEWER
While I certainly have no quarrels to make about your path to Catholicism, I fear that this outcome has perhaps hidden other hard questions that might be fair to ask. I only ask this because it itches me, but I hate to have an itch come off as questioning the integrity of a conversion—these are two different categories, I hope. A quick observation: It strikes me that while you've made what may seem to an atheist or a theist a monumental turn, to a philosopher you've made a fairly small turn or perhaps not changed at all. In other words, and here is the wind-up to my question, while you've moved from atheistic unbelief to theistic belief, both of those beliefs have been moved by a more fundamental belief in a particular ethics, rooted in a particular metaphysics. So if is fair to say that while you've undergone a religious conversion, you've also, in another sense, not had any kind of a philosophical conversation at all?
LEAH LIBRESCO
Sure, I think the big underlying thing that didn't change was being pretty confident in morality being objective, and not just evolutionary happenstance or equilibria to begin with. The biggest shift was more the deontology to virtue ethics. I don't think the atheist to Catholic one could have happened without that. That one, not technically related to religion, shift, cleared the way for other changes.
INTERVIEWER
So what do you make of postmodern Catholics or personalists (cousin's of existentialists) or others who may not square philosophically with deontogical-leaning virtue ethics? The reason I ask this is because I know people who have been made Christian by Nietzsche, and I often ask them the converse side of these questions.
LEAH LIBRESCO
Well, if Catholicism is the fullness of truth, you can picture it kind of as a global minimum in a big rumpled rug of all philosophical beliefs. (In this schema, increased height represents increased strain/distance from objective reality). I understand(ish) the path from the foothills where I grew up to that valley, but I don't necessarily grok how other people wound up there. That's why my conversion is only semi-helpful or interesting to others. It's a map from the foothills of neo-Platonism and deontology to Catholicism, but is completely useless if you're trying to find a route along the Nieztchean Overridge.
Blessed Ramon Llull tried to make a general almanac. He has this big project that was basically a philosophical choose your own adventure book where you answered questions about your beliefs, flipped to the corresponding pages, and then the book would try to lead you, Socratically, to Catholicism.
INTERVIEWER
It might be seen as useful to see how many philosophical worlds can inhabit a Catholic universe, but then again might such a universe be justly seen as absurd by either world? (And perhaps it is absurd!)
LEAH LIBRESCO
Well, luckily, Catholicism just asks that we all love each other as ourselves, not understand each other!
INTERVIEWER
So love transcends philosophy (ethics and metaphysics included)?
LEAH LIBRESCO
Well, it doesn't transcend them in the schmaltzy "Love justifies all!" sense. Love is still rightly channeled by the constraints of ethics and metaphysics etc. But people don't earn our love/service/etc by being right about those things.
INTERVIEWER
I mean love as in 1 John.
LEAH LIBRESCO
Just want to be careful, since people so often use "love transcends" in the giving license sense. Regarding 1 John, that's way above my spiritual level. It's easier for me to get a grasp on ethics and metaphysics, some of the ways that God has regularized and systematized His love for us, to give us handholds, than it is for me to consider His love in toto.
INTERVIEWER
So your blogging is, then, a series of thought experiments reaching and pawing at the love of God?
LEAH LIBRESCO
Yup!