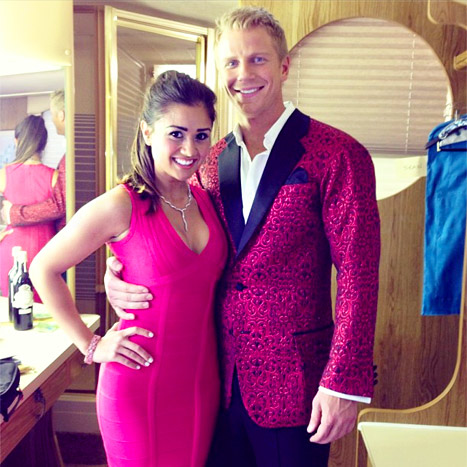 Rumor has it that Farmer Chris may be heading to the ballroom for the upcoming season of Dancing with the Stars. Nothing is confirmed yet, but there are rumblings of Chris being the "surprise contestant" this year who will round out the cast. I was also the "surprise contestant" two years ago so it'd make sense that Chris is that person this year.
[Bachelor trivia: why have a "surprise contestant?" Because The Bachelor doesn't want attention taken away from their show before it's done airing, so they make an agreement with DWTS to keep it all a secret until after After the Final Rose.] But it's very likely that Chris Soules will soon be putting on those sequined costumes and trying to waltz into America's heart.
I've had the chance to speak to Chris over the phone a couple of times and I have found him to be a genuinely good guy. I'm rooting for him to find happiness just as I did. With that said, I have some words of wisdom for Chris.
Be careful.
When I was finishing up The Bachelor, I didn't want to be "that guy" who always was on various types of reality television shows simply because I'd been on television before. But DWTS is one of the best, most exciting reality shows out there (after The Bachelor, Chris Harrison?), and I thought it would be a great opportunity for Catherine and me.
And it was.
Except.
"Catherine and me" – that was a totally new thing.
We'd only just gotten engaged and become a public couple when I had to go to California to start trying to learn those dance steps.
In retrospect, the time commitment I made to the show – immediately after getting down on one knee in Thailand – was unfair to Catherine. I had just promised to spend my life with her and then – boom! – I left her all alone all day in an unfamiliar city. If you've read my book, you know that my time on DWTS wasn't easy. Mainly, I didn't realize the time commitment. Naively, I thought I would be rehearsing for two or three hours a day. Little did I know I would be rehearsing twelve hours a day, seven days a week. I didn't realize how hard this would be on my new fiancée.
So, Chris… It's down to two girls on the show now. I hope you are able to select the right woman to spend the rest of your life with. And if you do, and you're going into another television show as a newly engaged man… be careful.
Of your time.
Of your new relationship.
Of the constant attention.
You have a once in a lifetime opportunity with Dancing with the Stars — it's good money that could go towards starting a life together. But never forgot that your new fiancée will be in a new, unfamiliar city and she's left her family, friends and job behind to be near you. It's an honor and a responsibility.
Learn from my foolish mistakes.
Get your own copy of my New York Times best selling book "For the Right Reasons" here!