Namaste. International Yoga Day is today, and to celebrate, Suhag & Aseem Shukla, and Sheetal Shah, of the Hindu American Foundation embarked on a trip down memory lane.  Over four days, they have shared the story of HAF's 
Take Back Yoga Project
 (TBY).  What started as a simple letter to the editor expressing frustration over the hyper-fixation on the physical aspects of yoga and a delinking of yoga from its Hindu roots, ultimately spurred an unprecedented global conversation acknowledging the Hindu roots of yoga.
Many have asked along the way, "Why does yoga's origin matter?"  or "Who owns yoga, anyways?"  The answer is quite simple.  For all of us, and especially our children, who too often face "caste, cow, and karma" stereotypes in public school textbooks and mass media, the acknowledgement of yoga as a tremendous contribution of ancient Hindus to the world is important.  It instills a sense of pride and provides an opening for interfaith engagement which is not defensive or combative, but transformative.  And of course, no one owns yoga.  Nor does one have to be Hindu to benefit from its practice.  Rather, TBY is an effort to promote appreciation for the richness and universality of Hindu teachings.
This is HAF's TBY story. We're going on a trip down memory lane…Take Back Yoga memory lane.
The Gita offers the four yogas of bhakti (devotion), jnana (knowledge), karma (action), and raja (concentration), and in so many ways, the strategy and methodology behind TBY drew and continues to draw inspiration from these four paths.
Day 1: TBY and the Path of Devotion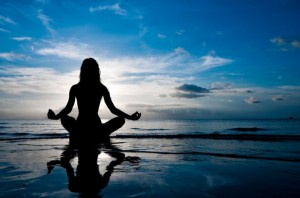 The first day in this series must start with bhakti, because if it were not for our deep, abiding devotion to the teachings and contributions of Hindu Dharma, HAF would not have launched TBY nor would any of us be here today.
In 2008, HAF launched the Take Back Yoga campaign after a concerning exchange with the popular magazine, Yoga Journal.  In a letter to Yoga Journal, HAF noted its disappointment at finding countless descriptions of the Upanishads or Gita as "ancient Indian" or "yogic", but rarely "Hindu."  Shortly after being by Yoga Journal that they avoid the word "Hinduism" because it "carries too much baggage," HAF released the 1st edition of its paper, Yoga Beyond Asana: Hindu Thought in Practice (the 2nd edition was released in 2014).   HAF also took this cause international when we proposed and participated on a panel, entitled, "Yoga: Key to Mind, Body Wellness or Covert Conversion to Hinduism," at the 2009 Parliament of World Religions held in Melbourne, Australia.
Every year since 2008, TBY has re-emerged in different forms and different angles, providing new opportunities for us to deepen not only our own knowledge, but the knowledge of over 20 million Americans who practice some form of yoga today.  It is devotion to the cause of dharma that has been our fuel and ongoing support of HAF the accelerant.
Day 2: TBY and the Path of Knowledge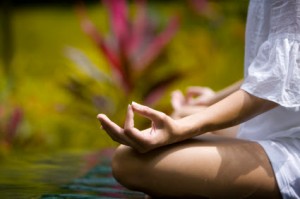 Love or devotion for our teachings could not be enough to educate the yoga world at large about the Hindu roots of yoga.  Careful study of an issue, weighing multiple perspectives, nuancing language, and always being willing to seek out more knowledge have been key ingredients to TBY.  The HAF team is fortunate to have life-long students of Hinduism amongst our Executive Council, staff, and Board. We also have had the benefit of drawing from the wisdom of respected swamis, yoga teachers, and scholar-practitioners of religion and ancient Indian history.
The opportunity to test our arguments and refine the language with which we would convey this very obvious, yet forgotten message about yoga came rather quickly. In April of 2010, New Age icon Deepak Chopra tried to deny yoga's Hindu roots in response to HAF Board member Aseem Shukla's first introduction of the campaign on Newsweek/Washington Post's On Faith.  A debate ensued, and after the five-essay back and forth went viral, it was aptly titled "The Great Yoga Debate: Shukla vs. Chopra."
After round one on On Faith with Aseem and the front-page headline on the New York Times, Hindu Group Stirs a Debate over Yoga's Soul on Thanksgiving Day 2010, Dr. Chopra went for round two.  Little did he know that HAF's Senior Director, Sheetal Shah, and Executive Director, Suhag Shukla, were up for the challenge.  Armed with the facts and with a one-two punch, Sheetal on Treehugger.com and Suhag on Huffington Post, rebutted his efforts to twist TBY into a fight about ownership, as opposed to one about acknowledging origins.  And we stayed the course.  Later that year, HAF's Executive Council member Ramesh Rao wrote It's Wrong to Deny Yoga's Hindu Roots in The Guardian, and then HAF Executive Council Member and now Board member, Padma Kuppa, wrote on Patheos.com about yoga, Our Hindu Inheritance.
As the coverage of TBY broadened, we continued to deepen our own knowledge of not only the history, but also the nuances of yoga and its philosophy.  But to sustain a campaign, devotion and knowledge require ACTION or as we know it, karma.
Day 3: TBY and the Path of Action
In the first two years of the TBY campaign, the buzz created was significant — after all, it even ended up on the front pages of the very often Hinduphobic New York Times! But advocacy is an interesting field and dispelling misrepresentation even more so. Right when you think the fight is over, some headline or another pops up. The path of the pleasant would have had us saying, "We've done enough on this. Case closed." But the path of the good compelled us to carry on.
2011 kicked off with action of a different kind — rather than writing about yoga, we started talking about it on camera.  HAF's Sheetal Shah had an opportunity to explain to CNN audiences around the world about the origins of yoga and the purpose behind TBY in a segment called, What is Yoga?.
Just a month later, thanks to the release of a book in which the author claimed that most asanas likely didn't come from ancient Indian sages, but from European gymnastics, and even likened them to "circus tricks," Take Back Yoga added another angle to its arguments. Meera Nanda, an Indian author, penned "Not as Old as You Think…nor very Hindu either" in OPEN Magazine, providing a review of this latest theory about yoga.  A renewed round of debate arose…this time, then HAF Board Member and now Executive Council member, Swaminathan Venkatraman, convincingly articulated both a historical and scriptural basis in Hinduism for not only yoga, but also the evolution of asana.  The Audacity of Ignorance and Disguised Hinduphobia introduced OPEN magazine's primarily Indian audience to issues Hindu Americans were facing and the points we were raising to promote an understanding about the origins of yoga.
Finally, in March of 2011, we went from print and film to the airwaves, when Sheetal spoke to a national audience on National Public Radio in Has Yoga Strayed Too Far from its Hindu Roots?
The great sage Swami Chinmayananda once said, "Each student may take in one or the other of them as his main path, according to his subjective mental temperament. However, each intelligent student shall discover for himself that whatever be his main path, the other[s] cannot be totally eliminated from his program of self-evolution."  To this end, we have strived to ensure that our actions rest on the foundation of knowledge and devotion; that our devotion is sustained by knowledge and right action; and that our knowledge is utilized in fair, accurate, and respectful ways to promote the cause ofDharma.
Day 4: Yoga and the Path of Concentration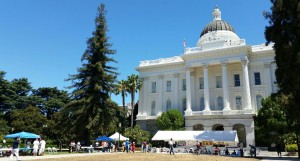 Happy International Day of Yoga! Today the team at HAF joined people all around the world in celebrating one of India and Hinduism's greatest contributions — yoga.
This is the last leg of this short trip down Take Back Yoga memory lane.  But even though the trip may be over, our collective journey to promote a better understanding of Hinduism, including yoga, has just begun and can only continue with sustained focus and effort, or Raja or Dhyana Yoga.  And sustained effort is only possible with support.
Four years in, and TBY's key message about yoga hasn't wavered: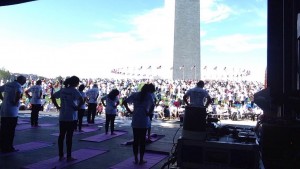 Yoga is more than just asana
Yoga is rooted in Hinduism
Four years in, and TBY's key message has spread thru:
Print and Web Media
TV
Radio
So what other medium is left to build more awareness?  How about a Harvard Business School case study? Or books (see here and here)?  While some of these academics may not agree with HAF's stance or are simply studying the campaign as a phenomenon, at least we're getting them to think more critically, all the while increasing academic accountability. After all, any straw man or ad hominem assertions against the fairly long TBY paper-trail, especially when we've made our intentions and goals amply clear, would certainly prove difficult!
TBY has also resulted in strange bedfellows along the way.  Many conservative Christians, with whom we are largely at odds with over issues such as predatory proselytization and conversion, wholeheartedly agree that yoga is a Hindu practice — although their reasoning for acknowledging this fact isn't necessarily flattery, but to warn against its practice.  We've also struggled with very real dilemmas.  For example, if we know that the practice of asana may work to reduce Attention Deficit Disorder (ADHD), and improve general behavior and grades for children, but we're stating that yoga is rooted in Hinduism, how can we justify yoga in public schools, especially in light of HAF's church/state advocacy?  The solution to this quandary was found by striking a fine balance which we released in the form of an addendum after the highly publicized lawsuit in Encinitas, CA in 2013.  We stated, in part:
Under the First Amendment, public schools may offer yoga-based programs, such as asana-only programs, as part of their curriculum because asana alone is not yoga. Public schools should not offer programs that go beyond the instruction of asana and other physical components of yoga. As such, community groups are free to offer more comprehensive yoga programs during non-school hours using school facilities on the same basis as other community groups sponsoring religious and secular programs for youth.
In 2014, TBY travelled the world over again.   HAF Senior Director, Sheetal Shah was featured in an Al Jazeera documentary, "Who Owns Yoga?", and HAF Executive Director, Suhag Shukla on Al Jazeera's talk show, The Stream.
Shortly after the UN passed a resolution deeming June 21 International Yoga Day at the behest of India's Prime Minister, Narendra Modi, late last year, TBY came full circle — back to the Washington Post in India's new prime minister aims to rebrand and promote yoga in India.
Today, HAF members have been participating in various International Yoga Day events across the nation – from an event at the National Mall in DC, to another in Sacramento. And tomorrow, we'll be joined by over 200 Congressional staff and friends of HAF in our nation's capital for the Foundation's "Yoga on the Hill," where they'll participate in one of two 30 minute sessions led by world-renowned yoga teacher Eddie Stern of Ashtanga Yoga New York.
HAF's Take Back Yoga has been a long and fruitful ride.  Many have acknowledged the Hindu roots of yoga, but there are still those who haven't. So there's still a long road ahead, but sustained by the eternal teachings of yoga, we'll keep moving forward.
Happy International Yoga Day… Namaste.