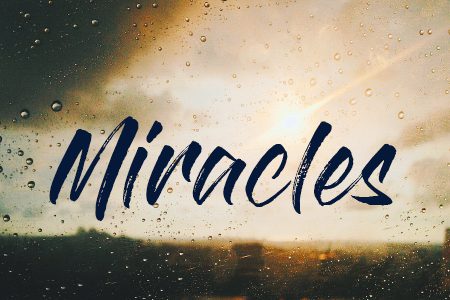 Do you believe in miracles? If you consider yourself a Christian, I suppose that belief is a prerequisite. I'm sure a lot of non-Christians also believe in miracles, but I also expect that there will be some who will read this article and belittle such belief as the stuff of fairytales. Whatever the case is with you, I would still like to tell you about a miracle that recently happened within my family…and it's not the first miracle that has touched my life.
I come from a family that believes in fervent prayer. My paternal grandmother lived by her personal credo, "prayer changes things." I heard her say that dozens of times. She believed it and lived it. My grandmother's son, my dad, is a well-known prayer warrior to this day. My parents and both sets of grandparents taught me that there is power in prayer. I can't claim to be a great prayer warrior myself, but I do try to maintain a state of communication with God as I understand it.
It can be an incredibly powerful thing when large groups of people organize in prayer. I've seen this happen quite a few times in my life and, from time to time, I've witnessed miraculous results. I've also felt that power personally in times when I was aware that many people were praying for me. If you're not a religious or spiritual person and you are reading this, I know you are skeptical but trust me, when you see it and feel it, you know there is a power at work that is far greater than the sum of the human parts involved. Faith leads me to believe that's the power of God. I'm not the sort of Christian who sees science as an enemy of my faith, not at all. But I've been witness to events involving prayer chains that simply can't be explained by science. You can call them what you want, but I'll call them miracles.
It's a funny thing about miracles and prayer; Christians claim to have faith in the power of prayer and pray for miracles and then when they happen we are shocked. I guess that shouldn't come as a surprise. After all, Jesus spent three years telling his disciples about the miracle of his resurrection and when it happened, they didn't believe it. We are only human.
So, I want to tell you about the miracle that happened in my family recently, but first I'll tell you about another miracle that touched my family and my hometown when I was very young. If you are a gospel music listener, you may have heard about this incident. It was the inspiration for the classic gospel song, "I'm So Glad I'm a Part of the Family of God," written by Bill and Gloria Gaither. Bill and Gloria are from my hometown of Alexandria, Indiana. In fact, they still live there. They are old friends of my family and when I was a child, they were members of my church.
The year was 1970 and I was just a 3-year-old. Another family friend, Ron Garner (also a member of our church) was working in the repair shop of a local car dealership. It was a Friday night and Ron was working late cleaning with a highly flammable solvent. He hadn't thought to open a window to ventilate the room. There was a gas heating furnace hanging from the ceiling of that room. At some point, the fumes from the solvent Ron was using made it to the pilot light flame of that furnace and there was a violent explosion as flames engulfed the room and Ron. He stumbled his way to the door but it was partly stuck and refused to open very wide. Now aflame, Ron managed to squeeze through a small opening and escape the garage just before it completely blew up. Ron escaped that explosion but he didn't escape the unimaginably horrific burns.
News like that travels fast in a small town. Almost immediately, a prayer chain was organized throughout our church and beyond into the community-at-large. Ron was rushed to the world-renowned burn unit of Methodist Hospital in Indianapolis. Methodist is the place all the Indy Car drivers are taken after accidents and they are among the very best at treating burn victims. But Ron was such a severe case that the doctors at Methodist decided that he was beyond treatment. They were certain that the stress and trauma of treating him would surely kill him. He was not expected to live through the night. But the prayer chain prayed on and Ron did not die. He was burned on Good Friday and was still alive on Saturday…and Easter Sunday. Since Ron had lived well past what the doctors had expected, they decided it was worth the risk to begin treating him.
There was a lot of work to do in order to give Ron any hope of a normal life. Many, many skin grafts were done in the ensuing months and a lot of painful rehabilitation was required but slowly, Ron began to recover. He took the opportunity to finish his college education and began a career as an educator. Ron Garner should have died in 1970 when I was 3-years-old but the power of prayer brought down a miracle. Fifteen years later, Ron was one of my high school basketball coaches. A few months ago, I went to see my alma mater play in the state basketball tournament. Ron Garner, now in his 70s was in attendance. It was great to get to talk to him again. He's a walking miracle.
That was the first time a miracle touched my life. The most recent time was just last month.
My dad's sister, Parolea, had been to see her dermatologist near her home in Denver. As he was examining the area around her neck, he noticed a lump the size of a small egg. He asked how long it had been there and Parolea replied that she didn't really know. She said she assumed it was a swollen tonsil and, since it didn't cause her any pain, she hadn't been concerned about it.
Her dermatologist was concerned and he referred her to a head and neck oncology specialist at a local hospital. She also went to see her primary care physician. He, too, was concerned and referred her to the same specialist. She saw the oncologist the next day and had a biopsy done. The day after that procedure, Parolea got a call that they wanted her to come in for a PET scan. Parolea admits that she finally began to become a bit concerned at this point since PET scans are not a routine procedure.
A couple days later, she got a call from the oncologist's office saying he needed to see her. That's never good news. The doctor confirmed the worst, the PET scan had shown that the lump was cancerous.
He went on to lay out the complete plan of attack for treatment. It was explained to Parolea that she would have to have an extensive surgery to explore how far the cancer had spread. The doctor suspected it would include one tonsil and perhaps part of her tongue and some lymph nodes. He expected the surgery to take four to five hours and told Parolea that she would have to be in the Intensive Care Unit for no less than two days. In the weeks and months to follow, the doctor explained, Parolea would have to have a feeding tube and undergo speech and swallowing therapy. In short, it was pretty bleak news.
A prayer chain began to form among Parolea's friends and church family in Denver as well as friends and family around the world. As Parolea's mother, my grandmother, would have said, prayer changes things.
The surgery was scheduled and then Parolea got another disturbing call from the oncologist. He'd had a consultative conference with more oncologists and radiologists and determined that both tonsils were involved. This raised more concern and they decided  to move the surgery up in the schedule to a day earlier.
Parolea faced her surgery with mortal resolve. She reported to us that she was calm and not really too concerned. She had a lot of people praying for her and she was at peace with whatever answer she was to receive. Parolea went into surgery at 7:30 am. Just two hours later, her friends and family at the hospital received the news that she was already out of surgery. But the biggest news floored everyone: there was no cancer! None!
I was a part of that prayer chain. If I'm being honest, my prayers were for a successful surgery and news that the cancer could be treated with the standard methods of radiation and chemotherapy. That's normally the best news you'd expect to hear in a situation like that. Amazingly, her situation either completely fooled a panel of medical experts in the field of cancer, or she received a miracle.
You can believe what you want, but I'm calling it a miracle.
Prayer changes things.