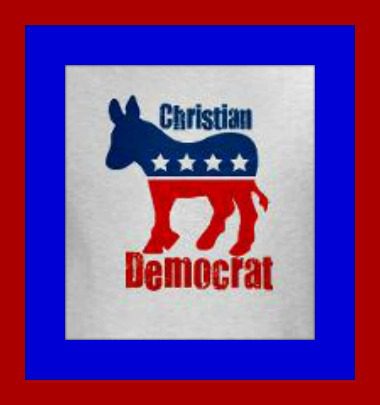 A couple days ago, a friend sent me a link to a YouTube video of a Tennessee preacher named Greg Locke going on a political rant from his pulpit in front of a raucous and supportive congregation. I have taken the liberty of transcribing about a minute and a half of his vitriolic message below. Pardon the caps and all the exclamation points, but this guy was fired up and hopping mad, so I tried to capture his emotional state in text. I will also post the video so you can see it for yourself. Although the camera doesn't show the congregation, it does sound like a large crowd, and they are cheering him on exuberantly throughout his message.
 "I'm to the place right now, if you vote Democrat, I don't even want you around this church. You can GET OUT! You can GET OUT, YOU DEMON!
You can get out you baby butchering election thief!
YOU CAN NOT BE A CHRISTIAN AND VOTE DEMOCRAT IN THIS NATION! I DON'T CARE HOW MAD THAT MAKES YOU. YOU CAN GET AS PISSED OFF AS YOU WANT TO! YOU CAN NOT BE A CHRISTIAN AND VOTE DEMOCRAT IN THIS NATION! THEY ARE GOD-DENYING DEMONS THAT BUTCHER BABIES AND HATE THIS NATION! THEY HATE THIS NATION!
You get mad all you want to. I don't care if you stand, I don't care if you throw tomatoes, praise God, I'M ABOUT TO THROW A MICROPHONE UP IN THIS HOUSE!
CNN CAN EAT MY DIRTY SOCKS, YOU CAN NOT BE A DEMOCRAT AND A CHRISTIAN, YOU CAN NOT! SOMEBODY SAY AMEN! THE REST OF YOU, GET OUT! GET OUT! GET OUT IN THE NAME OF JESUS! I AIN'T PLAYING YOUR STUPID GAME!
Bunch of devils…I'm sick of it.
 They want to talk about the insurrection (1/6/22)…hmm…let me tell you something…you ain't seen an insurrection yet…
 YOU KEEP ON PUSHING OUR BUTTONS YOU LOW DOWN SORRY COMPROMISERS, YOU GOD HATING COMMUNISTS. YOU'LL FIND OUT WHAT AN INSURRECTION IS, 'CAUSE WE AIN'T PLAYING YOUR GARBAGE, WE AIN'T PLAYING YOUR MESS, MY BIBLE SAYS THAT THE CHURCH OF THE LIVING GOD IS AN INSTITUTION THAT THE GATES OF HELL CAN NOT PREVAIL AGAINST IT. AND THE BIBLE SAYS THAT WE'LL TAKE IT BY FORCE!! THAT'S WHAT THE BIBLE SAYS!! THAT'S WHAT THE BIBLE SAYS!
 It's going to get WORSE!"
 –Pastor Greg Locke speaking to his congregation in Tennessee
Video link below
Christian Preacher Said In USA Church You Cannot Be A Christian If You Vote Democrat Party
Dear readers, there is clearly a war going on in this country and the front lines are what's left of far-right Christian churches. This is a very over-the-top example where, to his credit I suppose, Mr. Locke doesn't even try to couch his message in vague speech. Churches like this are not the norm but I know for a fact much more subtle versions of the same message are being shared to most conservative-leaning congregations around the nation. I've felt it in churches I've been in myself. None of those churches would approve of the hateful rhetoric that Pastor Locke uses, but the notion that to be a good Christian one must vote Republican is a very widely held belief among a much larger percentage of Christians than we might like to believe. I'll also add this: If that is what it takes to be a Christian, I'm afraid I don't want to be one.
The Christian church is at a crossroads and, perhaps a point of no return.
There has already been a great divide in Christendom over politics, of course. Millions of defectors, like myself, have left churches that have become too politically forward with the messages coming from the pulpit. They have left looking for churches that either stay out of politics completely or are inclusive and welcoming to all. Or, in many cases, they are just unchurched completely. As long as there are Greg Lockes out there, or the thousands of preachers who spread the same political ideology, albeit in a more palatable and subtle form, this divide will continue to grow.
All that is obvious and to be expected under our post-Trumpian society. What's really dangerous though is what appears to be this push towards ever more violent means from far-right extremists carrying the banner of Christianity. These extremists are buying into what is known as the "replacement theory." It is the belief that the long dominant white Christian culture is being systematically replaced by ethnic groups. This theory was behind the mass killing of 10 black shoppers in Buffalo and in several other ethnically based killings in recent years. Pastor Locke even hinted at it in his rant, "We'll take it by force…that's what the Bible says…It's going to get worse!" If chilling rhetoric like that scares you, it should.
There are far right Christian nationalist groups in many states outwardly planning "takeovers" of their states' political power structure. Idaho is one frightening recent example. These are the people who, like Pastor Locke, believe that it is impossible to be a Christian and a Democrat.
Of course, as Pastor Locke implied several times during his rant, abortion is probably at the top of the list of reasons why far right Christian nationalists claim that Democrats can't be Christians. They laud themselves as the protectors of the unborn. They proudly proclaim that they are pro-life. Yet, they have no issues with the prospect of violent hostile takeovers of government. They show little interest in protecting the sanctity of life after birth. In fact, in Texas, arguably the ground zero in the push to overturn Roe v. Wade, there is actually legislation in the work that would make the "crime" of a woman terminating a pregnancy punishable by death! Apparently, irony must be completely lost on Christian nationalists.
When pastors like Greg Locke spit hateful sermons telling any members of the congregation who might be Democrats, demons, devils, and baby butcherers, and then orders them out in the name of Jesus, anyone with even a modicum of reason must ask themselves, where is the Christian message there? Where is the greatest commandment?
Where is the love?
Aren't far right Christian nationalists walking billboards promoting the opposite message of what they claim to be?
Is there among them even one example of loving their neighbors as much as they love themselves?
Can a far-right Christian nationalists really be a Christian?