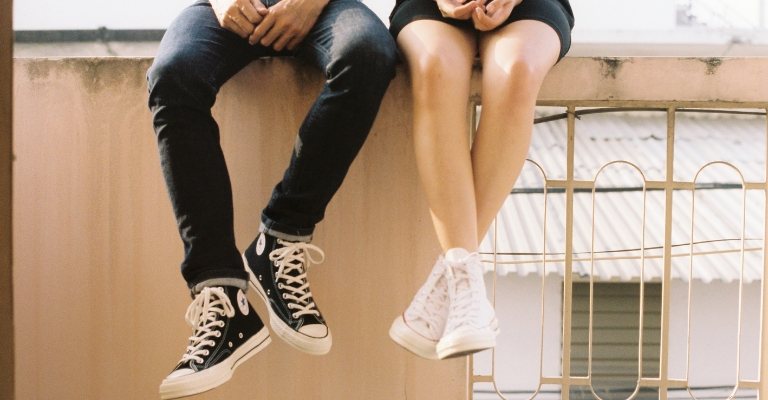 "Cute haircut . . ."  It sounded like a compliment until he added, "It'd look even better if you'd combed it."
Then he said, "I'm Oprah's stylist, so I just say whatever I want to people sometimes."
I was momentarily stunned. Was it kind of a compliment to be insulted by Oprah's stylist?
I ran into him while in the mall picking up a tube of mascara one Saturday morning.
I thought he was a sales associate and was about to ask him to grab me a tube of the smokey long-lasting when he insulted me. In front of a bunch of people.
I can remember a time when a comment like that would've crushed me.
Is there a person in your life who rarely has a nice word for you?
Maybe it's your mother in law.
Or do you have a husband who always has a hurtful word for you?
Living with a person who insults you or is critical of you is tough. No one enjoys criticism. And it's almost a sure way to start a fight.
A disagreement doesn't start with the insult. It begins with the response.
The natural thing to do when someone offends you is feel hurt and fire back.
But you decide whether or not you'll feel offended.
And you decide how you'll respond.
Just as love and forgiveness are choices, feeling offended is a choice, too.
The way you respond when someone offends you has nothing to do with the person who insulted you and everything to do with the kind of person you want to be.
You can't change them. But you can change how you respond.
You can be responsible for your actions and emotions. No matter how someone else  behaves, you can be intentional about your behavior and your attitude.
Ways to respond instead of feeling offended
Stay calm
Choose not to respond in kind. 
Mirror what the other person said and tell him how it made you feel.
Acknowledge he may not have meant to hurt your feelings, but let him know he did.
Remove yourself from the situation.
Try not to take it personally.
Inject humor
The world is full of people who are going to try to knock you down to make themselves to feel better. They may not like the way you drive, dress, walk, or style your hair.
I don't think Oprah's stylist was trying to make himself feel better by insulting me. I mean, he's Oprah's stylist. It's probably safe to say he doesn't even remember it.
When you're intentional about how you choose to respond, you don't have to take offense.
Maybe you won't get it right the first few times, but you can learn to respond differently.
So, when someone tries to cut you down, remember, you decide whether or not you'll feel offended.
And you don't have to be because they don't define who you are.
Need skills to build intimacy?
---
Subscribe to updates from The Not So Excellent Wife here!
Also known as the Not So Excellent Wife, Sheila Qualls understands how tiring a tough marriage can be. 
She went from the brink of divorce to having a thriving marriage by translating timeless truths into practical skills. She's helped women just like you turn their men into the husbands they want.
After 33 years of marriage, she's a  coach  and a speaker whose passion is to equip women to break relationship-stifling habits and do marriage God's way. And you don't have to be a doormat to do it.
She and her husband Kendall live in Minnesota with their five children and their Black Lab, Largo.
In addition to coaching, Sheila is a member of the MOPS Speaker Network.  Her work has been featured on the MOPS Blog, The Upper Room, Grown and Flown, Scary Mommy, Beliefnet, Candidly Christian, Crosswalk.com, The Mighty and on various other sites on the Internet.