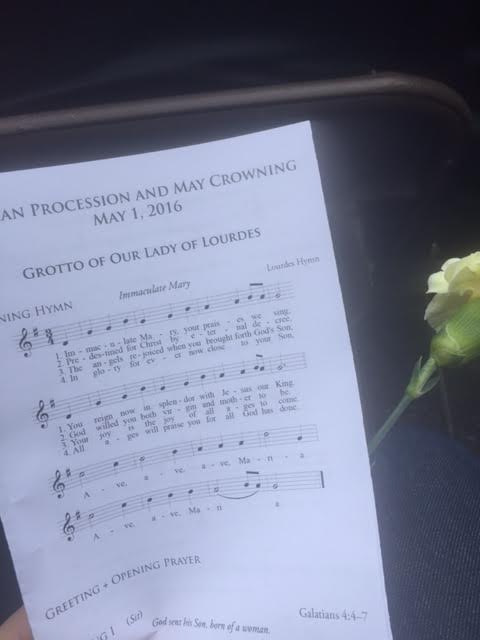 I wear a rosary around my neck and not for a fashion statement. My best friend bought it for me at the Vatican, where the Pope blesses the rosaries. Every time I visit a basilica or cathedral, I dip the beads into the Holy Water.  I glued my Pope Francis pilgrim medal from the papal mass in Philadelphia to the cross that binds the beads together.
But I rarely pray the rosary. I have some pretty deep conflicts about Marian devotion. As a former Protestant, referring to Mary as the Blessed Mother and asking her to pray for me is a large hurdle. It's a bias I can't seem to shake. Second, it seems like all the schmaltzy, sentimental grossness in the Catholic church springs from being"devoted" to Mary. If you don't believe me, go into your local Catholic bookstore and look at the cheap Marian awfulness. You'll realize that Joel Osteen or TBN don't have a corner market on bad taste. Further, the ways some Catholics talk about Mary are not sanctioned by the church.  I sometimes feel like we're told to pray to Mary as if she were some colossal cosmic nag who'd badger her Son into submission so we can get what we want.
I live in South Bend, where work on the campus of Notre Dame as an editor for Ave Maria Press. Ever since I moved here almost two years ago, it seems like Mary is constantly in my face.  I can see her from my office window as she stands gleaming at the top of the famous golden dome. Every time I attend weekly mass on campus, I walk by the Grotto, built to resemble the one at Lourdes where she appeared to St. Bernadette. There are times when I feel like Mary is haunting me, pressing in on me and pulling me towards her.
This week, I got an email from the university telling me they would be holding a crowning of Mary on Sunday at the Grotto. I almost deleted it. But something stopped me. I'm not sure why, but I decided to go. Catholics dedicate the month of May to the devotion of Mary. A May crowning usually includes a blessing of a statue of Mary. We crown her with flowers as the queen of the Church and the saints. The email promised there would be a good old fashioned procession from the Grotto to the Mary Chapel in Geddes Hall, a newly constructed building on campus.
That's how I found myself standing in the cold and grey of Northern Indiana as the crowd gathered. I fidgeted with my carnation and program. Fighting the urge to get up and walk back to my car, I looked at the program. What I read shocked me. The entire blessing service was about Christ and Mary's role as His mother. All the prayers and Gospel readings avoided the "Mary Schmaltz." Instead, it focused on her praying for us, comforting us, and being a source of motherly strength.
And yet, I was still bothered. Why? What ist it about Mary and devotion to her that bugs me so much?
As the blessing finished and we walked across campus,  I started to realize my problem wasn't just with Mary, but with women in general. I'd never consider myself a misogynist. But if I'm honest, I've had complicated relationships with women my entire life. I realized something as I walked and asked Mary to pray for me: I didn't really trust Mary to pray for me. And I wondered if that meant I didn't trust women at all.  For someone who considers himself a feminist, that was a knee buckling revelation.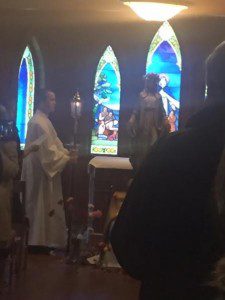 The more I thought about it, the more I realized my problem is wide spread among men in the Catholic church, priests and bishops included. While most of us are not woman haters on the surface, there is deep mistrust of women built into our DNA. When women point this out, we deny it with passion. Yet our failure to give women more of a voice in the church shows what we really think. This despite what St. Pope John Paul II, a big fan of Mary, wrote in
Christifideles Laici
 that, "God entrusted the human being to woman. Certainly, every human being is entrusted to each and every other human being, but in a special way the human being is entrusted to women precisely because the woman in virtue of her special experience of motherhood is seen to have a specific sensitivity towards the human person and all that constitutes the individual's welfare, beginning with the fundamental value of life."
As I watched the Mary statue leading the crowd, bobbing up and down with the motion of the priests carrying her,  I started to realize how Marian devotion could be a powerful force in the church, if we broke it free from some of the schmaltzy absurdity. Mary is called the Queen of Heaven because she participated in the redemption of humanity by bearing God in her body. That's a pretty damn important role. No other person in the history of the planet can claim that. Think about it. The most important person in church history (other than Christ, who was God) is a lowly Jewish peasant girl from the first century. It's not a male apostle, priest or pope. Don't get me wrong, I'm all about the Seat of Peter. But, I can't help but wonder if devotion to the Blessed Mother could enact significant change in our views on women in the church. I wonder if we can enact a system in the church that would give women a place to teach us men what it means to be human and appreciate Our Lord even more.
Given all these new revelations, I wondered if I could learn to like and maybe even love devotion to the Blessed Mother.  A few days ago, Jess and I talked about her own problems with Mary. So, this month, we'll be writing a lot about Mary and her complicated roles in our lives.  And, as it's Sick Pilgrim and we like weird stuff, we're gonna be talking about some of the stranger aspects of Marian devotion, especially when it comes to the Marian apparitions throughout history.
Clutching at my rosary around my neck, I realize I need to go farther than just being a disinterested observer. I'm committing myself to praying a decade of the rosary every day for the month of May. I'll light a candle at the Grotto at Notre Dame at least once a week. I'm praying that Mary will show me how to love women better and learn how to love humanity from them.
Hopefully all this will prompt some good conversation here at the blog. And maybe we can let Mary loose from her bonds of treacly weird devotion and allow her to do some real damage. Let's see how this goes.