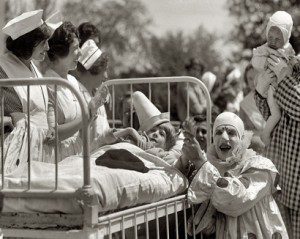 I hobbled into church yesterday for the Rite of the Anointing of the Sick, holding the railing to relieve the pain in my left leg as I climbed the steps to the choir loft. I tore my meniscus on Election Day, when, distracted and anxious, I tripped over myself in my kitchen.
People smiled at me sympathetically, but this isn't why I'm here. I didn't come to get anointed. I'm in the choir, and I volunteered to sing.
The organist begins the opening hymn as I'm still shuffling through my music. We are singing to Christ the Healer. We tell him we've come "to pray for health, to plead for friends." From the choir loft, I can see all those who've gathered on a weekday morning to seek healing for themselves and for others. It's a lot. We're an aging parish. Most are.
The lector reads from the letter of James: "Are any among you sick? They should call for the elders of the church and have them pray over them, anointing them with oil in the name of the Lord."
My leg is throbbing, and I have to pull another chair in front of me to keep it elevated. My mind wanders.
I remember the spring, when I went to see a faith healer for a very different wound. I sat in her office while she listened to my story, and she laid her cool hands on my shoulders as she prayed, then anointed my head and my hands. She told me that I must renounce what was plaguing me–renounce all the ways I'd invited this harm to my spirit. She commanded me to name what persecuted me. But I couldn't. I didn't know what to say. I'm an over-thinker; answers don't come easy to me. I pretended to know what plagued me. But I left, confused and ashamed. Not healed.
Now, I look to at my church, the people gathered under the peaked roof like that old finger game we play with our children. I watch the shifting light in the rafters, imagine all our silent pleas for healing uniting, rising like clouds of incense.
Sometimes we can't name the source of our pain. We only feel the ache of the wound–which can travel far from its source--or see the bruises and blood. Sometimes we don't even know we're bleeding.
In the Gospel According to Mark, Jesus goes to heal the daughter of Jairus, a leader of the synagogue. Among the large crowd that follow him, there is a woman who has been bleeding, hemorrhaging, for 12 years. "She had endured much under many physicians, and had spent all that she had; and she was no better, but rather grew worse," the story goes.
This is me. The woman who has tried everything. The woman who is out of money, out of ideas. The woman who has sought the homeopath and the psychotherapist and the endocrinologist and the witch in the hut. The woman who can't even go to the temple; her bleeding renders her ritually impure. Her wound–which she can't, of her own power, name, stop, staunch, or cast out–makes her an outsider. She's got nowhere else to go.
But she hears about this man, Jesus, the healer. She hears he is on his way to heal another, and she joins the crowds that follow him, comes just close enough to reach out a hand and touch the hem of his cloak.
And she is healed, without words, without naming or asking. Jesus doesn't even know who has touched him, only that power has "gone forth from him." He doesn't choose to heal.  It is his nature to heal. "It's as if he can't help himself," says our priest, and I imagine Jesus (or Robert Powell) shrugging sheepishly.
Meanwhile this woman–my heroine–she fights everything that might keep her from God–her own wound, which bars her even from the holy places, and the people who stand in her way–to put herself in the place where she can, at last, be healed.
"And here you are," says the priest, "in the presence of the Lord, who knows the healing you need." The one who cannot but heal you, as it is his very nature.
The priest moves through the pews, laying hands on heads, muttering softly, then praying in silence. He prays over every person in the church, not just the obviously sick. When he comes to me, I feel the heat of his hands on my head and remember my mother seeking healing of her cancer, telling me she felt the heat of Dodie Osteen's hands running through her mottled lungs and thought, it's working! But it wasn't working, at least not in the way we'd hoped. But who am I to say what her deepest wound was? What healing she was really feeling, if any?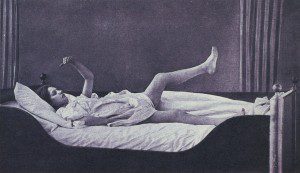 The priest speaks my name, crosses my palms and forehead with the fragrant oil. The transaction is businesslike. "I'm only an instrument," he told us, in preparation. He moves quickly through the choir loft. The oil glistens on my skin. I smell it, mildly fragrant. I press my hands to my heart. When I think nobody is looking, I pull up my pant leg and rub the holy oil into my knee, think of all the ladies I know who host doTERRA parties. It can't hurt. 
The communion hymn is St. Paul's: "Eye has not seen, ear has not heard, what God has ready for those who love him." A friend whispered the same words to my mother as she lay dying, and I remember now having written this before–my wonder at whether those words could have been any comfort to her at all. And yet I am comforted by them now, here in the church, with my broken heart and my broken leg, both of which still hurt like hell, despite my anointing.
Would any of this–the ritual, the words, the objects, the oil–mean so much without a lifetime of memories of church going and grief and pain and the searching of every book in the self-help section for a better way?
Without 12 years of bleeding, could the woman have reached out her arm, given herself so completely into the care of the healer? To "tremble and fall down before him," to tell him "the whole truth?"
The truth is, I've exhausted my options, and I've found myself here, where I started.
And Jesus says, "Daughter, your faith has made you well; go in peace, and be healed of your disease."