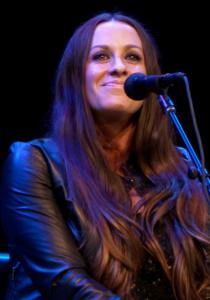 In middle school I had no idea who I was. I was mostly known for wearing adidas track suits and writing notes to all my friends and their boyfriends. Looking back, I can see the inner workings of a late bloomer — always uncomfortable, usually awkward, curious about everything without really knowing how I felt. From confusing crushes on other girls to strange obsessions with female musicians, middle school was a constant brush with the mystery of myself.
One of those obsessions was Alanis Morissette. I loved her so much I wrote her a letter and sent her a stack of poetry I'd been writing. To my surprise, she wrote me back. She sent me a copy of Neale Donald Walsch's "Conversations With God" because "Hi, Cassidy. I thought you'd like this," and she politely signed her name. This treasure remains in the closet of my childhood home to this day.
I read it from cover to cover — amused, confused, and in awe of the great mysteries of life within and especially outside myself. If you've read any of this series, you know that within the book, Neale asserts that he's having a conversation with God via the writing of his hand. It was astonishing and mind-blowing for this curious pre-teen. The lack of certainty it provided was a strange clarity in my pre-evangelical-youth-group days.
When it came to middle school parties, I was known for singing Alanis at the karaoke station, where I'd attempt to mimic the way she so uninhibitedly moved her body across the stage. "Head Over Feet" was a song that always struck me. At the time, it seemed to be to be a song of good old mutual love. A love that respected and protected the beloved. But, having been a late bloomer entirely focused on the existential far more than sexuality, I could only hear God in the song.
One line in particular always had me visualizing my entrance into the world, as if it was some great escape from a realm of eternity into this strange place where I'd most certainly lose touch with the realm from which I came:
"You are the bearer of unconditional things
You held your breath and the door for me
Thanks for your patience"
This part–followed by an instrumental and harmonica solo–gave me respite and pause to really engage in this visual encounter. And the song has forever remained a secret love story between God and me.
Cassidy Hall is a writer, photographer, filmmaker, and trained counselor. Cassidy's writing is featured on The Huffington Post, Patheos and her website. She most recently worked on the production team of the documentary film, In Pursuit of Silence, currently playing in theaters all over the world. You can find her on Twitter, Instagram, and Facebook. 

Read more from Cassidy at
http://www.patheos.com/blogs/sickpilgrim/2017/07/dark-devotional-creating-from-the-wound/#tc45bqlKVTQ7CEEA.99