Sick Pilgrim goes Christmas shopping for the Catholic-conflicted and Catholic-attracted in your life.
Jessica Mesman Griffith recommends:
Kingdom of Women by Rosalie Morales Kearns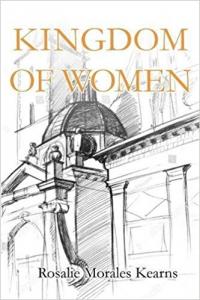 Sick Pilgrim's 2017 Book of the Year is Kingdom of Women, which imagines an alternate reality in which the Roman Catholic Church finally makes women priests–and a man slaughters the first class at their ordination. (A scenario that seems all to horrifically imaginable, does it not?) There's one survivor of the massacre: Averil Parnell–whose life is spared when she's late to the party for unholy reasons. Parnell becomes the unlikely heroine of a dystopian revolution and a maybe-mystic (who could also be just be living with post-traumatic stress disorder after watching the massacre of her friends and seminary classmates). Kearns's masterful work taps the deepest secret fears, hopes, and desires of the Catholic women I know, but her ghost monks, tarot cards, and descriptions of survival in post-apocalyptic America–a land women come to rule without mercy–capture an even broader cultural moment, answering #me too with "what if?"
The Old Weird Albion by Justin Hopper
Essayist Justin Hopper traces the memories, myths and forgotten histories of Southern England–walking with New Age eccentrics and accidental visionaries on the hunt for crop circles, ancient chalk figures and eerie suburbs: the ruins of prehistoric pasts and utopian futures. Hopper casts himself as the outsider – an American initiate searching for an English heritage – and mixes doubt with desire in pursuit of mystical encounters in the Downs.
The Stapletons: Ballads and Battles
Once upon a time, a mariachi from LA married a Wisconsin farmgirl…and they started making eerie, dark-folk love songs about wars and marriage on guitar and harp. This album has been in constant rotation in my house since I saw the Stapletons perform live at the Convivium Literary Festival in Pittsburgh, their home town and the setting for many of their haunting works. They'll be performing at Tales of Loss and Longing, our first Sick Pilgrim/Arts at St. Gregory's event in Chicago on February 23.
And a free gift from SP to you: Add their version of 'What Child is This?" to your Christmas music playlist:
***
Cassidy Hall recommends:
Emergency Xanax I mean Holy Water Keychain Do you really need us to explain?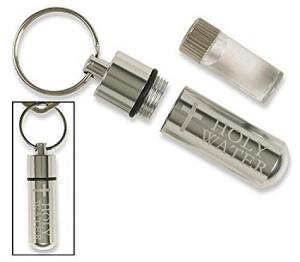 Judee Sill, "The Kiss": Give yourself a gift now and go and watch Judee Sill sing this perfect song on The BBC's Old Grey Whistle Test. Then buy Heart Food for someone you love.
Once a crystal choir
Appeared while I was sleeping
And called my name
And when they came down nearer
Saying, dying is done,
Then a new song was sung
Until somewhere we breathed as one
And still I hear their whisper
Gay Icons: Like a grown up, catholic version of that best-friends necklace you'd have bought your anam cara at Claire's when you were in junior high.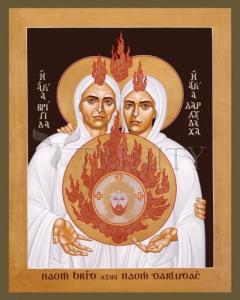 "Brigid was one of the many Celtic saints who insisted that a vital component of the spiritual life is having a soul friend: anam cara. Her own dear friend was the younger nun Darlughdach, a close companion who shared her hearth and her bed and once functioned as her ambassador to the Pictish King Nechtan. When Brigid told her that she expected to be dying soon, Darlughdach begged that they might be allowed to die together. Brigid responded that she would outlive her by one year and succeed her as abbess. After this they would be reunited in heaven. Brigid died in 525 on February 1st the date of Imbolic, the annual festival of goddess Brigid. Since Darlughdach died exactly one year later, they share the same feast."
***
Sarah Margaret Babbs recommends:
Kat Von D lipstick in Rosary The tattoo artist creates lush lip colors in catholic hues. Her saints and sinners eyeshadows are designed to resemble a gothic-style stained glass window.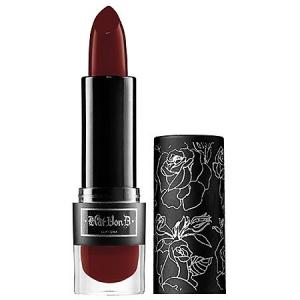 Brighid's Flame Catholics call Imbolc Candlemas, so if you're near a parish that still celebrates the feast you can take your Brigid candle to Mass and have it blessed, but this one comes pre-supercharged with crystals and goddess power to welcome the coming spring.
We Were Eight Years in Power by Ta-Nehisi Coates This reflection on race and power in the aftermath of the Obama presidency and the Trump election is on the New York Times Top Ten list for the year.
***
Joanna Penn Cooper recommends:
Heart Berries by Terese Marie Mailhot Sherman Alexie called Mailhot's memoir in essays "an Iliad for the indigenous…the story of one First Nation woman and her geographic, emotional, and theological search for meaning in a colonial world…disturbing and hilarious. It contains sentences of such poetry and power that you will be compelled to set the book down and walk away to recover from the tremors." (Pre-order–it comes out in February!)
Rocket Fantastic by Gabrielle Calvocoressi A "sorcerous, jazz-tinged, erotic, and wide-eyed" work by "a space-age balladeer…" Joanna loves these poems about mothers, gender, and grief.