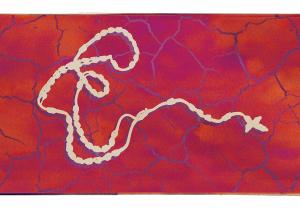 Art by the devout and confiscated Brian Jocks.
---
O God, who raised up Saint John the Baptist
To make ready a nation fit for Christ the Lord,
Give your people, we pray,
The grace of spiritual joys
And direct the hearts of all the faithful
Into the way of salvation and peace.
Through our Lord Jesus Christ, your Son,
Who lives and reigns with you in the unity of the Holy Spirit,
One God, for ever and ever. Amen
My stomach lurches as I read these words.
A nation fit for Christ the Lord. Oh God.
Maybe it's okay. Maybe I can pray this prayer with sincerity. After all, the prayer asks that we be made a nation fit for Christ the Lord. It doesn't claim that we are already that nation.
Direct the hearts of all the faithful.
The faithful. Who are the faithful in this scenario – those who travel thousands of miles to save their children, or those who jail them? I have a rosary. There is at least one rosary for every person in my house. There are no rosaries for detained immigrants. They often carry them over thousands of miles, only to have them confiscated along with their children.
I pray for "the faithful" every Sunday at Mass. We never seem to pray for immigrants – but maybe we do in spite of ourselves. Maybe prayers for the faithful have nothing to do with us Mass-goers, and everything to do with immigrants without rosaries.
***
Though I thought I had toiled in vain,
And for nothing, uselessly spent my strength,
Yet my reward is with the Lord,
My recompense is with my God.
A man from Honduras killed himself recently, after he was separated from his children at the border.
I pray for mercy for him, that he will be rewarded for trying to save his family, that God will be his recompense.
I pray for mercy for myself, and then immediately feel that this is stupid and go back to praying for immigrants.
***
John heralded [Jesus's] coming
By proclaiming a baptism of repentance
To all the people of Israel;
And as John was completing his course,
He would say, "What do you suppose that I am?
I am not he. Behold, one is coming after me;
I am not worthy to unfasten the sandals of his feet.
John the Baptist announced the coming of Christ. He was necessary. The world needed someone to say, "Hey, world! Look at this guy! Notice him! Watch him! He is special!"
The world needed John, because Christ "grew up like a sapling before him, like a shoot from the parched earth; there was in him no stately bearing to make us look at him, no appearance that would attract us to him. He was rejected and avoided by men, a man of suffering, accustomed to infirmity, one of those from whom men turn away, and we held him in no esteem" (Isaiah 53:1-3).
Christ was not differentiated from the despised.
We need people to remind us that immigrants are precious to God, just as the world needed John the Baptist to point out Christ.
***
They were going to call him Zechariah after his father,
But his mother said in reply, "No. He will be called John."
But they answered her, "There is no one among your relatives who has this name."
So they made signs, asking for his father
What he wished him to be called.
He asked for a tablet and wrote, "John is his name,"
And all were amazed.
There was no one in their family named John, yet they invoked this name in the naming of their only child. They reached outside their own family for something apart, because they knew that that thing apart was of God.
There is a tendency to want to see immigrants as something apart. Yet when we read, "you have formed my inmost being; you knit me in my mother's womb," we are reading about immigrants. When we pray for the faithful, we are praying for them, perhaps more than we are praying for ourselves. The degree to which we see them as apart, reflects the fact that they are only apart because they are of God.