I've been working–in person, on site–since June. I took my first day off (not counting the weeks we were closed at the end of December and the end of February) this past Friday.
I stuck close to home, and fell in love–with my house and yard, with my valley, with my family and friends, and with my husband–all over again.
After sleeping in a bit, and enjoying our morning coffee out on the deck for the first time of the season, Andy and I spent Friday in our gardens. We worked hard. Really hard. The Gnome Garden (what I've decided to call our perennial bed now that the Mother's Day collection of gnomes has hit critical mass) needed a major clean out. While I hauled off a dozen wheelbarrows full of dead leaves and the remains of last year's stella d'oros, zebra grasses, and Queen Anne's lace, Andy built me two new raised beds for what we are calling the "Nana and Papa Garden."
What? Doesn't everyone create garden beds just for their grandchildren? We had already decided last fall that we wanted to expand bed space. Over the winter, I decided that the new beds should be accessible to my grandson in a very real, very fun way. So, the peas are climbing up a new lattice wall that makes up a fort under our deck stairs. The beans will climb poles that create a teepee. The back "wall" of the garden is a row of giant sunflowers. There is a row of pumpkins going in a few weeks from now. There are also plans for a natural fence of dwarf fruit trees and a blackberry tunnel. There should be space left over for a rock garden that is perfect for playing with trucks and such.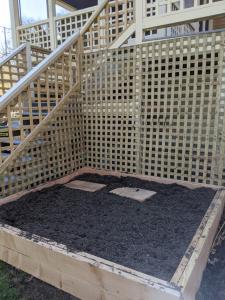 After working until we were sore and sunburnt, we cleaned up and went to dinner at the restaurant our son cooks at. It was a great meal, and a delight to see our boy in action, following in the footsteps of his Old Man, my Personal Chef.
Saturday morning was filled with simple joys–I got our bed linens washed and hung on the clothesline, because who doesn't love Clothesline Clean Sheet Night? We hiked a trail at a favorite state forest. We arrived just in time for the end of the Bay State Trail Riders Association spring gathering. There were dozens of horses. They were so beautiful. From there we took the long way through the Blackstone Valley to visit our daughter's family. Our grandson, who turns 15 months old this week, was in high spirits, making us all dance and applaud with him.
We arrived back home just as one of our dearest friends arrived with a surprise package of baked goods and homemade Chinese dumplings for us. The treats were delicious, of course. The short, socially-distanced visit was a heart-filling reminder of the gatherings we are just a few weeks away from having once again. (Yay vaccines!)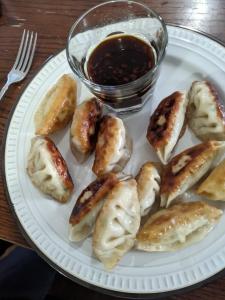 Burgers on the grill and a fire in our backyard fire pit finished off an absolutely lovely day.
Yesterday was a total washout. So, I baked a cake. I baked a lemon velvet cake with lemon cream cheese frosting. It tasted like sunshine.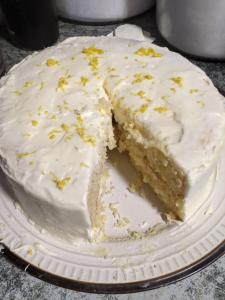 What's keeping you going?