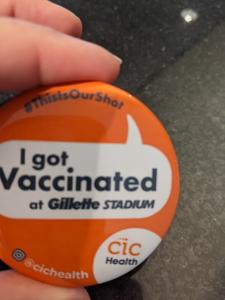 I got my second shot on Saturday morning at Gillette Stadium, where the New England Patriots football and New England Revolution soccer teams play. The clinic is set up in one of the luxury club levels. It was kind of cool to see where the folks who DEFINITELY have better paying jobs than I have get to watch the games. Since all of my trips to Gillette have been in nosebleed seats or working in a concession stand, this was a treat.
I have only been to a few Patriots games, but oh, the concerts I have seen there: the Grateful Dead (the most number of shows I've been to), Bruce Springsteen (the most energy in any show I've ever seen), Pink Floyd (the most terrifying show I've ever been to–when the giant inflatable pig got stuck right above the 50 yard line, and a tech had to climb high above the stadium, hand-over-hand on a single wire, to free it), Bon Jovi (the most middle aged women in one place I have ever seen), AC/DC (the most middle aged men in one place I've ever seen), Ed Sheeran (the most teenage girls in one place I have ever seen)…
Anyhow, I got my final vaccination and it was pretty great. I felt wonderful for the rest of the day, and enjoyed working on some new beds that will become a garden playspace for my grandkids complete with a bean teepee, a giant sunflower fence, a pumpkin patch, a blackberry tunnel, an under the deck fort, and a garage for toy construction trucks.
Yesterday, as expected, I was wobbly, and after making everyone pancakes for breakfast, I went from couch to couch lounging around. It was a forced sabbath rest, and I am the better for it.