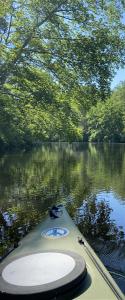 What a week!
As I point out to my preschoolers, who are just figuring out how to manage in this world, it is hard work to feel all your big feelings. Let's just say I worked very hard this week:
My daughter eloped.
It did not come as a complete surprise, there had been hints for a long time. Still, I was rattled by the shock of emotion at the news. I must confess that there was sorrow at missing out on some of the ritual and tradition. There was definitely a struggle to let go of my own visions of what being the mother-of-the-bride was going to be like. Turns out, when you are a little girl at a sleepover party playing wedding with your Barbie dolls, you aren't pretending to be Bride Barbie or even Bridesmaid Barbie. You are Barbie's mother, planning the wedding you want for your daughter.
Still, there also was tremendous joy. My daughter has married a good man that my husband and I care for deeply. We get on with his family terrifically. At the quickly pulled together celebration dinner, our two families truly bonded in a way that makes my heart glad. Like the Grinch discovering that Christmas still comes without all the packages and bows, without any pomp and circumstance my daughter and son-in-law entered into a blessed union. My heart grew three sizes that day.
One of my sweet students had her finally day at school with us before moving to California.
The entire class planned a whole week of her favorite activities, and spent Friday celebrating their friendship with cards, treats that the kids made themselves (my class can really cook!), and a dance party. They made her a book of pictures and dictated messages that she carried around with her for the rest of the day. A co-teacher made her a photo album of every student, each of us teachers, and even every undergraduate student who worked with us this past year. Her mom gave us all bouquets of flowers and tearful hugs. If you do this teaching business right, you build relationships with your students and their families, creating a community in your classroom. We must have done it right, because it was hard to say goodbye.
A former "foster grownup" invited me to her daughter's baby shower.
As my middle son described it to his girlfriend, my husband and I have a habit of "collecting strays." Throughout the years, our spare bedroom has been home to a variety of folks who just needed a break. One was a young woman with a new baby, who came to live with our family for a few months, and ended up staying for a few years. She got married and built a wonderful life in a big family.
We lost touch over time, but thanks to social media, reconnected not long before the start of the pandemic. I was deeply moved to be invited to her daughter's shower (for twins!). It was all I could do to keep it together when she introduced me to her friends and son-in-law's family as "the woman who taught me how to be a mother." I had no idea she saw me that way. I hope I can live up to that honor.
I had two couples, some of my oldest friends, over for dinner for the first time in more than a year.
We ordered take-out (barbecue from my favorite local joint, if you're wondering), made a round of strawberry gin and tonics that tasted like springtime, and laughed and laughed and HUGGED. Throughout the pandemic, we have had a weekly Zoom cocktail hour, so I didn't expect this gathering to feel so different, so good, but it did. As one of our friends noted, it was just about perfect.
I got out on the kayak for the first time this season.
It was early, so I had the river to myself, with just some dragonflies and cowbirds for company—until two deer swam from an island to the opposite shore a ways in front of me! It was such an unexpected delight!
I got home in time to greet my husband's brother and his wife.
They drove down from New Hampshire with their two adorable pups, because they wanted to be sure to see us before moving to Colorado next week. I'm going to miss them, but am so happy for them that they are able to retire and be closer to their children and grandchildren. My kids—and grandson—all came by to spend time with their aunt and uncle, too. We all enjoyed a good meal, affectionate conversation, and so much love.
Did I mention that my grandson was here, too?
It was the first time he got to play in the "Nana and Papa Garden" we created for him. Despite the mocking I took over the winter and early spring for creating such a silly thing, my grandson had a ball. He dug in the pumpkin patch, rang the hanging bells and windchimes, checked out the hummingbird feeder, splashed in the water table, and ran in and out of the fort under our deck. I could not have been more tickled!
What big feelings are keeping you going?