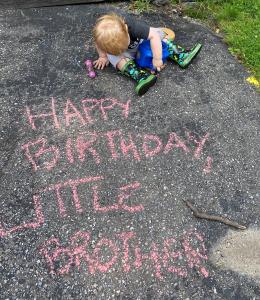 There are so many things happening in the world right now that are causes of strife and stress. None of them matter today, because on Thursday, July 29th at 7:49 AM, my second grandson was born at a hearty Viking size of 19 inches, 8 lbs 14 oz.
Leading up to his arrival, I was lucky enough to spend 2 ½ days taking care of the 19-month-old Big Brother. This silly toddler kept me on the GO GO GO. We blew bubbles, and stomped in puddles, and rode in the wagon, and stacked blocks, and picked up rocks, and drew with sidewalk chalk, and read books, and rocked out to 80s punk AND Randy Newman's soundtrack to the Toy Story movies, and ate a seemingly endless stream of snacks, and touched EVERYTHING in the house and the yard. I cannot tell you how much I loved this time with that fellow. I cannot tell you how bone tired he made me.
Because I was caring for the Big Brother at my daughter's and son-in-law's house, I was there when he met his Baby Brother for the first time. It was the most beautiful thing ever. Keeping it real, he did have to be reminded to be gentle with the newborn, "like with Lucy." Lucy is the beagle that the Big Brother thinks is his older sister. My parents are still laughing about that one.
While I was staying with the Big Brother, my husband was working with his 92-year-old father who has decided that it is time to get his affairs in order. It just makes me grin to think of that. Personally, I don't know anyone who is older than my father-in-law. Still, it seems fitting that he is just now getting around to getting paperwork together. He's sharp as a tac, as they say. He still drives. Living in the home he bought over forty years ago after retiring from the Air Force, he mows the three-acre lawn every week, splits the household chores with my 90-year-old mother-in-law, does the grocery shopping, and putters around. The only job he's given up in the past few years was clearing the driveway of snow. He hired a neighbor with a plow truck to do that. He still shovels the steps and deck, though.
My husband and I are right in the middle of this Circle of Life business. It's overwhelming at times. It's powerful and beautiful and heart-filling, too.
So, in the midst of a resurging virus, political unrest, wildfires and drought, torrential rains and floods, and all the rest of the world's traumas and sorrows, abundant life is keeping me going this week. What's keeping you going?