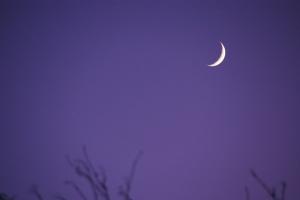 Sometimes you get overwhelmed.
The burden of your responsibilities feels too heavy. It seems like everyone is demanding something of you. There is so much to do, and you don't have enough time to do it. Your ears begin to ring. You get a headache, an upset stomach, maybe your bad back acts up. Your sleep is disrupted with racing thoughts.
It feels like too much.
Then you see a poster at the library about "Astronomy Night" at the farm that now serves as a community land trust and educational center. You convince your overwhelmed-to-the-point-of-grouchy husband and your prone-to-hiding-in-bed-with-a-laptop son to join you to check it out.
The temperature is starting to drop, so you change into jeans and a sweater. You load some camp chairs, an old quilt, and a mess of throw pillows into the back of your pickup. You head to the farm where maybe thirty other people are sitting on their camp chairs and old blankets in the hayfield. Some folks are having a picnic dinner. By the stone wall, a local man in plaid flannel is playing guitar and singing songs we all know by heart. On the cool, gentle breeze, you catch the smell the drying hay and the apples from the orchard on the other side of the old, red barn.
It is a perfect September-in-New-England evening.
The sun sets and the crescent moon rises low on the horizon. The sky is clear. When it gets dark enough, one of the trustees of the farm introduces the local astrophysicist who volunteered to share her passion for the "bright things in the sky" with us. Enthusiastic and nerdy, she waves her laser pointer around the sky, telling us more than we can possibly take in about the stars, planets, and galaxies spinning dizzy above us.
She finishes her presentation. Some fellow stargazers gather around her to talk some more. The families with young kids pack up to head home. You stay snuggled on your quilt, looking up.
You feel so small.
You feel better.
What is putting things into perspective for you this week?