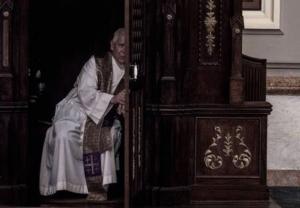 Jesus, because he remains forever, has a priesthood that does not pass away. Therefore, he is always able to save those who approach God through him, since he lives forever to make intercession for them. (Heb. 7:24–25).
Catholic Twitter lit up recently when penitents started discussing their experiences in the confessional. It started when Zuri Davis tweeted on October 17 about confessing a sexual sin. The priest asked her if she was "a toy" and asked whether she'd been raped, badgering her "until I told him no, to which he immediately replied I needed to take ownership of my role. Which … I thought I was doing by going to confession."
The story was picked up by the National Catholic Reporter. Flora x. Tang provided an overview of the online discussion. "This outpouring on social media," Tang observed, "marks one of the first recent public—albeit virtual—discourses where everyday Catholics are sharing their lived experiences of harm during confessions. Given the inherently secretive nature of the sacrament, it is not often discussed publicly."
I once had a bad confessional experience, too. At a staff retreat a few years ago, the retreat master devoted much of his first conference of the day to talking about the Virgin Mary and ended with a commercial for the rosary, his favorite devotional prayer. We should all commit ourselves to taking up the rosary, he said.
I looked down in my lap so no one could see me rolling my eyes. Not only have I had longstanding difficulty praying the rosary, but it's not exactly good form for a priest to proselytize for his favorite devotions, as these are a matter of personal freedom for Catholics. In any case, I managed to hide my reaction (I'm told that maintaining a poker face isn't one of my superpowers), and we broke for Mass in the church.
While waiting for Mass to begin, I decided to avail myself of confession, which the retreat master was offering before the liturgy began. When I stepped into the confessional, I began listing my sins. I tend to just tick them off, starting with the mortal sins, and can usually finish in less than a minute. This time, one of the sins I named was that I hadn't been attending Mass on Sundays and holy days of obligation, which had become a regular entry on my "list."
Fr. Rosary asked if there were any mitigating circumstances that had contributed to me not going to Mass. I was pleasantly surprised that he'd thought of that and said, yes, I'd been suffering from depression. I figured he'd now know I'd been confessing what had been, at most, a venial sin.
"No, that's not a dispensable reason for not fulfilling the Mass obligation," he said, confusing mitigating circumstances that contribute to the commission of sin with reasons a priest can dispense someone from fulfilling an obligation. When it came time for penance, he asked if I knew the rosary. "Yes," I replied, not bothering to remind him that we were having this discussion during a retreat he was giving for a Catholic apologetics organization, "but the Divine Mercy chaplet is easier for me."
He assigned me to pray a rosary anyway and asked me to pray it for some women he'd recently met who were going through post-abortion recovery and were "in real pain."
I left the confessional quietly without respectfully challenging this priest over what he'd said—especially over his misunderstanding of how mitigating circumstances can make a mortal sin venial, and over his assumption about "real pain" and who is worthy of sympathetic understanding for their struggles. In retrospect, I wish I had challenged him. Because he'd have been required by the sacramental seal to sit in silence with that challenge for the rest of his life.
What should Catholics be able to expect in the confessional? Fr. Hugh Barbour, O.Praem., in an online article published the same day as Tang's feature at NCR, advised penitents on "what to do when you get a bad confessor." The CliffsNotes version of his counsel would be that what matters most is that you get forgiveness for your sins. In the long run, it doesn't matter if the priest is mean to you or doesn't know what he's talking about, just thank Jesus you're forgiven.
"Think of it. At your last confession, you may be unconscious, and the priest may not even know you, and there will be no talk, but only this: that he was told you are a Christian who desires the forgiveness of the Savior. Your confessor will recite the words of absolution over you, in obedience to the institution of Christ, and this will usher you into eternal life.
"Then it will not matter whether he was a good or a bad confessor, and it will not matter how good or bad you were in life."
True, insofar as it goes. Unaddressed though is the effect a priest's behavior can have on a penitent.
Who wants to keep going back to the sacrament of penance to confess sexual sins when they have reason to believe a priest will ask if they were raped? Or to offer up details about their health and wonder if they will be belittled and told to pray for those in "real pain"? Who wants to bare their soul when they're fearful that the response will be having to face humiliating questions or to accept dismissive responses to their struggles?
How then will penitents reach this final salvation to which they're supposed to look forward when the shepherds keep using their staffs to beat them away every time they dare to inch their way back to the flock?
It's a common trope in the conservative Catholic bubble for penitents to be told they just have to cut Father slack when he's spiritually abusive to them in the confessional: "Oh, he's probably having a bad day." "Don't forget that St. John Vianney said there are no bad priests, just priests who haven't been sufficiently prayed for." There's the perennial favorite, "Offer it up!" And, to quote Fr. Barbour, "[The priest] can never respond, since he is forbidden by the seal to defend himself from your complaints!"
Yes, it's true that priests can't defend themselves against charges of abusive behavior in the confessional. I noted that myself on my Facebook writer page. Penitents need to be aware of this and be careful to be scrupulously fair in describing what they experienced.
That doesn't mean that they shouldn't speak up! Haven't we learned yet that burying stories of clerical abuse—whether sexual, physical, mental, or spiritual—into the dark corners of the Church only creates far worse problems down the road?
What can be done about spiritual abuse in the confessional? Perhaps clergy can start listening to the laity about their experiences, stop rationalizing their brother priests' spiritual malpractice, try to learn from the laity what is helpful and what is harmful.
Maybe clergy can start remembering that they're supposed to be making Jesus present to the faithful, that their job as priests is to follow Jesus' example as a priest. That God gave his Church priests to seek out the lost and comfort the hurting. Perhaps priests should recommit themselves daily to doing all they can "to save those who approach God through [Christ], since [Christ] lives forever to make intercession for them" (Heb. 7:25).
Michelle Arnold was a staff apologist for Catholic Answers, a Catholic apologetics apostolate in the Diocese of San Diego, California, from 2003–2020, answering questions from clients about the Catholic faith via phone, letter, email, and online platforms. She contributed essays to Catholic Answers' online and print magazines, and wrote four booklets for the apostolate's 20 Answers series. Her 20 Answers booklets were on Judaism, the New Age, witchcraft and the occult, and the Church's liturgical year. Now a freelance writer, editor, and proofreader, Michelle Arnold has a blog at the Patheos Catholic channel. A portfolio of her published essays is available at Authory.