Don't worry, it's not another scholarly fisk of the cultural significance of Billy Jean. I'm talking about the county fair! The fair! Who doesn't love the fair?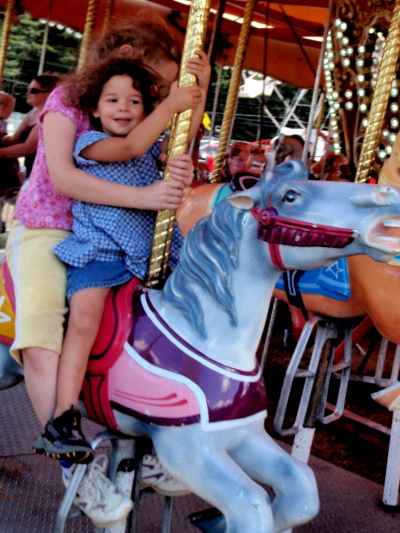 If you're taking your kids to the fair for the first time, you are going to hate it.
–
It will be, second only to the birth itself, the most miserable, sticky, disappointing, and ludicrously expensive day of your life as parents. You will go home wondering why you just paid hundreds of dollars to make your kids this dirty and unhappy.
–
Also, you're fairly sure you had eight children when you left the house, and now you only have six.
–
But it doesn't have to be that way. We kept trying and failing to have fun at the fair, and eventually we worked out some guidelines. And this year, it finally happened: we actually had a good time! All of us, even the wimp, the show-off, the escape artist, the malcontent, the spoilsport, the worrier, and everyone.
Well, the baby actually hated it, but she kind of hates everything right now.
–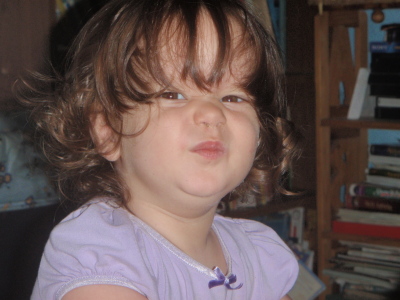 So here is how we managed:
–1–
MONEY
Start saving money last year. I'm serious — this is an expensive day. You have to just accept that it costs what it costs, and there is really no point in making the effort if you're not going to go whole hog. Be prepared to shell out for admission (and possibly parking), ride tickets or passes, food, souvenirs, and possibly for special rides or shows — plus emergency cash for something unexpected, like bug spray or a bail bond.
–
And do some research. There are usually a few cheaper days and a few expensive days, so work out exactly how much it will cost to do everything you want to do. I recommend going on an unlimited pass or bracelet day. We tried individual tickets, and it was not only more expensive, but made us very anxious, because we had to pace ourselves and conserve tickets.
–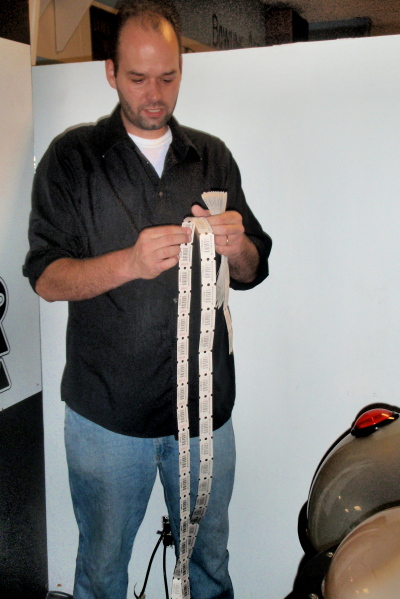 –2–
WEATHER
Check the weather report! A wonderful day can be ruined by clothes that are too hot or too cold. Once we went on a rainy day, and lost a whole hour off our unlimited ride time. And once we went on such a hot day, everyone just wanted to sit on a bench and suck down lemonade. Which we could have done at home for much cheaper, with slightly less of that nauseating barnyard smell.
–
Bring sunblock and lots and lots of drinks. The screaming, walking around, and the general excitement will make your kids even thirstier than they normally would be after a day outdoors. There will be drinks for sale, but they will be EXPENSIVE. Have I mentioned this? It's not because I'm a cheapskate; it's because I don't want you to have to tell a weeping 7-year-old girl, "I know I said you could ride the pony, but Mama spent her last $6 on your fourth lemonade!"
–
–3–
GETTING LOST
Make sure your kids know what to do if they get lost. We tell them to first yell and yell (in case the rest of the family is right around the corner) and then they can go to a policeman, someone behind a counter, or someone who looks like a nice mother, and say, "I'm lost – can you help me find my parents?"
–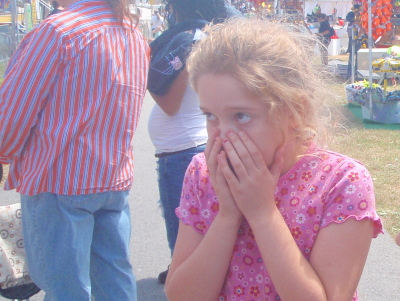 Make sure your kids know their parents' actual names (a surprising number assume Daddy's name is "Daddy"), and what their parents are wearing (my daughter once described me as "the one with the haircut"). Dress your kids in distinctive clothing and write down descriptions of everyone ("black sweatpants, a Jack Kemp T-shirt, and a homemade haircut") in case you need other people to help you find them, and are too flustered to remember what they look like.
–
The earlier in the day you go, the smaller the crowds will be. Know which kids are likely to bolt or wander away, and give them a special lecture beforehand. (We didn't need one of
these
until kid #7 could walk, and then we needed it desperately.)
–
–4–
PACING
Plan for variety, especially if you need to stretch your money. Do something thrilling, then something where you sit down, then something where you wander around, then a snack, then something for the older kids, then something for the younger kids, etc. Save something primo for last, so when it's almost time to go, you can say, "Okay, the fair is over . . . but not before we do such-and-such!" Makes your exit much happier.
–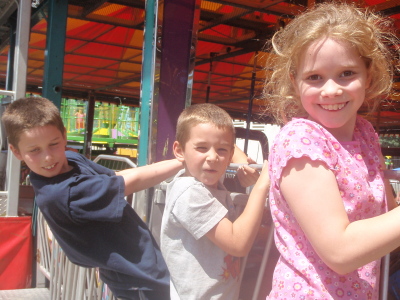 Bring the roomiest stroller you have. The fair is completely exhausting for little ones, so kids who've outgrown the stroller might need a ride. Also, it's helpful to have somewhere to stash all those drinks.
–5–
FOOD
In order to make the effort and expense worthwhile, you will want to be there for several hours — which means you will be there during a meal time. I recommend packing a picnic for the meal, and spending your money on snacks, instead. Kids don't appreciate an $8 steak sub, but they will always remember getting a cloud of cotton candy or a caramel apple with rainbow sprinkles.
–
What we do is arrive at lunch time, but then go on rides right away before eating. The kids would have been too excited to eat at first, and would have just pecked at the meal, and then begged for snacks later. After a few rides, they were happy to take a break for sandwiches and chips.
–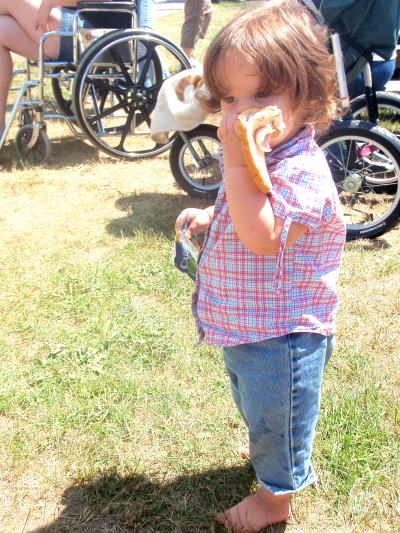 –6–
STICKINESS
Succumb to the stickiness. Your kids will be just disgusting by the end of the day: sweaty, sugary, dusty, and, yes, possibly throw-uppy (although that never happened to us, miraculously). It's a good idea to have them wear clothes you don't care about. Be smart about timing: they can ride the Neck Snapper, but not right after eating one of Doody's Famous Fried Pickles.
–
Bring a change of clothes for the youngest kids, and plastic bags. Trust me on this. Sooner or later, you will be stuck holding something that desperately needs to be wrapped up in a plastic bag.
–7–
EXPECTATIONS
Discuss expectations ahead of time. Before you even enter the grounds, let them know what they will be doing, and what they will not — and stick to it. How many rides can they expect to go on? Will you be playing games, buying a meal, buying snacks, buying balloons, buying toys, riding the pony, seeing a show, seeing the animals? Especially if you have lots of kids with various desires, just winging it will lead to someone feeling disappointed. (We skip the games of chance altogether, and just let them pick out a souvenir. Not as exciting, but cheaper, and less heartache.)
–
My husband and I discuss our expectations, too: we remind each other that our #1 goal is to give the kids a super fun day, and that we will both try our hardest to be patient and generous, and do our best to give the kids what they want (within reason). A day of fun is no time to teach lessons. It's okay to be over-indulgent once in a while, as long as you're doing a good job on most other days.
–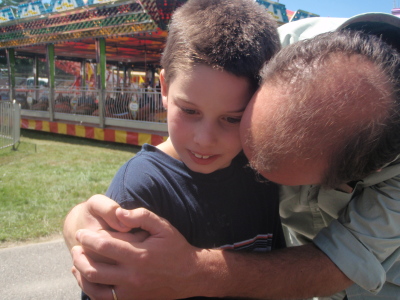 Also, this may sound silly, but unless you're getting home late at night, it's a good idea to have some mild treat waiting for them at home — lollipops or a special movie. Kids are tricky, especially if they've been looking forward to something for weeks– and now it's over. You will expect them to be grateful and satisfied, but they will likely feel exhausted, let down, and cranky.
–
So go easy on them. Tomorrow, you can go back to the old routine, but it's nice to do whatever you need to do to keep things pleasant today. And once the kiddies are in bed, you can have a nice little drink and put your feet up.
–
And for goodness' sake, take better pictures than I did. Never before have so many knees, ears, and backs of heads been captured for posterity.
–
Oh, before I forget: check out the other 7 Quick Takes hosted by Jen at
Conversion Diary
, and leave a link of your own! Or, wait, it's actually at
Betty Beguiles
this week, I forgot!