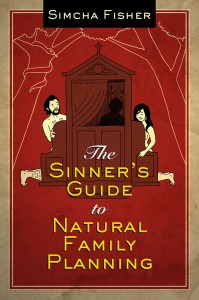 My book isn't even available for pre-order yet, but it already got a good review!
Bearing of Bearing Blog read The Sinner's Guide to NFP, and she wrote:
[E]ven if I am not the target audience, I am maybe the target reviewer, because I wholeheartedly endorse the attitude in this book. The truth is that even when you're both totally on board, NFP has features which, well, you might as well laugh at them so you don't

(a) cry or

(b) throw things at each other.

As for the state of NFP discourse, even (especially?) among faithful Catholics? Well, it can be even worse.

And that is why we need Fisher's book. It's frank, it's conversational, and it's funny. What's possibly most important: it firmly rejects the nosy judgmentalism that pervades the conversation today, choosing instead to emphasize the great variety of good paths that a couple may find as they discern together the right decisions for their family.
You can read the rest of her review here. Thank you very much, bearing!
I was extremely pleased and grateful to be able to also include blurbs from Brandon Vogt, Dr. Janet Smith, Msgr. Charles Pope, Jennifer Fulwiler, Leila Miller, Elizabeth Scalia, Kayla Peterson, Elizabeth Duffy, Marcel LeJeune, Erin Manning, and Gregory Popcak.
I know it's kinda early to do a giveaway for a book which won't be out until November, but I've been meaning to do a mini fundraiser for my kids' charter school. Here is where I describe the school in particular, and here is where I describe what I've learned to look for in a school in general. I can guarantee you that every cent of your money will be spent wisely and well! This school is like what I always wanted my home school to be, except with friends, and I don't have to do the work. Fantastic.
As I did last year with Style, Sex, and Substance, I'm going to combine a giveaway with a fundraiser, and will be giving away free copies to three winners. So if you would like to pre-win a copy of my book, which of course you do, here's the deal:
OPTION ONE: Leave a comment, any comment, in the comment box here, and you will be entered into the drawing — easy peasy.
OPTION TWO: Make a contribution to the Surry Village Charter School, and your name will be entered in the drawing ten times.
To contribute, click on this PayPal button

make a donation in any amount, and your name will be entered ten times into the drawing (no need to leave a comment unless you want to!).
If your name is chosen, you can choose either format: ebook or audiobook. I will select three names randomly next week, on Monday, August 19, and will announce the winners on Monday or Tuesday, depending on how together my act is.
Remember: it's free to enter; but if you want to increase your chances of winning tenfold, make a donation to the school.
Good luck!