The Sinner's Guide to Natural Family Planning read aloud by yours truly, from Audible.com.  It will be released on Dec.1 but you can pre-order it right now.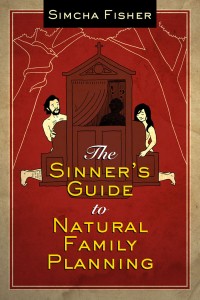 It was tons of fun to record, and yes, every single time I got to one of the more . . . intimate parts, I flubbed it, and had to say it again. And again. And again.  I'm not sure why the recording guy built his own studio and got into this line of work, but I'm fairly sure it wasn't to sit there listening to a dumpy, red-faced mother of nine mispronounce "ejaculate" repeatedly.  Or maybe it was, and this was his best day ever!  All kinds of people in the world.
Stay tuned for the announcement about my publisher for the print book!