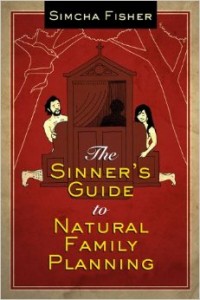 It's here!  It's here!  It's fina-lully here!
The Sinner's Guide to Natural Family Planning,
THE HONEST TO GOODNESS
PRINT EDITION THAT IS ON PAPER
$8.75, very reasonable!
I am beyond thrilled to announce that Our Sunday Visitor is my publisher.  I am very honored to join their wonderful line-up of authors, and am super excited about their plans for basically paving the inside of every parish in the world with copies of my book.  At least I'm pretty sure that's what they said.
So, pre-order means that you can dibs your copy now, and they will send it to you as soon as it's ready.  It says it will go out in February, but it may very well be sooner than that (Amazon is crazy).  Not before Christmas, unfortunately, but definitely in time for wedding season!
Wow!  I can't believe it's finally happening!  I am very impressed with how quickly OSV is working with this.  Oh my goodness!  You guys!  I'm a . . . . PAPERBACK WRITER.
http://www.youtube.com/watch?v=lxVlNy7vjoE