If you are all done finding out which character from The Hunger Games you are, which character from Downton Abbey you are, and which character from porno Downton Abbey you are, you might be ready for a quiz that actually helps:  Which Method of NFP Is Right for Me?
For a lot of couples, NFP is even more of a hassle than it needs to be because they're not using the best method for them.  We happened to stumble into Creighton just because our local hospital offered classes on it; and it turned out to be a good fit for us (although it wasn't truly tolerable until I discovered OTC progesterone cream.  I think I will write a separate post about that, because it was such a game-changer).
Anyway, try the test from IuseNFP.com and see if maybe you could find a better fit for your personality, your physical situation, and your needs.  It's not a flawlessly precise quiz, of course, but it may point you in a better direction if you're really struggling. Sometimes changing methods makes all the difference!
And poke around the IuseNFP site while you're at it. Lots and lots of useful information there, all in one spot — plus cheeky graphics like this: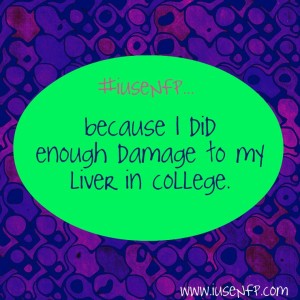 And of course, if you are already using NFP and are struggling, or you don't understand why NFP-users struggle, or you know a couple who's insterested, or you would just like a shoulder to cry on, you should buy my book, The Sinner's Guide to NFP.