The first time I became aware that it was Natural Family Planning Awareness week, I was busy writing the introduction to my book, The Sinner's Guide to Natural Family Planning. I said,
Each July, the internet becomes gooey with information about NFP. Frankly, what I want more than anything is to be a little less aware of NFP.

So why did I write this book?

Well, couples who use natural family planning to space pregnancies are happier, more satisfied, and more faithful than their contraception-usingpeers. Each month, they enjoy a deliriously romantic "honeymoon effect." Men spend fertile phases chastely courting their wives, who eagerly await infertile days so that they can joyously give of themselves to their husbands.

Just like at your house, right?

Or maybe not.
If you are an "or maybe not" kind of couple, at least some of the time, then this may be the book for you. It's the sinner's guide to NFP, not the theologian's guide, the biochemist's guide, or the exquisitely-paired-couple-who-always-understand-each-other-perfectly-and-are-in-complete-control-of-their-desires-and-motivations-at-all-times guide. This book is for the rest of us, whose lives are slightly more complicated than the stick figures holding hands on a pamphlet in the church basement.
Some people love NFP, and find that it delivers everything it promises, with little stress or strife. This is a book for those folks, too.
It's a book for people who love and want to love better; people who care about their spouses, and want to convey it better. And it's for people who have something more than an intellectual interest in sex. Raise your hand if that's you!
That's you, right? That's a good thing. Sex is important! Love is important. So important that it's worth going through some struggles to learn how to do it right.
But enough about sinners. On to the winners! Over the next week, I'll be sharing excerpts from my book. If you help me spread them around on Twitter, Facebook, Pinterest, on your blog, and by word of mouth, I'll show my gratitude by giving away something like fifty prizes. Despite what the tagline about "little ones" says, some of these prizes are actually pretty big . . . for instance, four ClearBlue Easy Fertility Monitors, which retail for at least $150 each.
You can enter via the Rafflecopter form at the bottom of the post. The contest will be open for 24 hours, and I will announce the winners as soon as I can.
Here we go! These are the thirteen prizes I am offering today:
–1–
A copy of The Sinner's Guide to Natural Family Planning autographed and inscribed to your specs — sponsored by Shaun McAfee, Catholic author, blogger, and teacher
(Thanks for the sponsorship, Shaun!) Shaun McAfee is a young, enthusiastic Catholic convert who writes for several different publications and does work for Patrick Madrid and for Holy Apostles College and Seminary. He is awaiting the release of his first two books: one about what Catholics can learn from Protestants in the New Evangelization and another that builds a road map for converts and new Catholics. You can follow his many doings on his website.
–2–
Blue Labradorite gemstone rosary handmade by Betsy Archibald of Ever Ancient, Ever New: Betsy Archibald's Knotted Gemstone Rosaries
A steel-colored Blue Labradorite gemstone rosary knotted with gray thread. It has a Benedictine crucifix and a double-sided Holy Family/Holy Spirit centerpiece
Wonderful design. Just beautiful.
–3–
Taking Charge of Your Fertility by Tony Wechsler, sponsored by Larissa Halsell
For any woman unhappy with her current method of birth control; demoralized by her quest to have a baby; or experiencing confusing symptoms in her cycle, this book provides answers to all these questions, plus amazing insights into a woman's body. Weschler thoroughly explains the empowering Fertility Awareness Method, which in only a couple minutes a day allows a woman to:

• Enjoy highly effective, scientifically proven birth control without chemicals or devices
• Maximize her chances of conception or expedite fertility treatment by identifying impediments to conception
• Increase the likelihood of choosing the gender of her baby
• Gain control of her sexual and gynecological health
Note that this is a secular book, and so it includes some information that is contrary to Catholic teaching, such as information on the use of barrier methods of birth control. But many people have found this comprehensive, foundational book to be the key that unlocks NFP and makes it a workable system for them.
–4–
A bundle of three books: Through the Year with Pope Francis; Catholic Women's Bible; and Prayers for Our Catholic Family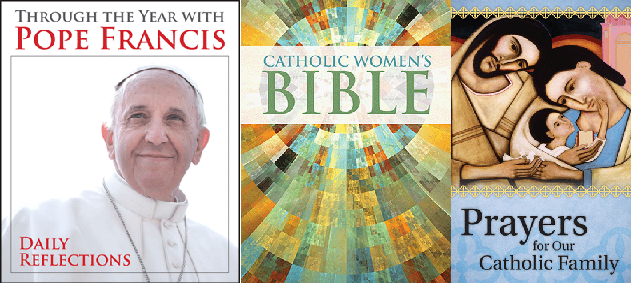 Three great books from my own publisher, Our Sunday Visitor. The first offers 365 quick, simple spiritual reflections taken from the talks and writings of Pope Francis. The second is a Bible where all the pronouns are feminine so as not to offend the ladies. Ha, just kidding! It's a study Bible which includes 84 full-page meditation inserts, written for women by women, exploring the role of women in salvation history. And the third is a pamphlet (love the cover!) designed to be portable, and includes all the basics plus prayers from the sacraments, prayers to the saints, and some background for families who want to incorporate more daily prayer in their lives.
–5–
Box of ClearBlue test sticks sponsored by a well-wisher! Retail value around $45
30 easy fertility ovulation monitor test sticks detects both LH and estrogen hormones 100% natural and non-invasive 99% accurate
NOTE: These test sticks can only to be used in conjunction with the ClearBlue Fertility Monitor, which is the monitor recommended by Marquette. I will be offering FOUR ClearBlue Fertility Monitors in the next four days.
I said, I WILL BE OFFERING FOUR CLEARBLUE FERTILITY MONITORS IN THE NEXT FOUR DAYS. I don't even use Marquette, and I want one! But I can't have one, because it's my contest! But you're different. I have a good feeling about your chances.
–6–
A package of ten Pope Francis Family Magnets with this very helpful reminder, and a pic of the Pope looking especially cute: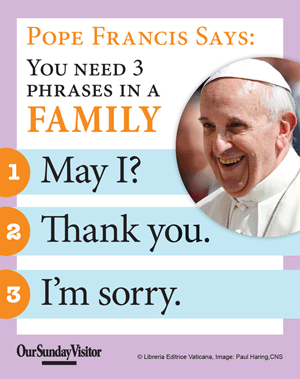 Here's a gentle reminder for every member of the family — a magnet bearing Pope Francis' advice to be ready always to say "please, sorry, and thank you" to family members. Showing courtesy, humility, and gratitude toward the family helps make peace and love flourish in the home. Post this magnet on the refrigerator, on the back door, on the family bulletin board, or anywhere it's sure to be seen and acted on.
This prize is a package of ten magnets. Keep some, spread the rest around!
–7–
Late to Love CD by Sam Rocha. Listen to the album's title track here.
Sam Rocha is a fellow Patheos blogger, an academic, author, speaker, musician, and lover of St. Augustine (note the pearskin background on the album cover!). In an interview with Joseph Susanka, Rocha says:
There is something prosaic and deeply uninspiring about some of the artwork out there from Catholics these days. I would like for there to a be poetic approach to this album, which means that I will take some chances and, also, use lots of jazz methods in the way I approach and execute the soul music. But the answer to "Why Augustine?" is, really, very simple: it is because he is something of an everyman. He is a modern man in many ways, I can relate to him, and he has convicted me in many ways about my own need to confess, too. This album is trying to emulate that, in my own way.
Sam's the man. This CD will be released in August, so the winner will be one of the first to receive it.
–8–
Your choice of handmade blown glass hummingbird or slug from Blow Hard Glass Studio. I love these so much. Retail around $30 each. These glass figures vary in color; photos are examples only.

Gorgeous, delicate, full of character, and you can choose which one you want, depending on how you're feeling. Humming along, or a little sluggish? And no, I'm not going to make any slime jokes, even though this is a post about NFP.
–9–
Forming Intentional Disciples by Sherry Weddell. Autographed, even though Weddell claims not to understand why anyone would want her signature. Something about a ridiculously long-running stint on the bestseller list for this book, which has 133 five-star reviews on Amazon and is the result of a lifetime of study and dedication translated into practical advice to renew the laity. Yeah, I dunno why anyone would want her autograph, either.
Drawing upon her fifteen years of experience with the Catherine of Siena Institute, Sherry Weddell leads readers through steps that will help Catholics enter more deeply into a relationship with God and the river of apostolic creativity, charisms, and vocation that flow from that relationship for the sake of the Church and the world.

Learn about the five thresholds of postmodern conversion, how to open a conversation about faith and belief, how to ask thought-provoking questions and establish an atmosphere of trust, when to tell the Great Story of Jesus, how to help someone respond to God's call to intentional discipleship, and much more.

And be prepared for conversion because when life at the parish level changes, the life of the whole Church will change.
–10–
Mary Kay "Pamper Yourself" gift basket sponsored by my friend and Newman Center Campus Minister, the lovely and indefatigable Cindy Cheshire, Mary Kay Independent Beauty Consultant.
The set includes: a Warm Amber shower gel and sugar scrub with loofah; a Fragrance-Free Satin Hands hand cream; and a Satin Lips lip mask and balm set ($42 value). Perfect for a little "you time" on abstinence days!It includes: a Warm Amber shower gel and sugar scrub with loofah; a Fragrance-Free Satin Hands hand cream; and a Satin Lips lip mask and balm set ($42 value). Perfect for a little "you time" on abstinence days!
Cindy says, "As a Mary Kay Independent Beauty Consultant, I help women look and feel their best by selling Mary Kay skin care and makeup. I also can help other women who are interested in starting their own Mary Kay business! My specialties include helping women find the right skin care for their unique needs and–as an Advanced Color Consultant–helping women determine the correct makeup style, color and application technique for their lifestyle."
You will not find a more patient, sympathetic, or enthusiastic consultant than Cindy Cheshire.
–11–
Spice Up Your Marriage: A 28-Day Adventure (for Kindle) by Hallie Lord
Ho ho, what have we here? I thought Catholics are afraid of sex because it's dirty and shameful and is God's punishment to women. Not so fast, says Hallie Lord.
But yeah, sometimes the daily routine of married life can drive us into a rut. Here's your ticket out:
Are you a woman who struggles with feelings of bashfulness? Has your marriage fallen into a sexual rut? Maybe you're simply looking to infuse your marriage with a little extra fun and excitement.

This eBook is for all of you.

Each day offers three options — mild, medium, and hot — so that you can tailor your journey to better meet your needs and stay within your comfort zone. The multiple choices will also allow you to use this book countless times without ever repeating the exact same journey.

Every assignment was created with the goal of deepening the sexual-love aspect of your relationship so you won't find suggestions that demean or objectify. Contrary to what popular culture may assert, the spiciest relationships are the ones that cultivate trust, selflessness, and respect.
–12–
This fabulous silver and zinc bracelet by Salt, Light, & Silver, which specializes in light, elegant pieces of non-allergenic zinc and unpolished silver.
This bracelet, called "Intricate," retails for $59.95 and is new to the U.S. market.
You will find that all of Salt, Light, and Silver's jewelry is lightweight, remarkably soft and exceptionally comfortable to wear. Zinc, one of the key elements in our jewelry, has a considerable added health benefit over other jewelry lines that are often filled with commonly known cheaper metals such as lead and nickel, that are allergenic and could be harmful to your health. We proudly stand behind the quality of each product

Another distinct feature of our jewelry is the finishing of each one of our silver pieces. We do not polish the jewelry to give it the common look of a shiny silver finish, as you ordinarily see with other lines. Each piece stands out because of the metals own unique characteristics that give a smooth and soft appearance with a subtle silver finish.
–13–
I mentioned that I don't use Marquette. I use Creighton, and so I'm especially pleased to be able to offer one free introductory session of Creighton Fertility Care via Skype by Jessica McAfee, practitioner at the renowned Pope Paul VI Institute
What did you say? That name sounds familiar? Yep, Jessica McAfee is married to Shaun McAfee, up at the top. When these folks become Catholics, they do not fool around!
*****
Whew! I guess that's enough to get us started. To win one of these prizes, just dive in to the Rafflecopter form below. There are several ways to win.
Folks, I have four more days of awesome prizes like these, thanks to the generous sponsors who donated their products and services. Here is a complete list of all the sponsors of this contest:
RELIGIOUS ITEMS and MATERIALS
Two rosaries by Ever Ancient, Ever New: Knotted Gemstone Rosaries by Betsy Archibald
Five packets of Pope Francis Family Magnets, ten pieces each
St. Patrick rosary men's rosary in black onyx and hand cast bronze by Julie of The Peaceful Bead
Crocheted Rosary Pouch by Kelly McClintock
Gift certificate to Apostleship of Prayer by Grace Urbanski
BOOKS
Something Other Than God: How I Passionately Sought Happiness and Accidentally Found It autographed by Jennifer Fulwiler
Bundle of three books from OSV
Forming Intentional Disciples autographed by Sherry Weddell
Your choice of an autographed book by Mark Shea
Blessed, Beautiful, & Bodacious autographed by Pat Gohn
Listen My Son: St. Benedict for Fathers by Dwight Longenecker
Latin-English edition of the Summa Theologiae, winner's choice of which volume, including the soon-to-be-released Volume VII sponsored by NovAntiqua editor Heidi Keiser
Spice Up Your Marriage: A 28-Day Adventure (for Kindle) by Hallie Lord

How the First Christians Changed Dying
autographed
by
Billy Kangas
five copies of
The Sinner's Guide to NFP
autographed by me
Holy Sex!
by Greg Popcak
Classroom Management for Catechists
autographed by Jen Fitz, sponsored by
St. Francis Catholic Books & Gifts Shop
Four copies of Maite Roche's
My First Prayers for My FamilyThe Handbook for Catholic Moms
autographed by Lisa Hendey
Theology of the Body, Extended: The Spiritual Signs of Childbirth, Impairment, and Dying
by Susan Windley-Daoust (a.k.a. The Ironic Catholic)
Two copies each of
How Far Can We Go? Leah Perrault and Brett Salkeld; and Theology of the Body for Every Body
by Leah Perrault
Woman, How Great Thou Art
autographed by
Theresa Martin

BABY ITEMS

Handmade baby quilt by Mary Lenaburg
Your choice of silicone teething pendants by
Peacemaker Jewelry

MUSIC

Sam Rocha "Late to Love"
Set of three CDs by
Marie Bellet
:
New Springtime, Lighten Up,
and
Ordinary Time

JEWELRY

Silver and zinc bracelet from
Salt, Light & Silver
Steel "Family Tree" locket with crystals designed by
Cathy Adamkiewitz at Origami Owl
Voucher for
Lilla Rose hair jewelry by Monique Krestyn
Reversible necklace from Premier Designs by A
lana McGough

HEALTH AND BEAUTY ITEMS

Pamper Me gift basket by
Cindy Cheshire, Independent Mary Kay Beauty Consultant
Goatmilk Soap gift bag by Shalimar Masters of
Victory Ranch Soaps
Gift certificate for $25 to
Robin's Soap Shoppe
His and Hers Young Living Massage Oil by Gabrielle Ellwanger of
Living Life Oily
Shampoo bar, orange soap bar, foaming hand soap, and counter spray by Samantha McCarty of
Radiantly You

MISCELLANEOUS

hand knit charcoal gray men's cap by Suzanne Andrews
Sauerkraut making kit Rochelle Nelson
blown glass hummingbird or slug from
Blow Hard Glass Studio
$25 gift certificate for Pampered Chef by
Jessica Chastek
T-shirt from
New Wave Feminist
s
Toaster oven from Marcia and Nacho Bono!!!!!!!!!!!

NFP BOOKS, CONSULTATION AND CHARTING TOOLS

Fertility, Cycles, & Nutrition
by Marilyn Shannon, sponsored by Suzanne Emery Andrews
Two copies of
Taking Charge of Your Fertility
by Tony Wechsler, sponsored by Larissa Halsell
Creighton Introductory Session and two Follow-ups via Skype or phone, a $120 value; OR a copy of
The NaProTechnology Revolution
valued around $45 from FCP (and Creighton pioneer) Kathy Rivet of
Marguerite d'Youville Fertility Care Services
Creighton Introductory session from FCP Jessica McAfee of the Pope Paul VI Institute
Creighton Introductory session via Skype, plus a 20% discount on follow-up classes by FCP Amy Sherlock of
This Cross I Embrace
Creighton sessions from FCP Lindy Meyer
One year's subscription for the
NFP Charting Online
App (designed for Billings)
Period Diary app for the iPhone
sponsored by Michelle Arnold
30 ClearBlue Easy Test Sticks sponsored by a well-wisher
ClearBlue Easy Fertility monitor sponsored by sponsored by
Dr Michael Czerkes
, a pro-life, NFP-only OB/GYN in Lewiston, ME
ClearBlue Easy Fertility monitor sponsored by Kenneth Scagel of
The Roper School
, an online classical high school program
ClearBlue Easy Fertility monitor sponsored by
Pilgrims Headed Home
ministry and
Totus Tuus Fertility Care
ClearBlue Easy Fertility monitor sponsored by a well-wisher!
a Rafflecopter giveaway