I realized yesterday that I'm doing less "NFP Awareness Week" and more "Simcha Fisher Awareness Week, " which is a little tacky (but not sticky), and not exactly the "ministry" some people are congratulating me for.
But on the other hand . . . PRIZES. So we're fine, right? And goodness gracious, you go ahead and spread the word about NFP!  You know: the water's horrible! Come on in.
See, this is why I give out prizes.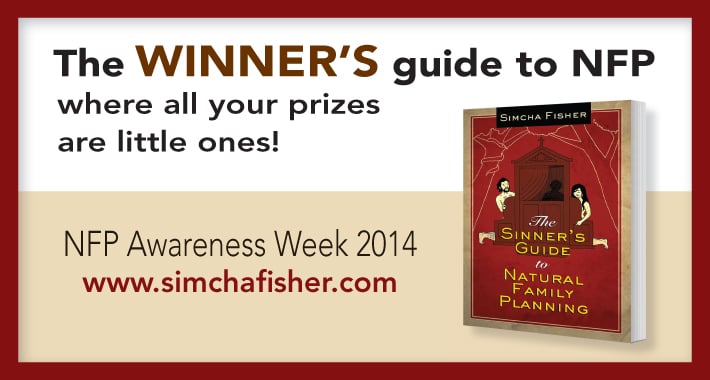 Here's an excerpt from my book for today, from chapter 7: "Is It Really Okay to Laugh About Sex?"
if you can't laugh about sex, at least some of the time, then you're doing it wrong. For the standard issue, mildly neurotic, moderately messed up, original-sin-damaged, salvation-seeking, temptation-fighting, humility-seeking, minimally humorous human being, laughing about sex is the sign of good emotional and spiritual health.

I'll go even further: when we're laughing about anything, we're laughing about sex. My theory is that there are two things that make a joke funny: the element of surprise—of being put off balance unexpectedly—and at least a grain of sadness. And that describes sex to a T.

Don't get me wrong! My general attitude toward sex can be reflected in the following statement: "WHOOPEE!" But there's a reason why it's the one thing that everyone has wanted to talk about since forever. I mean, there you are, either having a wonderful time, and/or joyfully contemplating the mysteries of procreation, and then right in the middle of the steaming and the making and the smelling and the baking, tragedy—or at least gravity—pokes through.

Nothing bad happens. Everyone is functioning just fine, and you're having a good time. It's just that…you realize that you're naked. You realize that you're going to die. You realize that you are ridiculous. And you realize that you don't care. This disruption, this intrusion, isn't what spoils the joke of sex: it's what makes it funny.

I'm not just talking about physical intercourse. Human sexuality is about so much more than that. It's the incredibly weird cosmic joke that two things work together only when they're the opposites of each other. It's the baffling irony that innuendo speaks louder than frankness. It's the dance between power and helplessness, and the eye-popping switcheroo when you realize that the balance has profoundly shifted. It's the fearful delight of discovering yet more doors to open. And the blessed defeat when you discover that sometimes, you'll only get what you need once you give up grasping for it.
Yarr.  Tell me I'm wrong.
And I'll tell you about the prizes you can win today! If you want to enter and don't see a relevant option on the Rafflecopter form at the end of the post — say you want to hire a skywriting plane to promote my book, or you're sending a dozen copies via carrier pigeon to your internet-less family in Mongolia — just choose "Invent your own option."
And now for the prizes.
–1–
A copy of The Sinner's Guide to Natural Family Planning autographed to your specs
This copy is sponsored by Shaun McAfee, whose age I do not know, but I'm fairly sure he qualifies as a Catholic wunderkind.
–2–
Trader Joe's Cocoa Truffles.
 Because I was looking over the prize list, and I realized there was no chocolate on it. Come on.
–3–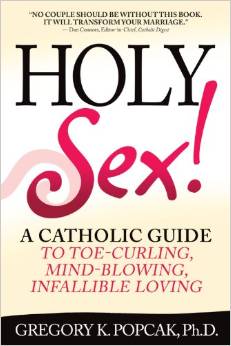 Chock full of straight talk and solid, practical advice for married couples trying to sort out what does and does not contribute to a happy, healthy, holy sex life.  By Greg Popcak, prolific author, fellow Patheos blogger, and founder of the Pastoral Solutions Institute, which offers counselling over the phone.
–4–
My First Prayers for My Family by Maite Roche
Charming four-color pictures help introduce very young children to prayers that celebrate the blessings of family life. Included are prayers giving thanks for our parents and the gift of our baptism. There are also warm and gentle petitions for pardon and for the departed members of our family.

Ages 2 and up
Maite Roche is the Catholic children's author who gives me hope for the future of Catholic children's books! I wrote about her warm, luminous illustrations here.
Note: this book is a sample, and is brand new, but has a sticker that says "sample" on the cover.  Donated by my BILB (brother-in-law's brother), John Herreid, who also designed my book's cover, which is my favorite thing ever.
–5–
Soft and sensuous goatmilk soap gift pack by Shalimar Masters of Victory Ranch Soaps

Our soaps are luxurious, yet affordable, and are made from our handmilked dairy goats' fresh milk, allowing you to receive the full benefits of essential vitamins and minerals for your skin, while keeping the gentle nature of the soap.  For those with sensitive skin, goat milk soap is an excellent solution… and for those with oily non-sensitive skin, it's an excellent solution as well!  Goat's milk soap meets the needs of the entire family!
The pic above is a sample of the soap they produce. The actual gift bag from Victory Ranch Soaps will include Lavender Peppermint soap, a Refreshing Citrus soap, and a Peppermint Orange goat milk lotion.
–6–
Classroom Management for Catechists autographed by Jennifer Fitz
End the terror! Quit quaking behind your teacher's manual, and learn to enjoy religious ed! The friends of the St. Francis Catholic Books & Gifts Shop in Columbia, SC are sponsoring an autographed copy of Classroom Management for Catechists by Jennifer Fitz.  St. Francis shop stocks all the best in Catholic books & gifts, and ships nationwide.  Contact the shop to arrange special orders.  If the prospect of creating a fun, peaceful classroom without the use of valium appeals to you, enter to win this one.  Prize winner should specify to whom they want the book autographed.
Jen Fitz has mountains of experience, and knows how to convey solid, practical information with clarity and humor. This book is a prime example of the New Evangelization, and deserves a wide readership. You can read more of Jen Fitz's writing on her Patheos blog, Sticking the Corners,
–7–
A package of 10 Pope Francis Family Magnets, sponsored by my publisher, Our Sunday Visitor.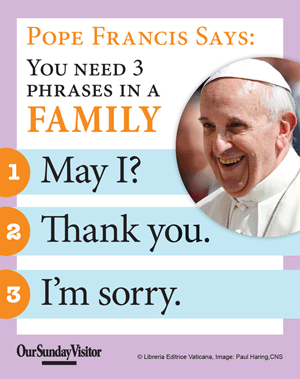 Here's a gentle reminder for every member of the family — a magnet bearing Pope Francis' advice to be ready always to say "please, sorry, and thank you" to family members. Showing courtesy, humility, and gratitude toward the family helps make peace and love flourish in the home. Post this magnet on the refrigerator, on the back door, on the family bulletin board, or anywhere it's sure to be seen and acted on.
This prize is a package of ten magnets. Keep some, spread the rest around!
–8–
Real Sauerkraut Kit from Primal Kitchen, sponsored by Rochelle Nelson
I can't explain why, but this is probably my favorite prize of the whole bunch. Every couple is different, so it's up to you to decide whether this kit for crafting your own, authentic, homemade sauerkraut would be more appropriate for the beginning, the middle, or the end of the month, or just all the time.
Either way, you get sauerkraut! Awesome, awesome, awesome. You supply the cabbage and the big jar.
–9–
Theology of the Body, Extended: The Spiritual Signs of Childbirth, Impairment, and Dying by Susan Windley-Daoust (a.k.a. The Ironic Catholic)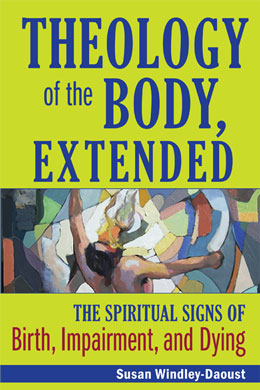 When John Paul II gave his Theology of the Body talks, he expected the laity to take the ball and run with it, past the more obvious scope of sex and marriage.  This is what scholar, author (and humorist) Susan Windley-Daoust has done.  The eminent Janet Smith recently gave this book high praise, and I'm thrilled to be able to offer a copy of this important, newly released work.
–10–
Certified Fertility Care Practitioner Lindy Meyer has 13 years experience teaching the Creighton model of natural family planning. She is generously offering an intro class plus five follow-up sessions for a new client, in person or via Skype or email.
Lindy is also the proprieter of Holy Learning, which offers Catholic educational materials for the family and classroom.
–11–
Your choice of books autographed by Mark Shea
 Making Sense Out of Scripture: Reading the Bible as the First Christians Did (one of several Mark Shea books the winner may choose)
This is actually kind of an awful prize, because the winner will be faced by the horrible dilemma of which of Mark's many wonderful books to choose. He has an extraordinary gift of clarity, and his books are probably responsible for bringing thousands of souls to Christ. Mark is a convert, a scholar, and a sweet and funny man who loves God and wants to tell you why and how God loves you through His Church.
–12–
Your choice of silicone teething jewelry by Peacemaker Jewelry. "Mom styles while baby smiles."

I love this idea!
Peacemaker Jewelry's Trinity Knot and Angel Teething Pendants are specifically designed for moms with small children. If you have a teething child you probably haven't worn much jewelry in a while. Now you don't have to worry about your little angel grabbing, pulling, and chewing on your jewelry again. Peacemaker Jewelry's necklaces are made from 100% food-grade silicone so they are safe for your little one to chew. Our products are intended to pacify a mother's desire for fashion while providing something beneficial for your child. A mother's love never does end!
Winner may choose a style (Angel or Trinity Knot) and color.
–13–
How the First Christians Changed Dying autographed by Billy Kangas
Christianity even changed how people died. Death was no longer seen as a curse to be avoided but as a moment of consecration that united the dying more fully with God. Bodies were no longer seen as polluting forces or irrelevant shells, but were recognized as an essential component to being like Jesus. Corpses were no longer cast off as dangerous sources of defilement, but were embraced as links to living people, part of an unfolding story, transformed by the unmerited graces of the God of resurrection. Death became something that was entered into willingly and with thanksgiving, first in baptism and then repeatedly in the communion meal known as the Eucharist. Even the eventual bodily death of a person was utterly transformed in the light of the belief in Jesus' own resurrection. All of life was lived differently because of that central shift in the paradigm that formed the worldviews of the early Christians.
I love Billy Kangas. Another convert with a heart on fire to spread the truth, Billy blogs for Patheos at The Orant  and contributes a voice of hope and reason to the Church.
–14–
Taking Charge of Your Fertility by Tony Wechsler, sponsored by Larissa Halsell
For any woman unhappy with her current method of birth control; demoralized by her quest to have a baby; or experiencing confusing symptoms in her cycle, this book provides answers to all these questions, plus amazing insights into a woman's body. Weschler thoroughly explains the empowering Fertility Awareness Method, which in only a couple minutes a day allows a woman to:

• Enjoy highly effective, scientifically proven birth control without chemicals or devices
• Maximize her chances of conception or expedite fertility treatment by identifying impediments to conception
• Increase the likelihood of choosing the gender of her baby
• Gain control of her sexual and gynecological health
Note that this is a secular book, and so it includes some information that is contrary to Catholic teaching, such as information on the use of barrier methods of birth control. But many people have found this comprehensive, foundational book to be the key that unlocks NFP and makes it a workable system for them.
–15–
Oh, nothing, just a ClearBlue Easy Fertility Monitor, which retails for $135-$150+, sponsored by Kenneth Scagel of The Roper School.
The Clearblue Fertility Monitor is the most advanced way of tracking fertility and the only non-invasive method that detects both LH and estrogen hormones.
Gives you comprehensive, personal information about your cycle to help you map out your fertility calendar.
Counts the days and tells you which days to test.
Tells you when you're having Low, High, and Peak fertility days.
No.1 Brand Recommended by OB/GYNs.Data on file. Research into recommendation of Ovulation Tests & Fertility Monitors with 204 US Ob-Gyns. (Kantar Health)
Requires: Clearblue Fertility Monitor Test Sticks (sold separately) and 4 AAA alkaline batteries (not included).
So, I know there is much excitement over this prize. But do yourself a favor and read this blurb about the sponsor, The Roper School. I have three teenagers, you guys, and our charter school only goes up to grade 8. This is verrrrrrrry interesting.
The Roper School is an online, classical high school formed in the Catholic tradition based in Fort Worth, Texas. Our goal in founding the school was to build a community where a small group of teachers can work with a small group of students to read, discuss, and write about great books and ideas. We believe that the internet, and the tools developed to use it collaboratively, can allow us to work with a geographically diverse student body to achieve this goal without violating the necessary classroom environment that makes a school not only fruitful, but also enjoyable. We love what we teach, and we love it so much we want to share it with kids and help them love it too.

The Roper School is designed to be:
1. Small – We have set an upper limit of 32-35 students for the whole school. Messrs. Scagel and Jarvis are the only full-time teachers, and we are keeping the use of part-time teachers to a minimum.
2. Responsive – One of the pitfalls of all education, but particularly online, is the lack of transparency between school and parent, but also within the school itself – with teachers spread out geographically, there is often no organic discussion about students between teachers. Our small staff and small teacher/student ratio will help greatly in making sure every aspect of our students academic lives are integrated.
3. Communal, not institutional – One of the reasons we are starting our own program is that we are tired of teaching someone else's plan in a canned way. We want to build a school that is a community – where the teachers and tutors work together in an intimate and companionable fashion.
*****
To enter, use the Rafflecopter form at the end of this post. Each day's contest is open for 24 hours, starting at 6 a.m. Eastern. Good luck!
Here is a complete list of the sponsors all week:
RELIGIOUS ITEMS and MATERIALS
Two rosaries by Ever Ancient, Ever New: Knotted Gemstone Rosaries by Betsy Archibald
Five packets of Pope Francis Family Magnets, ten pieces each
St. Patrick rosary men's rosary in black onyx and hand cast bronze by Julie of The Peaceful Bead
Crocheted Rosary Pouch by Kelly McClintock
Gift certificate to Apostleship of Prayer by Grace Urbanski
BOOKS
Something Other Than God: How I Passionately Sought Happiness and Accidentally Found It autographed by Jennifer Fulwiler
Bundle of three books from OSV
Forming Intentional Disciples autographed by Sherry Weddell
Your choice of an autographed book by Mark Shea
Blessed, Beautiful, & Bodacious autographed by Pat Gohn
Listen My Son: St. Benedict for Fathers by Dwight Longenecker
Latin-English edition of the Summa Theologiae, winner's choice of which volume, including the soon-to-be-released Volume VII sponsored by NovAntiqua editor Heidi Keiser
Spice Up Your Marriage: A 28-Day Adventure (for Kindle) by Hallie Lord
How the First Christians Changed Dying autographed by Billy Kangas
five copies of The Sinner's Guide to NFP autographed by me
Holy Sex! by Greg Popcak
Classroom Management for Catechists autographed by Jen Fitz, sponsored by St. Francis Catholic Books & Gifts Shop
Four copies of Maite Roche's My First Prayers for My Family
The Handbook for Catholic Moms autographed by Lisa Hendey
Theology of the Body, Extended: The Spiritual Signs of Childbirth, Impairment, and Dying by Susan Windley-Daoust (a.k.a. The Ironic Catholic)
Two copies each of How Far Can We Go? Leah Perrault and Brett Salkeld; and Theology of the Body for Every Body by Leah Perrault
Woman, How Great Thou Art autographed by Theresa Martin

BABY ITEMS

Handmade baby quilt by Mary Lenaburg
Your choice of silicone teething pendants by Peacemaker Jewelry

MUSIC

Sam Rocha "Late to Love"
Set of three CDs by Marie Bellet: New Springtime, Lighten Up, and Ordinary Time

JEWELRY

Silver and zinc bracelet from Salt, Light & Silver
Steel "Family Tree" locket with crystals designed by Cathy Adamkiewitz at Origami Owl
Voucher for Lilla Rose hair jewelry by Monique Krestyn
Reversible necklace from Premier Designs by Alana McGough

HEALTH AND BEAUTY ITEMS

Pamper Me gift basket by Cindy Cheshire, Independent Mary Kay Beauty Consultant
Goatmilk Soap gift bag by Shalimar Masters of Victory Ranch Soaps
Gift certificate for $25 to Robin's Soap Shoppe
His and Hers Young Living Massage Oil by Gabrielle Ellwanger of Living Life Oily
Shampoo bar, orange soap bar, foaming hand soap, and counter spray by Samantha McCarty ofRadiantly You

MISCELLANEOUS

hand knit charcoal gray men's cap by Suzanne Andrews
Sauerkraut making kit Rochelle Nelson
blown glass hummingbird or slug from Blow Hard Glass Studio
$25 gift certificate for Pampered Chef by Jessica Chastek
T-shirt from New Wave Feminists
Toaster oven from Marcia and Nacho Bono!!!!!!!!!!!
NFP BOOKS, CONSULTATION AND CHARTING TOOLS

Fertility, Cycles, & Nutrition by Marilyn Shannon, sponsored by Suzanne Emery Andrews
Two copies of Taking Charge of Your Fertility by Tony Wechsler, sponsored by Larissa Halsell

Creighton Introductory Session and two Follow-ups via Skype or phone, a $120 value; OR a copy of The NaProTechnology Revolution valued around $45 from FCP (and Creighton pioneer) Kathy Rivet of Marguerite d'Youville Fertility Care Services
Creighton Introductory session from FCP Jessica McAfee of the Pope Paul VI Institute
Creighton Introductory session via Skype, plus a 20% discount on follow-up classes by FCP Amy Sherlock of This Cross I Embrace
Creighton sessions from FCP Lindy Meyer
One year's subscription for the NFP Charting Online App (designed for Billings)
Period Diary app for the iPhone sponsored by Michelle Arnold
30 ClearBlue Easy Test Sticks sponsored by a well-wisher
ClearBlue Easy Fertility monitor sponsored by sponsored by Dr Michael Czerkes, a pro-life, NFP-only OB/GYN in Lewiston, ME
ClearBlue Easy Fertility monitor sponsored by Kenneth Scagel of The Roper School, an online classical high school program
ClearBlue Easy Fertility monitor sponsored by Pilgrims Headed Home ministry and Totus Tuus Fertility Care
ClearBlue Easy Fertility monitor sponsored by a well-wisher!