Today, blah blah blah something something NFP woo hoo prizes something something oh lord it's hot.  Look, are you aware of NFP? Good for you, so am I. Prizes here now.
Oh, and don't forget, if you want to win a Baby Comp, that's  a whole separate contest! Check it out.
 –1–
The Sinner's Guide to Natural Family Planning, autographed to your specs
sponsored by Johnny L., who definitely read my book, understands NFP, loves it with all his heart, and wants more people to know about it.
–2–
One autographed copy of Woman, How Great Thou Art by Theresa Martin of New Feminism Rising
When you think about NFP, do you wonder what the Church really thinks about women? This easy read is rich in content and brings the reader on an exploration of the great dignity of woman! It's the conversation before the NFP conversation. You'll be surprised to find out the ideology that was behind the creation of "the Pill" and how salvation history points towards the greatness of her femininity. Written in a conversational style, Martin covers all the hot topics (Eve's fault, male only priesthood, marriage, "subordination", Mary, feminist movement, contraception, nfp …) but in a way that makes it easy to understand. You'll love it!
–3–
Young Living Massage Oil "Sensation" sponsored by Tammy Helms Meyers of Essentially Fit + Healthy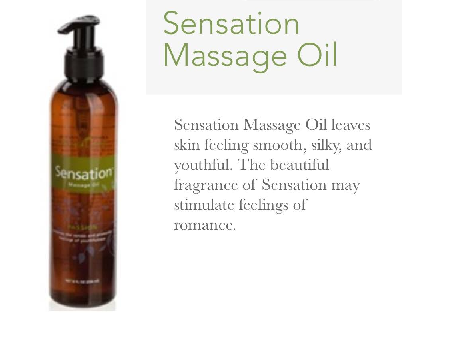 Tammy is Young Living Member #1533281. This oil retails for around $45!
–4–
One NovAntiqua Latin-English edition of the Summa Theologiae. Winner may choose any volume, including the soon-to-be-released Volume VII sponsored  by NovAntiqua editor Heidi Keiser
It is the hope of those responsible for this edition, that having the original Latin text and a respected English translation side by side will not only give those who are not ready to tackle the of Saint Thomas unaided access to his own words, but will inspire them and assist them in their pursuit of this language. They will likely discover, as many have before them, that Thomas is more easily understood in the tongue in which he wrote than he is in any other.

The English translation that the NovAntiqua edition utilizes is the translation of the Dominican Fathers of the English Province, often known as the "Benziger," after its first U.S. publisher. The translation is the most widely used English translation, appreciated for its overall faithfulness to the Latin of St. Thomas Aquinas.

The text is arranged in a parallel-column format, Latin on the left and English on the right.
And can we just pause for a moment to savor that notion that, when you're a Catholic, you don't think there's anything strange about wanting the massage oil and the Summa?
Okay, moving along . . .
 –5–
Package of 10 Pope Francis Family Magnets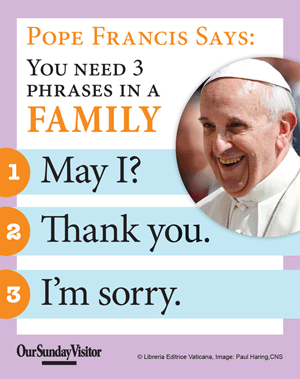 Here's a gentle reminder for every member of the family — a magnet bearing Pope Francis' advice to be ready always to say "please, sorry, and thank you" to family members. Showing courtesy, humility, and gratitude toward the family helps make peace and love flourish in the home. Post this magnet on the refrigerator, on the back door, on the family bulletin board, or anywhere it's sure to be seen and acted on.
This prize is a package of ten magnets. Keep some, spread the rest around!
–6–
Listen My Son: St. Benedict for Fathers by Dwight Longenecker
Listen, My Son (the opening words of Benedict's Rule) breaks the Rule into small daily portions and provides commentary specifically geared to help men be better husbands and parents. Without underestimating the emotional, spiritual, and physical demands of fatherhood, Longenecker also holds up the joys of developing a strong bond with God — one that nurtures the individual man, and that provides him with the ability to grow himself and his family in faithfulness, service, and love.
Sounds good! The Rule of St. Benedict is such a gem of good sense and compassion. I'd love to hear Fr. Longenecker's take on it.
 –7–
Tea Tree Shampoo Bar, Orange Soap Bar, Lemon Foaming Hand Soap, and All-Natural Counter Spray Ifor every surface in your home) by Samantha McCarty of Radiantly You.
Samantha says:
I am a stay at home mom blessed with 4 children 5 and under and I sell personal care and cleaning products that are all gluten/gmo/toxin/chemical free, at affordable prices, with most ingredients purchased through Fair Trade. All products are hand made in micro batches in upstate New York.  I will send the winner directly a Tea Tree Shampoo Bar, Orange Soap Bar, Lemon Foaming Hand Soap and All-Natural Counter Spray (counter spray can be used to clean EVERY surface in your home).  Anyone can contact me directly through my website.
From Destiny Herndon-De La Rosa of New Wave Feminists:
–8– 
Oooh. Just the thing for you teen to wear on the first day of school! Take no prisoners.
–9–
Maite Roche My First Prayers for My Family (has "sample" sticker on the cover, but it is in like new condition)
Charming four-color pictures help introduce very young children to prayers that celebrate the blessings of family life. Included are prayers giving thanks for our parents and the gift of our baptism. There are also warm and gentle petitions for pardon and for the departed members of our family.

Ages 2 and up
Maite Roche is the Catholic children's author who gives me hope for the future of Catholic children's books! I wrote about her warm, luminous illustrations here.
Note: this book is a sample, and is brand new, but has a sticker that says "sample" on the cover.  Donated by my BILB (brother-in-law's brother), John Herreid, who also designed my book's cover, which is my favorite thing ever.
–10–
Voucher for a Lilla Rose item from Monique Krestyn
Monique says:
I sell beautiful, durable, and incredibly effective hair jewelry – bobby pins, hair sticks, headbands, and more.  Our unique Flexi-Clip is available in seven sizes, perfect for any hair style and for hair from baby-fine to super-thick.

Winner gets a Lilla Rose item of her choice, but in keeping with voucher rules, she must be a new Lilla Rose customer and a US or Canadian resident.
It's true, Lilla Rose products are pretty, durable, and easy to use, and they work with all my kids' hair, which ranges from silky to coarse to curly.
–11–
A set of three CD's by Marie Bellet, celebrated Catholic singer, songwriter, mother of nine.
The albums: New Springtime, Lighten Up, and Ordinary Time.
A lone voice calling for a return to family in the midst of a materialist world, Marie Bellet writes authentic Americana songs that take the listener away from the distractions and conventions of pop culture and focus upon the importance of sacrificial love. Much like the singer/songwriters she listened to growing up, she moves off the glamorous beaten path and tells deceptively simple stories that make larger statements about hardship, heartbreak, redemption, and renewal within the real world.

"I write about the life I know, from something as simple as getting through a trip to the grocery store with a bunch of kids to something as difficult as watching a son deploy to Afghanistan. I want to tell others that sacrifice is not stupidity or victimization. It is noble. It is transformative. It is love."
–12–
One introductory class of Creighton via Skype, plus a 20% discount on follow-up classes by Amy Sherlock of This Cross I Embrace
Creighton Model can be used in 3 ways: to avoid pregnancy, to achieve pregnancy, and to monitor and maintain gynecologic health.  Creighton will also increase the efficacy of any NaPro Technology medical attention that may be needed.
Amy at This Cross I Embrace has been a user of Creighton Model for 8 1/2 yrs, and a Practitioner working in a NaPro Technology office for 7 yrs.
She has particular strengths in working with other couples with infertility, as well as breastfeeding couples.
–13–
And . . . a ClearBlue Easy Fertility Monitor in a pear tree!*
sponsored by an anonymous well-wisher!
*pear tree not included. Apparently they attract wasps anyway.
Okey dokey! So you know the routine by now: enter below by using the Rafflecopter form which may or may not appear at the end of this post, depending on sunspots aligning or something, who knows?
Below is a list of all the prizes that have been, are, and will be listed this week! I went through and fixed a bunch of bum links – sorry about that! If you are a sponsor and do not see your name on this list, please contact me asap!
RELIGIOUS ITEMS and MATERIALS
Two rosaries by Ever Ancient, Ever New: Knotted Gemstone Rosaries by Betsy Archibald
Five packets of Pope Francis Family Magnets, ten pieces each
St. Patrick rosary men's rosary in black onyx and hand cast bronze by Julie of The Peaceful Bead
Crocheted Rosary Pouch by Kelly McClintock
Gift certificate to Apostleship of Prayer by Grace Urbanski
BOOKS
Something Other Than God: How I Passionately Sought Happiness and Accidentally Found It autographed by Jennifer Fulwiler
Bundle of three books from OSV
Forming Intentional Disciples autographed by Sherry Weddell
Your choice of an autographed book by Mark Shea
Blessed, Beautiful, & Bodacious autographed by Pat Gohn
Listen My Son: St. Benedict for Fathers by Dwight Longenecker
Latin-English edition of the Summa Theologiae, winner's choice of which volume, including the soon-to-be-released Volume VII sponsored by NovAntiqua editor Heidi Keiser
Spice Up Your Marriage: A 28-Day Adventure (for Kindle) by Hallie Lord
How the First Christians Changed Dying autographed by Billy Kangas
five copies of The Sinner's Guide to NFP autographed by me
Holy Sex! by Greg Popcak
Classroom Management for Catechists autographed by Jen Fitz, sponsored by St. Francis Catholic Books & Gifts Shop
Four copies of Maite Roche's My First Prayers for My Family
The Handbook for Catholic Moms autographed by Lisa Hendey
Theology of the Body, Extended: The Spiritual Signs of Childbirth, Impairment, and Dying by Susan Windley-Daoust (a.k.a. The Ironic Catholic)
Two copies each of How Far Can We Go? Leah Perrault and Brett Salkeld; and Theology of the Body for Every Body by Leah Perrault
Woman, How Great Thou Art autographed by Theresa Martin

BABY ITEMS

Handmade baby quilt by Mary Lenaburg
Your choice of silicone teething pendants by Peacemaker Jewelry
MUSIC

Sam Rocha "Late to Love"
Set of three CDs by Marie Bellet: New Springtime, Lighten Up, and Ordinary Time
JEWELRY

Silver and zinc bracelet from Salt, Light & Silver
Steel "Family Tree" locket with crystals designed by Cathy Adamkiewitz at Origami Owl
Voucher for Lilla Rose hair jewelry by Monique Krestyn
Reversible necklace from Premier Designs by Alana McGough

HEALTH AND BEAUTY ITEMS

Pamper Me gift basket by Cindy Cheshire, Independent Mary Kay Beauty Consultant
Goatmilk Soap gift bag by Shalimar Masters of Victory Ranch Soaps
Gift certificate for $25 to Robin's Soap Shoppe
His and Hers Young Living Massage Oil by Gabrielle Ellwanger of Living Life Oily
Shampoo bar, orange soap bar, foaming hand soap, and counter spray by Samantha McCarty ofRadiantly You
Young Living Massage Oil "Sensation"  from Tammy Meyers of Essentially Fit+Healthy
MISCELLANEOUS

hand knit charcoal gray men's cap by Suzanne Andrews
Sauerkraut making kit Rochelle Nelson
blown glass hummingbird or slug from Blow Hard Glass Studio
$25 gift certificate for Pampered Chef by Jessica Chastek
T-shirt from New Wave Feminists
Toaster oven from Marcia and Nacho Bono!!!!!!!!!!!
NFP BOOKS, CONSULTATION AND CHARTING TOOLS

Fertility, Cycles, & Nutrition by Marilyn Shannon, sponsored by Suzanne Emery Andrews
Two copies of Taking Charge of Your Fertility by Tony Wechsler, sponsored by Larissa Halsell

Creighton Introductory Session and two Follow-ups via Skype or phone, a $120 value; OR a copy of The NaProTechnology Revolution valued around $45 from FCP (and Creighton pioneer) Kathy Rivet of Marguerite d'Youville Fertility Care Services
Creighton Introductory session from FCP Jessica McAfee of the Pope Paul VI Institute
Creighton Introductory session via Skype, plus a 20% discount on follow-up classes by FCP Amy Sherlock of This Cross I Embrace
Creighton sessions from FCP Lindy Meyer
One year's subscription for the NFP Charting Online App (designed for Billings)
Period Diary app for the iPhone sponsored by Michelle Arnold
30 ClearBlue Easy Test Sticks sponsored by a well-wisher
ClearBlue Easy Fertility monitor sponsored by sponsored by Dr Michael Czerkes, a pro-life, NFP-only OB/GYN in Lewiston, ME
ClearBlue Easy Fertility monitor sponsored by Kenneth Scagel of The Roper School, an online classical high school program
ClearBlue Easy Fertility monitor sponsored by Pilgrims Headed Home ministry and Totus Tuus Fertility Care
ClearBlue Easy Fertility monitor sponsored by a well-wisher!
ClearBlue Easy Fertility monitor sponsored by another well-wisher!
a Rafflecopter giveaway