Robin the Soap Goddess has been awfully busy the last several weeks, and her shop is now open again and ready for Christmas orders. If you order between today and next Thursday, your soap will be mailed on Friday, December 5th. These are the nicest soaps I've ever used. I've tried five varieties myself, and they are all luscious, creamy, and dense, and they last forever. They smell wonderful, they look beautiful, and are great for folks with allergies or sensitive skin. My husband says they're the only soap that really relieves his dry skin. When you buy Robin's soaps, you're helping a single mom with very few resources. Robin is an Army veteran who works very hard to support herself, despite struggling with arthritis and severe anxiety. She has no car and lives very simply. By my count, there are now nearly sixty different soaps available, in dozens of different scents and textures, colors and shapes. Many of them are layered in gorgeous combinations of fragrances and tones. All of the soaps are beautiful, and now many of them come in decorative shapes, like angels, trees, beeswax, shells, flowers, dragons, kittens, and owls. The molded soaps would make lovely stocking stuffers or teacher gifts. Robin currently has 67 excellent reviews and counting! Here are just a few of the dozens of soaps for sale, starting with my favorite, a real mood-lifter: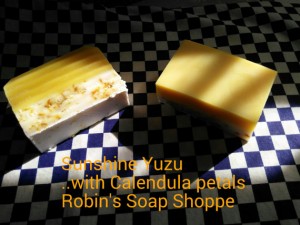 This is a sunshiney fun soap that was a lot of fun to make. One half is colored with a happy yellow and scented with a combination of orange 10x essential oil and Yuzu fragrance oil. The other half has sunshiney yellow calendula petals in it. 🙂
This soap is a very nice size, at a little over 6 ounces!
Baby Yourself Lavender, in flower shapes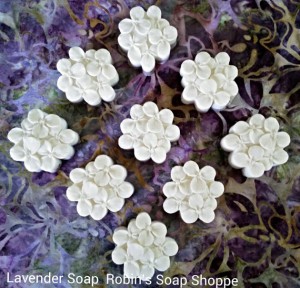 A medium-scented lavender soap, 3.5 ounces, fresh and delicate.
Simply Goatmilk Soap in textured beeswax shape
This is the one my husband likes.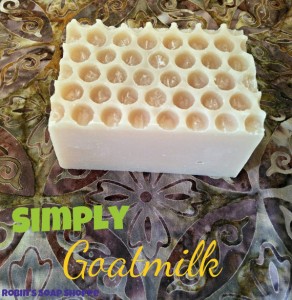 This is a 100% goat milk soap, made in layers of cold process soap. No coloring or fragrances. Deliciously good for your skin. Wonderful for babies, people with dry skin, allergies, sensitivities. Made of goat milk, coconut oil, jojoba oil, olive oil, calendula infused rice bran oil, sodium hydroxide, saponified lard, 6 to 6.5 ounces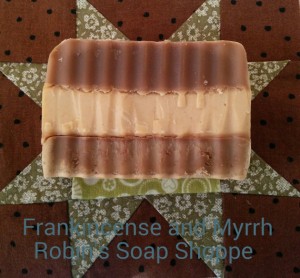 A very pleasant, seasonal scent in a three-layer bar.
Blackberry and Green Sage Angel
The perfect blend of juicy blackberries tempered with sage, a very popular blend of fragrances, so pretty. About 3 oz.
Remember, there are nearly sixty varieties of soap for sale right now!
And here are the soaps that will be available next Friday: Winter Mint
Sandalwood Rose
Chocolate Mint
Plumeria
Bay/cedar
Positive Energy
Pomegranate & Black Currant Again, if you order between today and next Thursday, your soap will be mailed on Friday, December 5th. Please consider shopping from Robin's soap today, and pass the word! Let's clean her right out of stock and make a wonderful Christmas for this beautiful family.