If you're here, it means you waded all the way through my last post. Good work!  Here's your food!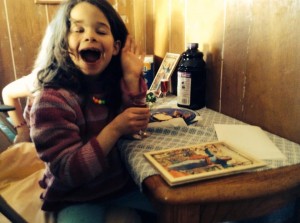 Chicken soup (can be made ahead and frozen)
In a very large pot, put one whole chicken, chicken parts, or chicken carcass. Do not include giblets.
Add a quartered onion, 2-3 peeled carrots, a few sprigs of dill and a few sprigs of parsley.
Cover, bring to a boil, cover loosely, and allow soup to simmer for many hours.
Strain the soup with a colander and return the broth to the pot. When the chicken and veggies are cool enough, sort through them and add several handsful of shredded chicken back into the broth.
Cut the carrots into thin discs and add them, too, along with some bits of onion and herbs. Some people like lots of chicken and vegetables, some people like it to be just a tasty broth with a few bits and pieces in it — it's up to you.
You may want to skim some of the fat off. If so, cool the soup completely. The fat will rise to the top and solidify, and you can scoop off as much as you like. Do leave some, to make the soup "golden!"
When you're ready to serve the soup, heat it up (don't let it boil) and then add salt and pepper to taste.
Matzoh balls (can be made ahead and refrigerated)
If you buy matzoh meal or a matzoh ball kit, there will be directions on the side of the box or can! Just follow them. This is time consuming, but quite simple.
Just remember to chill the batter before attempting to form the balls; and rinse your hands frequently.
And don't crowd the matzoh balls, or they will be dense and rubbery.
I find that it's easier to make the matzoh balls in a separate pot of chicken broth (made from bouillon) or water and then transferring the cooked matzoh balls into the pot of soup.
Don't try to make them too many days ahead of time, or they will sit there sopping up the broth and getting all gelatinous and yucky.
Chopped liver (can be made ahead and frozen. Just remember to take it out of the freezer several hours before you want to eat! It's very dense and thaws slowly.)
2 lbs. chicken livers, rinsed and trimmed
2 eggs
3 onions
2 cubes chicken bouillon
2 Tbs. vegetable oil salt and pepper
1. Put liver, whole eggs, and 1 whole onion into saucepan with a quart of water.
2. Boil, stir in bouillon, simmer 1 hr. Drain out water and set liver, onion, and eggs aside to cool.
3. Chop the other two onions. Set one aside.
4. Heat the oil in a skillet and fry the third onion.
5. When the liver is cool, grind it up together with the peeled eggs and the three onions.
6. Season with salt and pepper and chill.
Charoset (can be made ahead and refrigerated)
Peel, core, and chop three pounds of firm apples (like Cortland, Fuji, or Gala) into bits
Chop two cups of walnuts until they are about the same size as the apples
Add several Tbs. of sweet red wine and a few Tbs. of white sugar to taste. It should taste sweet, but more fruity than sugary
Add a tbs. or so of cinnamon.
Mix thoroughly and chill.
Sweet garlic and cinnamon chicken (can be made ahead, carved, and then frozen or refrigerated. You can reheat it or even serve it cold.)
Preheat oven to 500.
Mix together:
2 tsp salt
1 tsp. sugar
1/8 tsp. ground cloves
1/8 tsp. allspice
1/8 tsp.  nutmeg
1/8 tsp. cinnamon
Rinse and dry a 4 lb chicken
Rub the spice mixture all over the skin
Stuff the cavity with 5 cloves crushed garlic
Put the chicken breast side down on a rack in a roasting oven.
Roast 15 minutes.
Reduce heat to 450, roast another 15 minutes.
Baste chicken with pan drippings, reduce heat to 425, and roast another 30 minutes until the thermy reads 180.
Let stand 20 minutes before carving.
 Chocolate Matzoh Crunch (can be made ahead and stored in plastic wrap or an airtight container for good long time)
I just use this recipe from Epicurious
. I was going to rewrite it so it seems like my recipe, but why? I found the recipe a little confusing, but then realized you're basically just making caramel on top of the matzoh. Then you take it matzoh out of the oven and sprinkle chocolate on it. The caramel is so hot that it melts the chocolate while it sits there, and then you can spread it around. This looks nice with almond slivers or slices on it.
Spinach pie (this can be frozen and reheated or served at room temp)
Preheat the oven to 350.
Grease a pie plate.
Cook one package of frozen or fresh spinach and squeeze the water out.
Heat a saute pan, add some oil, and fry up:
1/2 cup celery chopped or grated
1-1/2 grated carrot 1 cup diced or grated onion
When the veg are soft, add the drained spinach, salt and pepper.
Beat 3 eggs and add them to the veggies.
Add 3/4 cup matzoh  meal
Mix this all thoroughly, put it into the greased pie plate, and bake at 350 for about 40 minutes or until firm and very slightly browned. 
Roast leg of lamb (you really want to cook this right before you eat it and serve it hot!)
The lamb should be at room temperature. Rub it with olive oil.
Score it all over with a sharp knife and stud it generously with slivers of raw garlic.
Salt and pepper all over. Add rosemary if you like.
Put it in a shallow pan and broil for a few minutes on all sides, then lower the temp to 325.
Loosely wrap the lamb in foil and continue cooking for an hour or so, depending on how big it is, until the internal temp is 135.
Let it rest for 15 minutes before carving. You can serve it with mint jelly if you must, but mint jelly is kind of disgusting. Just eat the lamb. It's amazing.
Sponge cakes. Okay, I can't find my recipes, so I'll just link to some that look similar. You can usually find decent recipes on the side of the box of matzoh cake meal, too.